9 Things I Love About Gracey
I am a cat parent! This month Petfinder launched a campaign to help break down the stereotypes about cats and the people who love them. Even though cats outnumber dogs in the United States, feline family members are often thought of as second-class pets. Many people still believe that cats are aloof, not able to be trained and of all things….unlovable!
I say anyone that thinks this about a cat has never shared their home with a cat. Our Gracey and Mercy are members of our family and we are fortunate to get to share our lives with them. I wanted to take a moment to tell you just 9 things I love about Gracey. Of course, there are many many more, but I thought I would start with these.
One)

Gracey's Happy Face Greeting Me at the Door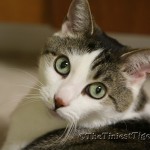 Even on the most trying of days, when my key hits the door and I see our little girl running to greet me with her tail straight up with a curl, all the day's troubles just melt away and I feel warm and happy seeing her sweet face.
Two)

Chatting About Her Day

First thing I do when I get inside the house is say hello to Gracey and ask her about her day and she usually has a lot to say. Gracey is a talkative cat and I think she is telling me what happened while Paul and I were out leaving her in charge of the house. I love to hear her tales of the day while we walk together into the kitchen.
Three)

Soft and Warm Cat Hugs

When I am away, I sometimes close my eyes and think about hugging Gracey. I think about how wonderful it feels when I scoop her up into my arms and snuggle her close to me. I nuzzle her neck and feel the soft and warm fur and it makes me feel relaxed and happy. When I have been away for extended time like in Kenya or Namibia, I think about hugging Gracey when I return home. Paul too, of course.
Four)

Purr Purr Purr

Is there anything more relaxing than the purr of a cat that you adore? Thinking about it now makes me smile.
Five)

Holding My Hand

Since Gracey was a kitten, when we sit on the sofa to read or watch television, she will extend her left paw and place it on my right hand. I treasure these moments with her.
Six)

Chomp, Chomp, Chomp

Gracey is a dainty eater. She chooses one piece of food at a time and sits up proper and chomps her chow. Paul and I love the sound of her crunching her food. Sometimes we just look at each other and smile when we hear her eating. Don't worry, she gets both wet and dry food. She likes to choose.
Seve

n
)

Whiskers on Kittens

This tradition began with our dear friend Ed, that couldn't bear to toss away one of Hazel's whiskers when he found one in his home. He would carefully place the found whisker into a small wooden box and place the box on a shelf. He would laugh a bit at himself, but I thought it was just priceless. He loved his little girl so much.

Hazel came to live with us when Ed became too ill to stay at home. And when I found a whisker, I couldn't bear to toss it away either. I placed it in the same wooden box and we kept it on a shelf in our home. Now we do the same with Gracey's whiskers.
Eight)

Hide and Seek

Our favorite game is hide and seek. Gracey is terrific at sneaking up on us. I love that moment when we come face to face and I squeal and she rears up with her front paws in the air and runs away with me in chase.
Nine)

Time to Play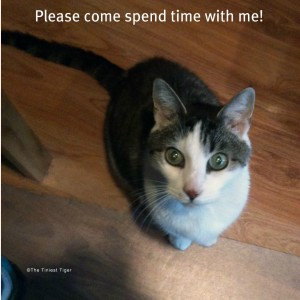 Gracey and I have play time every day. We look forward to this opportunity for both of us to release some pent up energy and have fun too. If I am busy at the computer, I know that my little alarm clock will come in to remind me it is time to play. Sometimes, I pretend not to see her to see how long it takes for her to reach up and tap me on the leg. This time together is one of the highlights of my day.
Thank you for reading and thank you for loving all cats big and small. I would love it if you would share with us, a few of the things you love about your cats that share your lives. What makes you proud to say "I am a Cat Parent!"