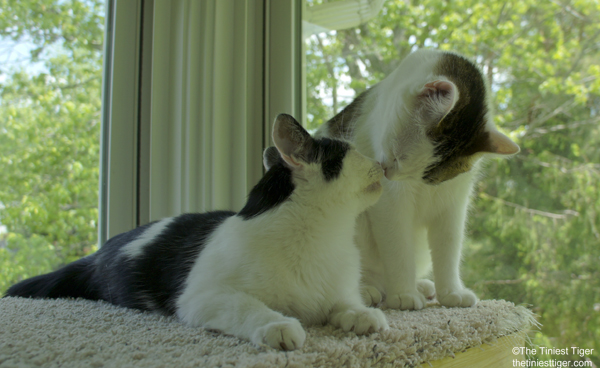 Our Cats Depend on Us
Our cats depend on us.  It is our responsibility to make the best possible decisions to keep them healthy and happy. By following three simple steps you can do your part to help your cat live their best life.  Annual veterinary checkups, nutrition and the little extras like play, treats and grooming all help keep your cat living their best life.
3 Steps to Keep Your Cat Healthy and Happy
Annual Vet Visits

Regular checkups with your veterinarian helps your cat stay healthy.  These visits allow your vet to get to know your cat making it easier to detect changes in their health and behavior.  Remember your cat not visiting their veterinarian for a year is like you not seeing your doctor for five years.  These regular checkups enable your veterinarian to find conditions before they become serious. To learn more about the importance of annual vet visits, read our post Keep Your Cat Healthy and Happy  about Annie and Eddie's one year checkup.
Mealtime

Solid nutrition is one of the simplest and best ways for cat parents to keep their cats healthy and happy.  But choosing the right food can be confusing.  Start by learning your pet's health needs, evaluate the options and discuss with your veterinarian.
To learn more read our post Helping Your Cats Live Their Best Lives
Little Extras

Studies have shown that your cat's well being is directly related to environmental enrichment.  Your little cat has all the instinct and behavior of the big cats hard-wired into them.  It is up to you to provide a home with the little extras  your cat needs to be healthy and happy.  Play time, exercise, grooming and treats all provide both the mental stimulation and fulfillment to help your cat not only stay healthy but form a closer bond with you.
Treats are a favorite little extra for cats.  Treats also help during positive reinforcement training with your cat. Hill's has several cat treats that have balanced nutrition so you can feel confident giving these treats to your cat.  To learn more about the little extra things we do for Annie, Eddie and Mercy read our post The Little Things Can Mean the Most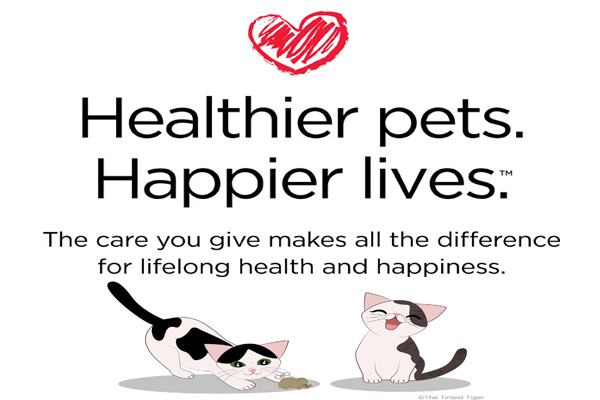 Our cats enrich our lives bringing joy and comfort that is impossible to measure.  Our love for our cats as family members makes us want to make sure we are doing everything we can to help them live happy and healthy for as long as possible.
This post is sponsored by Hill's. I am being compensated for helping spread the word about Hill's® Science Diet® Healthier Pets. Happier Lives.™, but The Tiniest Tiger only shares information we feel is relevant to our readers. Hill's Pet Nutrition, Inc. is not responsible for the content of this