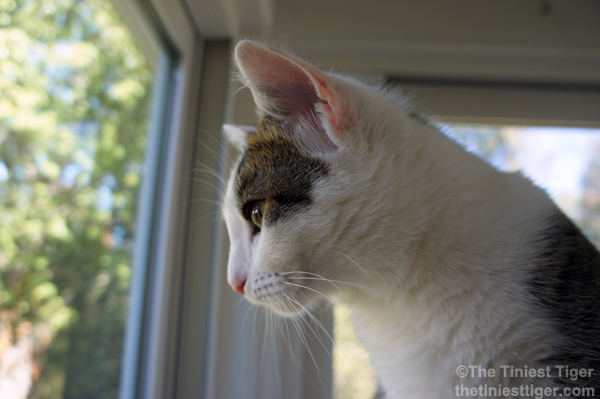 Last week I had the good fortune to travel to Knoxville to visit PetSafe and learn about their company and products coming to market for our pets.  Our group was also given a special tour of The University of Tennessee's Veterinary Medical Center. This amazing facility offers services for not only companion animals but also has an Avian & Exotics Hospital, a Farm Animal Hospital, an Equine Hospital and the John and Ann Tickle Small Animal Hospital.
A tiger from a  nearby  sanctuary was having surgery while one of her caretakers stood vigil. The worry was written all over her face and we felt the relief wash over her when the surgeon signaled the tiger was going to be alright. We also met a few horses and a calf  being cared for by the capable and loving hands of the medical team.
I had an early flight Saturday morning enabling me to be well on my way home before noon. On the drive from the airport I decided to stop by a favorite store to load up on bird feed and peanuts for Bossy Backyard Blue Jay.
I found everything I needed and also a couple of toys and treats for Annie, Eddie and Mercy.  I purchased a couple of treats for Paul and his mom too, but from the bakery department, not the cat treat section.
Upon leaving the store I walked out beside a man with a shopping cart loaded down with four large tubs of  cat litter and lots of  cat food. The cart was so heavy he was leaning forward using his whole body weight to move the cart forward. I couldn't help but watch him.
When he saw me looking at his cart, I smiled and said hello.  He nodded back. Then he stopped, stood up straight  and said to me with what I am pretty sure was a  Russian accent "I only have one cat. I am not, how you say, one of those crazy cat people.  I just don't have time to go to the store very often."
His need to justify his cat food and litter purchase to me made me laugh.  I mean after all, my own cart was just as loaded down with bird feed.  I said back "One cat you say?"
"Yes, just one cat." he replied.
"You aren't keeping a Siberian tiger are you?"
He stopped in his tracks, tilted his head puzzled by my remark.  Then  burst into laughter saying "No, no , no just one little house cat with the heart of a tiger."
"Lucky cat." I said.
"Lucky me." He answered.
"Indeed." I said.
"You must be caring for a lot of birds?"
"Well, we have a lot of birds in our backyard and our cats like to watch them from the sun room."
"So, you are lucky too."
"Yes, I am."
We nodded, loaded our vehicles and drove away.