African Civet: Habitat and Behavior and Civetone
Civet Fur and Markings
The African Civet (Civettictis civetta) is a nocturnal mammal characterized by its unique fur patterns and markings. Their fur has a dense undercoat and a distinct overcoat composed of coarse hairs, which are marked with a combination of spots and stripes. The arrangement of these spots and stripes varies among individuals, giving each African Civet a unique appearance. Civetone, used in the perfume industry, is extracted from the perineal glands.
Size and Physical Attributes
In terms of size, African Civets are medium-sized carnivores, measuring about 70 centimeters (28 inches) in body length and weighing between 7 to 20 kilograms (15 to 68 pounds). They possess a well-muscled build and a robust structure, with strong legs for supporting their relatively heavy body.
Their neck is elongated, with a broad head and large round ears designed to efficiently capture sounds of their surroundings. The African Civet's characteristic long muzzle is useful for foraging and detection of prey. One of its notable features is the black band running across its hindquarters, which helps distinguish this species from other civet species.
AFrican Civet Distinguishing Facial Features
The African Civet has a variety of intriguing facial features. The most notable of these is the black and white contrasting color pattern, consisting of bold black eye markings, eyebrow spots, and a white muzzle region. Additionally, this mammal has a black dorsal crest that runs along the length of its spine, starting at the head and ending at the base of the tail.
These distinguishing features make the Civet easily recognizable in the wild and contribute to its uniqueness among other mammals within the civet family.
Habitat and Range
Geographical Distribution
The African Civet (Civettictis civetta) is a nocturnal mammal primarily found throughout sub-Saharan Africa. Its range extends from countries such as Mali and Niger in the west, to Sudan and Tanzania in the east, and southwards to countries like Botswana, Namibia, and South Africa. It has been spotted in various locales across the continent, including Guinea, Gabon, Benin, Congo, Kenya, and Madagascar. Conservation efforts are in place in many of these countries to protect the Civet and its natural habitat.
Habitat Types
Within its geographical range, the African Civet is known to inhabit several types of habitats. These include forests, savannahs, woodlands, and areas near rivers.
Forests: In regions like Cameroon, the Civet can be found in coffee-dominated forest habitats. It is also present in other dense forests across sub-Saharan Africa where vegetation is dense and provides ample cover for the species.
Savannahs: Savannahs are grasslands with scattered trees, which offer the African Civet a suitable habitat for hunting and foraging. These habitats are prevalent throughout the West African countries of Mali, Niger, and Guinea.
Woodlands: Woodland habitats provide a mix of trees and open spaces, making them an ideal habitat for the African Civet. This type of habitat can be found in countries like Gabon, Benin, Congo, Sudan, and Tanzania, where the Civet is known to inhabit.
Rivers: African Civets are often found living near rivers and other water bodies within their territory. They take advantage of the abundant prey found in these aquatic habitats, such as fish, amphibians, and crustaceans. This trait can be observed in countries like Ethiopia, where they have been studied in wetland habitats around the Illu-Abbabora Zone.
While the African Civet is an adaptable species capable of surviving in various habitats, it is essential to continue monitoring and conserving its habitats to ensure the long-term survival of this unique mammal.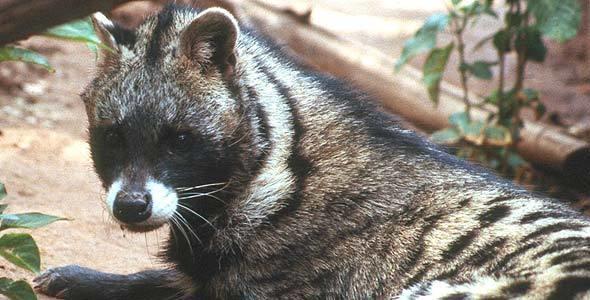 Diet and Hunting Practice
Dietary Preferences
The African Civet (Civettictis civetta) is an omnivorous mammal with a diverse diet. They have been known to consume a variety of food items, such as fruits, rodents, eggs, insects, millipedes, carrion, reptiles, and birds1. Fruits play a significant role in their diet, providing essential nutrients and energy. This dietary preference is further supported by their behavior, utilizing their keen sense of smell to locate ripe fruits2.
Hunting Strategies
African Civets rely on several hunting strategies to catch their prey. They are primarily nocturnal hunters, using their excellent night vision to locate and stalk their prey. Their agility and stealth allow them to efficiently capture small mammals like rodents, as well as reptiles and birds.
One key hunting technique employed by African Civets is their ability to swiftly and silently ambush their prey. This is especially useful in dense forest habitats where visibility is limited, and their camouflage fur pattern helps them blend in with their surroundings. In addition, civets may also scavenge carrion, which can provide an easy source of food when available.
In conclusion, the African Civet's diet and hunting practices are adaptable and versatile, allowing it to thrive in a variety of habitats and make use of a diverse range of food resources.
Behavior and Lifestyle
Daily and Seasonal Activity
The African Civet is a nocturnal mammal, which means it is primarily active during the night and rests during the day. It appears to be more influenced by environmental factors, such as temperature and humidity, than strict patterns of daylight or darkness. These environmental factors can affect the civet's daily and seasonal activity levels, leading to higher activity during more favorable conditions.
Being a wild creature, African Civets adapt to their surroundings, being equally at home in different habitats like forests, grasslands, and even human-populated areas. Their diets are diverse, and they are known to forage for various types of food sources, including fruits, insects, and smaller mammals.
Social Behaviour
African Civets are primarily solitary animals that exhibit territorial behavior. They mark their territories using scent glands, emitting a specific musk that warns other civets of their presence. This territorial marking also serves to lay claim on food resources within the defined boundaries.
Though solitary in nature, African Civets have been reported to exhibit social behavior occasionally. For example, when engaging in activities such as feeding or mating. Their interaction with other species within the same territory can be a mix of competition and coexistence. An interesting example is the mongoose, another carnivore residing in similar habitats. Despite their shared resources, their unique adaptation allows them to coexist with minimal conflict.
African Civets use different forms of communication, including vocalizations like growls to express their emotions, particularly when feeling threatened. The growls serve as a warning signal to potential predators and intruders, alerting them to the civet's presence and indicating their readiness to defend themselves. Additionally, body language and scent marking play important roles in their interactions with other animals and their environment.
The behavior and lifestyle of the African Civet is a unique adaptation to its natural habitat, enabling it to survive and thrive in the diverse landscapes it occupies. These crucial behaviors and adaptations make the African Civet a fascinating species to study and understand.
African Civet Reproduction
Breeding Habits
African Civets typically reach sexual maturity around two years of age. The breeding season for these animals usually occurs from January to October, with a peak in activity between June and August. Males actively search for receptive females during this time, using their strong sense of smell to locate them. After mating, the gestation period for African Civets lasts about 60 to 70 days, with females giving birth to an average litter size of 2 to 4 young.
Parenting and Lifespan
Females are responsible for building a nest in a safe and secluded location, typically among dense vegetation. This provides a secure environment for raising their offspring. Unlike many other mammalian species, African Civets need not nurse their young for very long; they are weaned at approximately six weeks of age.
Both male and female civets take part in the parenting process, with males displaying some protective behaviors over their territory and offspring. Young civets grow relatively quickly, reaching independence at around four months of age.
Captive breeding programs are still relatively limited for African Civets. This is partly due to the species' secretive and solitary nature, making observations and research difficult. Consequently, their exact lifespan remains uncertain; however, it is generally believed that African Civets can live up to 15 years in the wild and potentially beyond when in captivity.
Civetone and Other Uses
Civetone Extraction Process
African Civets are known for their perineal gland secretions, which contain a compound called civetone. This substance is extracted from the perineal glands located near the animal's anal gland. The extraction process typically involves capturing the African Civets from the wild and keeping them in captivity, where their perineal gland secretions can be periodically collected.
One method of collecting civetone is by stimulating the perineal glands to release the secretion, which is then scraped off using a spatula-like instrument. This process usually takes place in a controlled environment to ensure the safety and hygiene of both the animal and the collector. Another method to gather civetone involves collecting it from naturally scent-marked sites where the African Civets have marked their territory.
Uses of Civetone
Civetone is a widely used ingredient in the perfume industry due to its fixative properties. It helps bind the scents in perfumes and prolong their aromatic qualities. This musky compound adds depth to the fragrance, making it more desirable and long-lasting. Additionally, natural civetone is known to release an odor for several years.
Apart from its application in perfumes, civetone has also been traditionally used for medicinal purposes. In some cultures, it is believed civetone has aphrodisiac properties. However, with the advent of synthetic musks, the use of natural civetone has decreased, as some perfume manufacturers now exclusively use synthetic alternatives in their products.
Despite the shift towards synthetics, the African Civet continues to play a significant role in the livelihoods of smallholder farmers who engage in civetone extraction. By responsibly managing and adopting sustainable extraction methods, the industry can help conserve these unique animals and their valuable contribution to perfumery and traditional medicine.
Conservation Status
The African Civet is a small carnivore found across tropical Africa. Its conservation status is currently classified as Least Concern on the IUCN Red List, indicating that it is not facing any significant threats to its population at this time.
Threats and Conservation Efforts
Although the African Civet is not considered to be at risk, they still faces certain threats, such as habitat loss and hunting. Deforestation for agricultural expansion and logging contributes to habitat loss, which can negatively impact the species' population and distribution. In some regions, African Civets are also hunted for their meat and fur.
Conservation efforts are mainly focused on habitat preservation and research. The protection of natural habitats, such as forests, is essential in maintaining a stable environment for the civet to thrive in. Protected areas and national parks, like the Menagesha-Suba State Forest in Ethiopia, provide a suitable habitat and also allow for research on the species' feeding ecology.
In addition to habitat preservation, research on the African Civet's distribution, ecology, and threats is crucial for developing effective conservation strategies. Recent studies have been conducted on their distribution and habitat ecology in various regions to better understand the factors that influence their population dynamics.
AFrican Civet Taxonomy and Classification
The African civet (Civettictis civetta) is a member of the family Viverridae, a diverse group of small to medium-sized mammals belonging to the order Carnivora. Viverrids are commonly found across the Eastern Hemisphere, with species native to Europe, Asia, and Africa. African civets are closely related to genets (Genetta) and other feliform species, placing them within the mammalian suborder Feliformia.
Classification
African civets are part of the Civettictis genus, which only contains a single species, Civettictis civetta. As a member of the Viverridae family, the African civet is a distinct species from other types of civets such as the Asian palm civets (Paradoxurus) and Owston's civets (Chrotogale). While these species share some similarities in appearance and behavior, their taxonomical classifications reflect an evolutionary divergence within the family.
Despite being part of the Carnivora order, which also includes cats, African civets are not classified as cats but rather a separate group within the feliform mammals. The classification of viverrids can be traced back to their shared ancestry with other feliform species, such as cats and hyenas.
Related Species
Among its closest relatives, the African civet shares several traits with genets (Genetta) found in Europe and Africa. These species share morphological features like elongated bodies and elongate necks, which are adaptations for an arboreal lifestyle and efficient terrestrial locomotion. Other related species within the Feliformia suborder include the Hose's civet (Diplogale hosei) and the Sulawesi civet (Macrogalidia musschenbroekii) from the Sunda Islands.
In terms of phylogenetic relationships, studies on the evolution and classification of viverrids have shown that the African civet has a unique genetic lineage within the family. Research on Ikoma lyssavirus found in civets also provides insights into the evolutionary history of lyssaviruses, demonstrating the potential role of African civets in the maintenance of enzootic mongoose rabies.
In summary, the African civet (Civettictis civetta) is a unique species belonging to the Viverridae family within the Carnivora order. This species is closely related to other viverrids like genets and various feliform mammals, showcasing the complicated taxonomy and diverse evolutionary history of this fascinating family of mammals.
Frequently Asked Questions About African Civets
What is the African Civet's diet?
The animal is known to be a generalist omnivore. Their diet consists of a variety of items, including insects, fruits, rodents, and birds. In a study conducted in Arba Minch Forest, Ethiopia, 13 different items were found in the African Civet's scat analysis.
How long do African Civets live?
The African Civet are thought to live for about 10 years in the wild. In captivity, up to 20 years. They may live longer due to controlled environments and decreased exposure to threats.
What is the scientific name for an African Civet?
The scientific name for the African Civet is Civettictis civetta.
Where is the African Civet's natural habitat?
African Civets can be found in various habitats across the African continent. They are often found in forests, savannas, and grasslands. They can also inhabit areas with dense vegetation and a consistent water source.
Are African Civets endangered?
African Civets are not currently classified as endangered. They are considered a species of "Least Concern" by the International Union for Conservation of Nature (IUCN). However, they may face threats due to habitat loss and human activities such as hunting or trapping for their musk glands used in the perfume industry.
Are African Civets dangerous?
African Civets are not considered to be particularly dangerous to humans. They are typically shy and elusive creatures that tend to avoid human contact. However, like any wild animal, they may feel threatened and act defensively if cornered or provoked.