The Cat Signal!
Walking into the Alley Cat Allies Conference in Washington D.C. last month, the first thing I saw was the lighted image that represents Alley Cat Allies.  The beautiful image led the way up the stairs to the conference where over 350 people caring about community cats had gathered to learn what we all can do to better the lives of cats.
The Alley Cat Allies logo image reminded me of another famous signal that shines a light projecting a large bat emblem on the sky or buildings of Gotham City.  Yes, this logo reminded me of The Bat Signal because the signal is used to summon Batman for assistance in the event of a serious crime and as a psychological intimidation warning to the villains wreaking  havoc on Gotham City.  So, the Cat Signal made me think that this image represents cats in need of our help and when projected summoned cat lovers from all over the country to assist felines everywhere live better lives.  And I kind of like that the Alley Cat Allies symbol might be an intimidation warning to those who cause harm to cats and those who care for them.  Know this, Alley Cat Allies is on the case and working hard to improve the lives of cats and the people who care for them.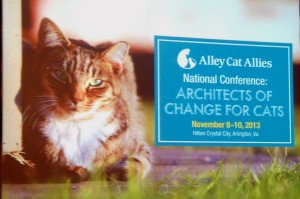 Architects of Change for Cats
The conference theme was Architects of Change for Cats because community change happens when people come together to envision what is possible for cats and then work on a plan to fulfill that vision. Change can happen when individual people share resources and ideas to challenge laws and ineffective programs that harm cats.
A tipping point has been reached in the movement to make communities safe places for all cats to live. Change is happening because Trap-Neuter-Return (TNR) and other humane and effective approaches are becoming the standard.  In just the last ten years, the number of municipalities that officially support TNR has increased tenfold.
The goal of the Alley Cat Allies conference was to keep this momentum going by featuring more than 20 workshop presenters who are leaders in creating innovative programs and implementing progressive policies to help cats. The presenters included leaders of national animal protection organizations, veterinarians, directors and staff from public and private shelters around the  country , animal control staff, animal law attorneys and representatives from cat advocacy organizations.
Time to Change For The Better for Cats
Some believe that there is a choice between having cats in their neighborhoods and not having cats.  But this is not a choice.  If catching and killing cats had worked, we would not be here discussing these issues.  Communities have caught and killed feral cats for decades at great expense to taxpayers and with no success. Feral cats who already exist in neighborhoods can either be spayed or neutered, stabilizing the population and decreasing the unwanted behaviors associated with mating or they can just continue to breed.  There is no choice between cats or no cats.
I left the conference with a lot on my mind but the one thing that rang clear to me was a simple statement made by Juliana deRosa, Senior Manager of Community Engagement for Alley Cat Allies.
Juliana simply said.
"These cats are not homeless.  The outdoors is their home."
Feral cats are not homeless .  They are very adept at surviving outdoors and the outdoors is their home.  We can all co-exist when we make a plan and then take the steps to implement that plan.
To the Cat Mobile!
Let's all do our part to speak out for cats and create a better way of life for all of us.  To learn more about what you can do, please visit a new online resource: www.CommonSenseForCats.com
Don't miss out on The Tiniest Tiger News :
Subscribe to our newsletter