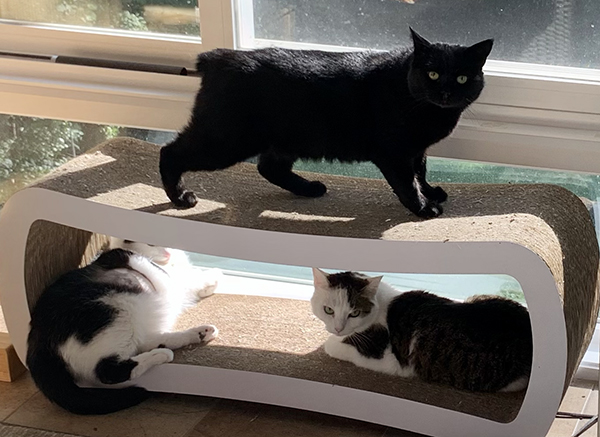 Are Black Cats Good Luck: Debunking Superstitions on Black Cats
Are black cats good luck? We think Bob, our black cat, is good luck! We consider ourselves quite fortunate that he chose to walk up to our front door and wait patiently for me to get the mail. When I opened the door and saw his cute little face I said, "well hello! Who are you?" and Bob let out the cutest little meow. Our cat Mercy was a sweet boy and we felt lucky to share our lives with him too. But we all know that black cats are not considered good luck to everyone.
We decided to take a closer look at myths, superstitions and fear surrounding black cats.
Black cats have long been associated with a range of superstitions, both good and bad. In some cultures, they are considered carriers of good luck, while in others, they are seen as the harbingers of misfortunes. The origin of these beliefs can be traced back to different folklore and ancient traditions that have accumulated over the years. Whether seen as symbols of good fortune or bearers of bad omens, black cats have undoubtedly left their mark on many aspects of our daily lives.
To understand the various views on black cats, it is essential to delve into the roots of superstitions associated with them. In some parts of the world, such as Scotland and China, black cats are believed to bring prosperity and good luck. Scottish folklore recounts the arrival of a black cat outside one's home as a sign of impending wealth, while in China, they are considered auspicious creatures. Conversely, the fear of black cats crossing one's path persists in the United States and some other countries, where they are often deemed unlucky.
Examining the reasons behind these contradicting beliefs reveals that superstitions related to black cats are primarily shaped by cultural differences and historical events. Despite the varying perceptions of black cats around the world, one must remember that these superstitions are deeply rooted in ancient traditions and are not necessarily based on factual evidence. While they may be intriguing to learn about, it is crucial to treat all animals with respect and compassion, regardless of any superstitions.
Historical Significance of Black Cats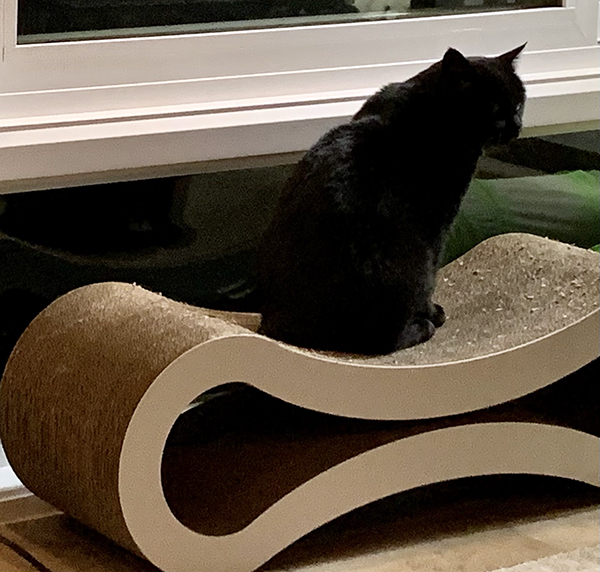 Black Cats in Ancient Cultures
In ancient cultures, black cats held a variety of meanings and associations. In ancient Egypt, for example, they were considered sacred and often associated with the goddess Bastet. Bastet, a goddess of protection, was often depicted with a black cat head and represented fertility, domesticity, and the protection of the home. In this context, black cats were believed to bring good luck and were treated with great reverence.
Black Cats in Middle Ages and Europe
During the Middle Ages in Europe, the perception of black cats began to change. They became associated with witchcraft and many folklores evolved, attributing them with bad luck or supernatural powers. This development can be linked to the rise in superstitions and fear of the unknown during this tumultuous time in history. Black cats were often believed to be the familiars of witches, or even witches themselves, which contributed to the negative image that persists to this day.
In some areas of Europe, however, black cats continued to symbolize good luck. For example, Scottish folklore held that the arrival of a black cat outside one's home was an omen of prosperity and good fortune. This contradiction in beliefs showcases the varying cultural perceptions of black cats throughout history.
Black Cats in America
The arrival of Pilgrims and the spread of Christianity in America further solidified the negative stigma around black cats, as they continued to be linked to witchcraft and sorcery. During the infamous Salem Witch Trials, black cats were often used as evidence to accuse individuals of practicing witchcraft, resulting in the persecution and death of many innocent people. This series of events only served to exacerbate the fear and mistrust surrounding black cats.
Despite their historical association with negative attributes, black cats remain an intriguing and important aspect of cultural folklore. While the perception of black cats as symbols of good or bad luck may vary, their significance in history cannot be denied.
Superstitions on Black Cats Across Cultures
Black Cats and Sailor Lore
Sailors have traditionally held various superstitions surrounding black cats. In some maritime cultures, black cats were believed to bring good luck and were kept on ships as mascots. These feline companions were cherished for their ability to predict and protect against bad weather. On the other hand, a black cat walking away from a sailor was thought to bring bad luck, as it was considered a sign of impending disaster at sea.
Black Cats in Scottish and English Legends
I was particularly interested in the Scottish legends as according to my DNA analysis I am more than 60% Scottish!
In Scotland and England, black cats have long been associated with myths and superstitions. Scottish folklore holds that the appearance of a black cat on a person's porch is a sign of prosperity. The mysterious and elusive Black Panther in Scottish legends was believed to possess shape-shifting abilities and was said to bring misfortune to those who encountered it.
In English folklore, black cats have both positive and negative associations. On one hand, they were considered lucky charms if they crossed a person's path, but on the other hand, they were also linked to witchcraft and believed to possess supernatural powers. The superstitions surrounding black cats in England have evolved over time, and today, many people consider them symbols of good luck rather than omens of misfortune.
Black Cats and Japanese Beliefs
Japanese culture has a more positive view of black cats compared to some Western cultures. In Japan, black cats are often associated with luck and prosperity. Maneki-neko, the famous Japanese "beckoning cat" statue, is believed to bring good fortune and success to its owner. Although Maneki-neko is typically depicted as a white or calico cat, black variants are also quite popular and believed to provide protection against evil spirits.
In sum, black cat superstitions vary significantly across cultures, with positive and negative connotations depending on the context. These beliefs highlight the fascinating ways in which these enigmatic animals have been regarded and revered in various myths and legends throughout history.
Black Cats as Pets
Black Cat Breeds
There are several black cat breeds that make wonderful pets. Popular black cat breeds include the Bombay, which is known for its sleek, shiny coat and friendly personality. Many people love adopting black cats because of their unique appearance and the contrast they create in photographs. Aside from their color, black cats are just as affectionate and loving as any other cat breed.
Caring for Black Cats
Caring for a black cat is similar to caring for any other cat. Regular vet visits, a balanced diet, and a clean living environment are key to keeping your pet healthy. Black cats, like all cats, can be indoor or outdoor pets, but many people prefer to keep them indoors to protect them from potential harm.
When caring for a black cat, it's essential to be mindful of their grooming needs. Although black cats don't require any specific breed-related care, their dark coats can show dirt and debris more easily. Regular brushing can help keep their fur clean and reduce shedding.
Misconceptions and Modern Perceptions
Black Cats and Halloween
Black cats have long been associated with Halloween and are often used as symbols of the holiday. This association dates back to the Middle Ages when people believed that witches would transform themselves into black cats in order to avoid detection. This belief led to the widespread myth that black cats were somehow associated with black magic and witchcraft.
In modern times, black cats continue to be iconic symbols of Halloween, often appearing on decorations and in media portrayals of the holiday. However, it's important to keep in mind that these depictions are based on myths and biases that have no basis in reality.
Black Cats and Bad Luck
The association between black cats and bad luck is another common misconception. In North America and some European countries, black cats are often considered to be a bad omen or a symbol of bad luck. This belief is rooted in fear and superstition, rather than any factual basis.
In contrast, black cats are actually seen as good luck symbols in some cultures, such as in the United Kingdom and Japan. The different perceptions of black cats in various cultures serve as a reminder that these biases are merely that: biases. They are not based on any inherent quality of the cats themselves.
Fighting Stigmas Against Black Cats
Unfortunately, the negative stigmas surrounding black cats have real-life consequences. Animal shelters like the ASPCA have reported lower adoption rates for black cats compared to their other feline counterparts. Some shelters even suspend the adoption of black cats during the Halloween season due to concerns that they may be mistreated or used for rituals.
To combat this problem, many shelters and animal advocacy organizations are working to raise awareness about the misconceptions surrounding black cats. They aim to highlight the fact that black cats are just as loving, affectionate, and deserving of a good home as any other cat.
It is vital for society to recognize the myths and biases that unfairly target black cats. By understanding and debunking these misconceptions, we can help change perceptions and ultimately improve the lives of these often misunderstood animals.
Increased Recognition of Black Cats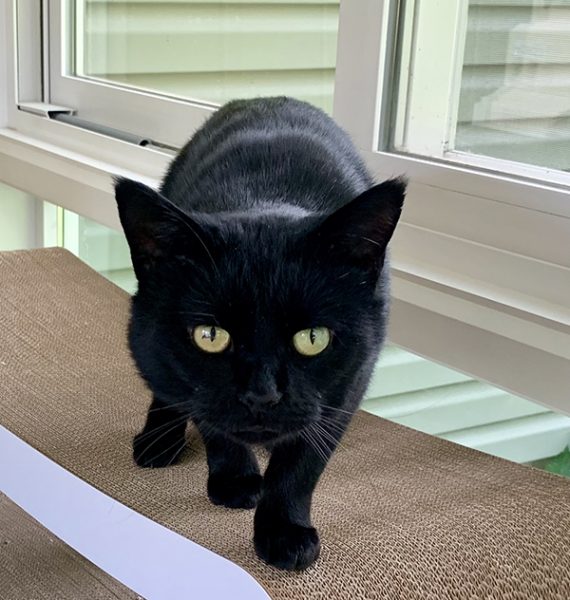 National Black Cat Day
National Black Cat Day is a celebration aimed at raising awareness about the beauty and charm of black cats, as well as to promote their adoption from shelters. This day is observed in various countries on different dates. In the United Kingdom, it is celebrated on October 27, while in the United States, it occurs on August 17, also known as Black Cat Appreciation Day.
This special day is an opportunity for cat lovers to share their admiration for black cats, and it also helps dispel some of the myths and superstitions surrounding these often misunderstood felines. By promoting positive images of black cats, National Black Cat Day seeks to increase their chances of finding forever homes, as they are often overlooked and under-adopted due to superstitions and negative connotations.
Black Cat Appreciation Day
Black Cat Appreciation Day, held on August 17 in the United States, is another important occasion that celebrates the wonder and allure of black cats. Like National Black Cat Day, this day aims to increase public awareness regarding the plight of black cats in shelters, encourage adoption, and challenge negative perceptions and superstitions that are unfairly associated with these animals.
During Black Cat Appreciation Day, many shelters and rescue organizations organize adoption events and share stories of black cats that have successfully found loving homes. Additionally, cat enthusiasts share their own experiences with black cats on social media, helping to create a positive image and fostering a better understanding of these often unfairly maligned felines.
Through both National Black Cat Day and Black Cat Appreciation Day, increased recognition is brought to black cats as loving and wonderful pets. This shift in perception helps to dismantle myths and superstitions, ensuring that these beautiful animals receive the appreciation and kindness they deserve.
Conclusion
It is essential to understand that the belief in black cats bringing good or bad luck is rooted in superstition and cultural significance. Across various cultures and historical periods, the perception of black cats has differed significantly.
In some Western cultures, black cats have been associated with bad luck and were perceived as omens of misfortune. This was particularly prevalent during the witch hunts in Europe, where black cats were thought to be linked to witches and dark magic. However, in other parts of the world, black cats have been considered symbols of good luck and protection.
For instance, in ancient Egypt, black cats were revered, and they were even believed to bring prosperity to their owners. Moreover, in some modern Eastern European and Asian cultures, black cats are still considered signs of good fortune.
In conclusion, the belief in black cats being good luck or bad luck is primarily based on superstition and cultural influences. It is crucial to be aware that the idea of luck varies from one culture to another and that individual experiences and perceptions play significant roles in shaping such beliefs. Ultimately, the significance and symbolism of black cats depend on cultural context and personal belief systems.
Frequently Asked Questions
Do black cats bring fortune?
There is no scientific evidence to support the idea that black cats bring fortune. However, in some cultures, black cats are considered to bring good luck. Whether one believes in the superstition surrounding black cats is a personal choice.
What does a black cat crossing your path represent?
While some people consider a black cat crossing their path to be a bad omen, there is no factual basis for this belief. In fact, the symbolism associated with black cats has varied across cultures and throughout history.
What is the symbolism behind black cats?
Black cats have been both revered and feared throughout history. In some cultures, they have been associated with witchcraft, while in others they have symbolized fertility or protection. The specific symbolism behind black cats often depends on the cultural context in which they are found.
How does Hinduism view black cats?
Hinduism doesn't have a specific stance on black cats. However, cats in general are respected in Hindu culture, as they are believed to help ward off evil spirits. There is no particular emphasis on the color of the cat within this belief system.
What are global superstitions regarding black cats?
Superstitions about black cats vary across the globe. In some cultures, they are considered to bring bad luck, while in others they are believed to be protective and lucky. These superstitions are often based on cultural beliefs and have no scientific foundation.
Are black cats friendlier than other cats?
There is no evidence to suggest that black cats are intrinsically friendlier than cats of any other color. Personality traits in cats are influenced by various factors such as genetics, individual experiences, and socialization, but the color of their fur has no bearing on their friendliness or temperament.