World Elephant Day!
The Tiniest Tiger community focuses most of our attention on all cats big and small, but we care about all animals. There is a special place in my heart for the David Sheldrick Wildlife Trust and their work with the Elephant Orphanage in Nairobi.
The David Sheldrick Wildlife Trust Nursery
The David Sheldrick Wildlife Trust is the most successful baby elephant orphanage in the world and is devoted to rescuing and rehabilitating baby elephants from all over Kenya that have been orphaned due to poaching or human-wildlife conflict.  The nursery  is located along the northern rim of Kenya's Nairobi National Park.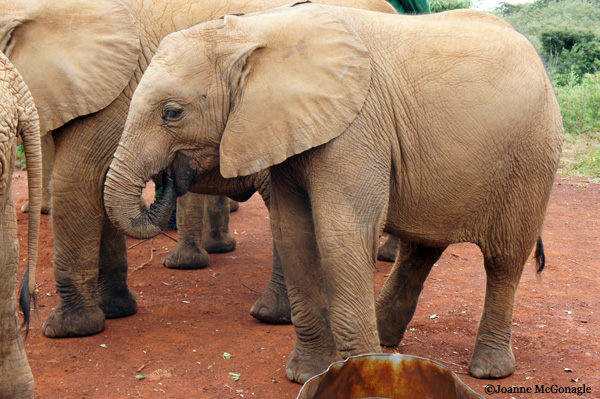 I was able to visit the orphanage when I was in Kenya and see first-hand the love the keepers have for the babies in their care. Sadly, elephants are being murdered at a rate of 1 every 15 minutes. When mothers are murdered for their tusks, the babies are left traumatized, alone, and at risk. Without the elephant orphanage, these defenseless babies would not be able to survive.
 Today is World Elephant Day! Thanks to your support of Triple T Studios, The Tiniest Tiger community is fostering  a baby elephant named Lentili  and Lasayen at the David Sheldrick Wildlife Trust.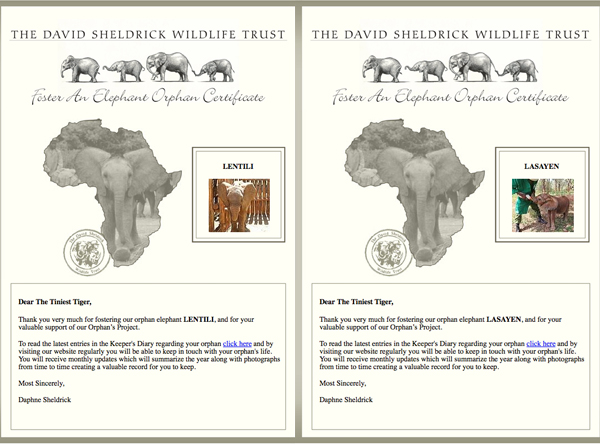 Every Day is World Elephant at the Elephant Nursery
Every day is World Elephant Day at the David Sheldrick Wildlife Trust!  To show our love and support to the elephant keepers and orphans Triple T Studios donated a Canteen Feast for The Keepers and stockade staff at Nairobi. They all need hearty meals to continue their on-going care of  the orphans. We also donated  a few signature green keepers' coats and a sack of Dairy Treats and important snack full of vitamins for every elephant and rhino.  If you would like to support the elephant nursery you can learn more about their work here: Elephant Nursery Wish List
Behind the Scenes at the DSWT Nursery
Take a moment to see behind the scenes at the nursery.  I think you too will find a special place in your heart for this wonderful lifesaving haven.