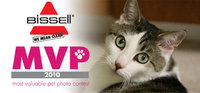 Friends, I am super excited! Bissell has announced the Bissell 2011 MVP Winners! Super Hurrah! The pets were chosen by Bissell's panel of judges from the weekly finalists based on condition of coat, expression and overall appearance.    Each of the winners will appear on a future Bissell product box and their parents will receive a donation to their pet charity of choice, a Bissell pet vacuum or deep cleaner for their home and a shopping spree!  Super Hurrah!
So now I will hand over my Bissell 2010 MVP crown to the new 2011 Bissell Most Valuable Pet Photo Contest Winner.   Congratulations to all the winners from your friends at The Tiniest Tiger
1ST PLACE
BAILEY
Bailey is an English Shepherd who recently found her calling as a ray of sunshine for senior citizens who can no longer keep a dog of their own. Her pet parents discovered that she had a special affinity for senior citizens, so they began taking her to visit local nursing homes.
2ND PLACE
VINCENT D. CAT
Bright-eyed and enthusiastic, Vincent D. Cat travels to schools and other groups to help teach humane virtues. His pet parents entered Vincent in the contest with the hopes of making a donation to Rikki's Refuge, an organization that supports 1,250 animals of 22 species, who saved his life.
3RD PLACE
SHELBY
Shelby is a compassionate, excitable, energetic and loving dog who is the youngest of the two huskies in her household. Shelby's pet parent said, "Shelby is an MVP because not only is she special, she is my best friend!"
4TH PLACE
JERRI
Jerri loves to play in her window, and to sleep in her pet parent's chair and on the table. She is completely blind, and her pet parents believe she was born that way. Jerri was rescued after her previous owners moved away and abandoned her.
5TH PLACE
FEE
Fee was rescued as a puppy with severe medical problems that led to the loss of his eyes. After Pugalug Rescue committed to spending thousands of dollars to save his sight, Fee recovered from multiple surgeries and is now a healthy pug!
Congratulations to all!  You are all beautiful!
Thank you Bissell for helping pets and their owners help our cousins in need!