Is Your Cat Suffering From Whisker Stress?
We noticed Eddie was reluctant to eat out of some of the food dishes that Annie and Mercy eat from with no problems.  We also have flat plate style dishes for the cats, but Eddie didn't seem to like this choice either. At meal time, Eddie would be first to come and get me, but then seemed reluctant to eat.  Sometimes he would sit back and watch the other cats eat before he would  walk over to his plate and begin eating.
Eddie was showing signs of whisker fatigue.  He would start to eat his food, but then walk away and try to push Mercy or Annie away from their bowls.  He would use his paw to pull food out of the dish and eat from his paw or from the floor.  He was making a big mess around his eating area.  The mess was impressive.
Eddie's issues might be complicated by the fact he had most of his teeth extracted due to a congenital birth condition. His teeth were not rooted properly but were floating in his gums causing pain and a risk for infection.  We wondered if  this was causing him more anxiety trying to get food out of the bowls or grab the food without pushing it off the flat plates and onto the floor.
Dr. Catsby's Bowl is Thoughtfully Designed For Your Cat
When Dr. Catsby's asked if we would like to try their cat bowl that was designed for whisker relief I was quick to respond with a yes. I thought this might be the bowl that will make Eddie's mealtime enjoyable for him. This one-of-a-kind bowl is patent pending and for Eddie, it was love at first bite!
The bowl's shape is wide but shallow.   This allows your cat to easily access their food without pulling back their whiskers causing discomfort.
The stainless steel finish protects against wash-proof bacteria.
There is a cutout area making the bowl easy to pick up.
The bowl comes with a non-slip mat for stability.  This mat keeps the bowl in place even with vigorous nudging from your cat.
The clean simple design is a cinch to wash and lots good in any home decor.
Eddie Enjoying an Afternoon Snack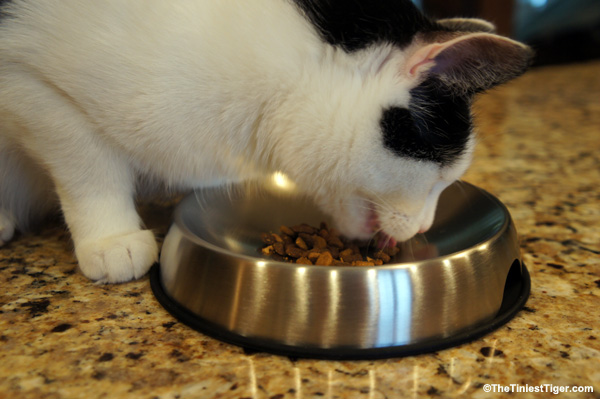 The Dr. Catsby's Bowl for Whisker Fatigue is ideal for both wet and dry food.  Eddie enjoys a few pieces of tender kibble as a treat once in a while.  With this bowl's design, he is able to grab the food without it sliding off onto the floor or hide in the corners causing him anxiety.
Mercy Likes the Bowl Too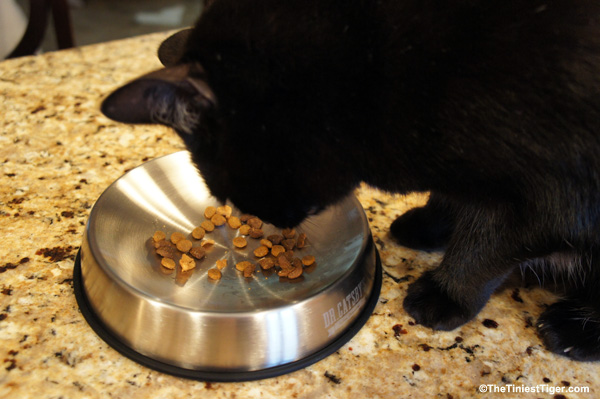 Mercy likes the Dr. Catsby's Bowl too and you will see Annie photo-bombing Eddie in the first photo above.  I think we will be adding a couple more of these bowls to our kitchen.  If you would like to try the Dr. Catsby's Bowl for Whisker Relief you can find them here: Dr. Catsby's Bowl For Whisker Relief
You can learn more about Dr. Catsby's Feline Remedies by following their social media accounts:
Dr. Catsby on  Instagram
Dr. Catsby on Facebook
Dr. Catsby on Twitter
We were given the Dr. Catsby's Bowl for Whisker Fatigue. We received no additional compensation for this review and all opinions are our own.