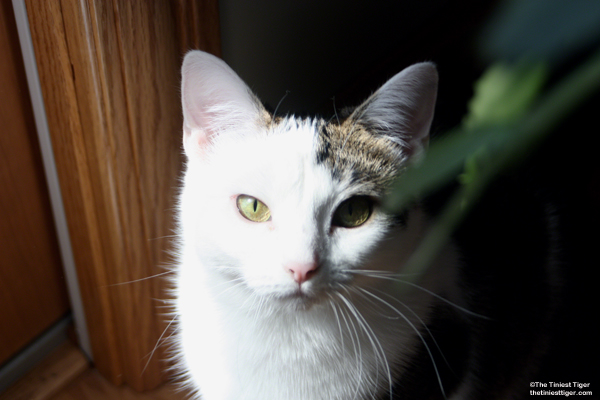 The War on Cats
You have probably seen the headlines Kitten lovers beware: CDC warns of cat-scratch disease risk or Cuddling With Kittens Brings Joy, Also Maybe Death. These click-bait headlines fuel the wildly exaggerated claims that you are putting your life at risk, hugging your cat. Media outlets ranging from mainstream to offbeat have posted articles claiming humans are at risk from succumbing to cat-scratch fever, a bacterial infection that can be transferred to humans through cat scratches, possibly bites, and perhaps by a cat licking a human's open wound.
As a cat lover, you should be outraged, that after the "sound the alarm" headline  the CBS News article begins with "Though the threat is small" because you know most people only remember the  sound bites and this is what causes these zombie lies that just won't die about cats.
FDR said "Repetition does not transform a lie into a truth"  but as Mark Twain reminded us, "A lie can travel halfway around the world while the truth is putting on its shoes. So we cat lovers need to lace up our shoes and set the record straight. Let's do our part to end this war on cats.
The recent fear-mongering  articles warning that your feline friends are harboring germs that can kill you most likely began with a recent article posted in the Emerging Infectious Diseases Journal.
The Truth About Cat-Scratch Disease
Authors affiliated with the Centers For Disease Control and Prevention (CDC) published a research article, Cat-Scratch Disease in the United States, 2005-2013, in the October volume of the Emerging Infectious Diseases Journal. The first sentence of the abstract should not strike fear in the reader or cause one to sound off the alarm  of impending danger.  The first sentence simply says: Cat-Scratch disease (CSD) is mostly preventable.  Washing your hands and keeping your cat flea-free for starters.
The researchers reviewed the 2005–2013 MarketScan national health insurance claims databases and identified patients <65 years of age with an inpatient admission or outpatient visit that included a CSD code from the International Classification of Diseases, Ninth Revision, Clinical Modification and estimated that each year, 12,000 outpatients are given a CSD diagnosis and 500 inpatients are hospitalized for CSD. 
Let that soak in for a minute.  12,000 outpatients a year and 500 inpatients are hospitalized for CSD each year.
CSD is mostly preventable and rare.
Now let's compare this statistic to the CDC's  research on the number of victims of…..dog bites.  I love dogs too and am not advocating that dogs are dangerous and a menace to society.  I am using dog bites as a comparison to point out that even though the data shows a great deal more people are injured and die from dog bites, than CSD, dogs in general, are not being maligned by the media as putting your life at risk by cuddling with your pup.
The Truth About Dog Bites
According to the 2015-2016 American Pet Products Association National Pet Owners Survey, 54.4 million U.S. households share their homes with  77.8 million dogs. (42.9 million U.S. households share their homes with 85.8 million cats.) The most recent survey of dog bites conducted by CDC researchers found that there are 4.5 million American dog bite victims per year.  885,000 bites per year, that is 1 out of every 5, are serious enough to require medical attention.
An 86% Increase in Hospitalizations and 82%  Increase in Fatalities Due To Dog Attacks.
Dog bites send nearly 368,000 victims to the hospital emergency departments per year, that is 1,008 per day, according to a  CDC Morbidity and Mortality Weekly Report.  In 2012, more than 27,000 people endured reconstructive surgery as a result of being bitten by dogs. There has been an 86% increase in hospitalizations due to dog bites from 1993 to 2008 according to a US Dept. of Health and Human Services report.  There was an 82% increase in fatal dog attacks from the 1980s to 2012. There were 32 fatalities in the US  due to dog bites.
Financial Impact of Dog Bites Versus Cat-Scratch Disease
Dog attack victims in the US suffer over $1 billion in monetary losses every year and that might be low. An article in the Journal of the American Medical Association reported that in 1995 State Farm paid  $70 million on 11,000 claims and estimated that total annual insurance for dog bites was about $2 billion.
Dog bites and other dog-related injuries accounted for more than one-third of all homeowners insurance claim dollars paid out in 2015, costing more than $570 million according to the Insurance Information Institute and State Farm.
CDC researchers estimated that the direct medical costs of dog bites per year  equaled $164.9 million in the USA toward the end of the 1990s.
The CDC calculated the total annual cost of CSD among persons <65 years of age to be $2,928,000 for outpatients and $6,832,000 for inpatients.  In the United States, the total direct medical costs for CSD are estimated to be $9,760,000/year.
Why Does the Media Love to Hate Cats?
Cats have been persecuted throughout the ages for one unfounded reason or another.  These old 'baked-in" notions about cats are hard to shake off.  There is a 'witch-hunt' ongoing blaming cats for wildlife injuries and deaths. However, a recent study by a University of Tasmania Masters student found that dogs may be a more serious problem than cats for native wildlife in some circumstances. Mr. Holderness-Roddam's Master's thesis analyzed  the records of native wildlife treated by veterinary practices and the Resource Management and Conservation Division of the Tasmanian Department of Primary Industries, Parks, Water and Environment (DPIPWE) for cause of death and injury.
"The results were quite clear cut", said Mr Holderness-Roddam. "Whilst the overwhelming number of wildlife injuries and deaths were attributed to motor vehicles (1,256), the next highest cause of injuries and death was recorded for dogs (238), with cats at 152.
Now that we are armed with facts, we owe it to our feline friends to disabuse the critics of their foolish notions about cats. We are their voice.
*Nelson CA, Saha S, Mead PS. Cat scratch disease in the United States, 2005–2013. Emerg Infect Dis. 2016 Oct [9/25/16]. http://dx.doi.org/10.3201/eid2210.160115