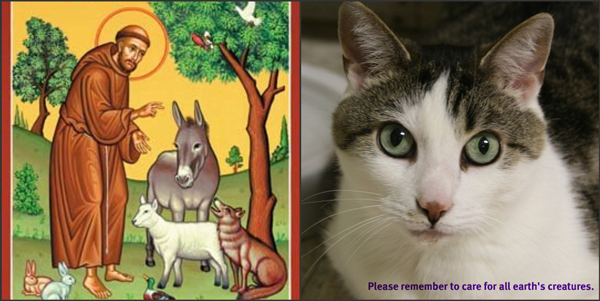 "If you have men who will exclude any of God's creatures from the shelter of compassion and pity, you will have men who will deal likewise with their fellow men"
– Francis of Assisi
Happy World Animal Day!
Today we celebrate the Feast of St. Francis of Assisi, the patron saint of animals.  It is also appropriately and perhaps because of St. Francis that we celebrate World Animal Day.
This day, in many ways, is like every other day for most of us, meaning that we love and care for animals every day.  But today, let's try to do one extra thing to help out an animal in need.
Maybe you could say a little prayer, or drop off a bag of food or a toy at a shelter, write a letter in protest of the mistreatment of animals, or help spread the word about one of our cousins in need.  Maybe you just scoop up your little loved one and take a little extra time today to express your love and appreciation for your friendship.
And maybe you can do the same to your fellow humans today too.   Just be a little bit more patient, kind and understanding.
I know I want to be more like Francis.
So today and every other day, I will continue to try.
"Start by doing what is necessary, then do what's possible, and suddenly you are doing the impossible"
-Francis of Assisi