Bring Nature Indoors for Your Cat
It is Spring and you might be thinking about planting a garden. I know I think about it every year but somehow I don't get my garden going in time. This year, I hope things will be different and we will grow a nice garden. Our cats do not go outdoors so we bring nature indoors to them by growing edible grasses they can enjoy from the safety of their sun room.
Growing a garden for your cat is super easy with the Kitty's Garden Edible Grass Planter
from Smart Cat. So even if you don't have time to get outside and plant a vegetable garden, you can grow some nice edible grasses for your cat.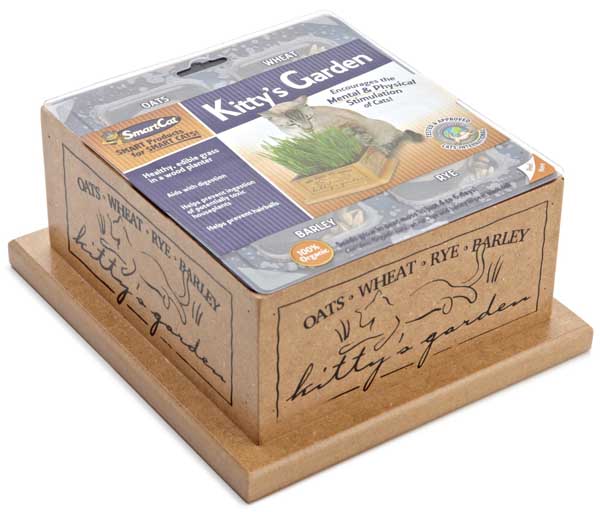 The wood planter is attached to a heavy, square base so you don't have to worry about your cat tipping it over. There are four sections in the planter where you will grow the oats, wheat, barley and rye for your cat. The seeds are 100% organic and should begin to sprout in the peat moss soil in about 4 to 6 days.
The edible grass when grown:
Encourages mental and physical stimulation for your cats
Aids with your cat's digestion
And attracts your cat to chomp on the grass and helps steer her away from potentially toxic houseplants.
How Do You Get Your Kitty Garden To Grow?
It is super easy. Just follow these simple instructions.
Remove the netting from pellets and replace into each compartment.

Pour 3 ounces of warm water onto each pellet in your planting container.

Wait 10 minutes for the pellets to absorb the water.

Remove about 1 teaspoon of soil from each pellet and set aside.

Open seed pack and stir seeds into the soil.

Using the soil that you set aside in step 4 cover the seeds and lightly mix.

Add water if necessary to keep soil and seeds moist-however, over watering can lead to a fungal and mold growth. Drain any excess water from the bottom tray.

Do not allow the seeds to dry out. Lightly mist your garden daily to keep moist.

Keep in a location that is between 65-70 degrees F.

When the grasses are 3" to 4" tall, they are ready for your cat to enjoy.
The Kitty's Garden Edible Grass Planter Giveaway
One lucky cat's parent will win a Kitty's Garden Edible Grass Planter.
To Enter:
Enter your information in the contest widget so we know where to ship your prize if you win. Tell us in a comment below this post if you grow your own garden for you or your cats.
Because this is a food item, this contest is open to friends living in the USA. Sorry about that.
The comment below this post is important. If your name is drawn and you didn't leave a comment, another winner will be chosen.