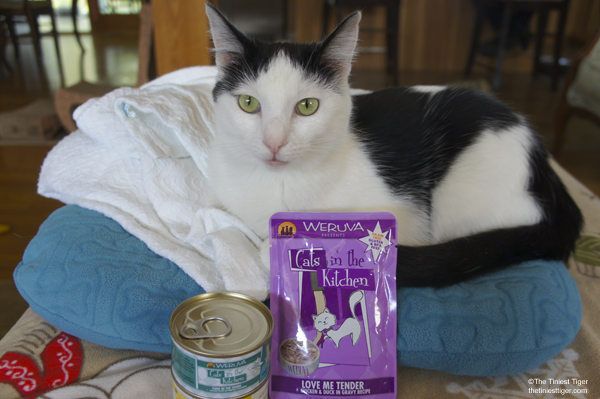 What if Cats Went to Culinary School?
Most of my career has been in the specialty food arena.  So I am friends with many professional chefs.  Chefs and cats have a few things in common. They have their own ideas about what good food should taste like and can be a bit stubborn and demanding.  They don't like to compromise when it comes to their culinary creations.
So, if cats went to culinary school, I think they might prepare meals quite similar to Weruva Cats in the Kitchen.  I know if Eddie were a chef, he would be mixing up his dinner to taste like Love Me Tender from Weruva's Cats in the Kitchen line and here is why.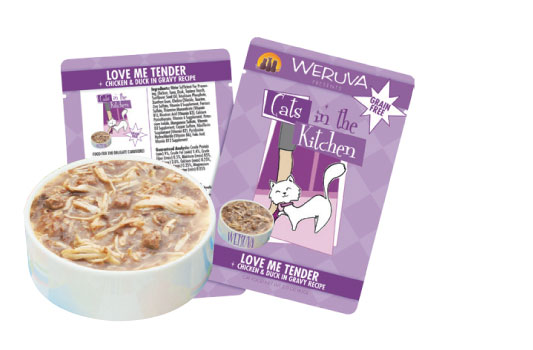 Cats are picky eaters and our Eddie is no exception.  You might remember that Gracey had food allergies and we were careful with her diet. Annie and Mercy do not seem to be bothered with allergies, but Eddie is having a little sensitivity with his gums so we are careful with his diet too.  The Cats in the Kitchen line is for your obligate carnivore that might need to eat novel protein sources such as lamb, duck and turkey.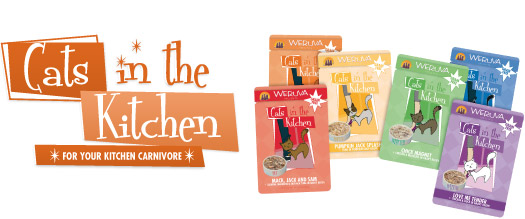 The Cats in the Kitchen pouches come in six varieties that include fish, beef and chicken.  Our favorites are the Love Me Tender  (Chicken and Duck in Gravy Recipe) and Pumpkin Lickin' Chicken (Chicken in Pumpkin Soup Recipe).  When the package from Weruva arrived, I opened the box and was looking through all the different offerings.  The next thing I knew, Annie was running off with the pouch of Pumpkin Lickin' Chicken!  I was quick to retrieve the pouch but by then I had the attention of all three cats and it seemed they couldn't hardly wait for their dinner.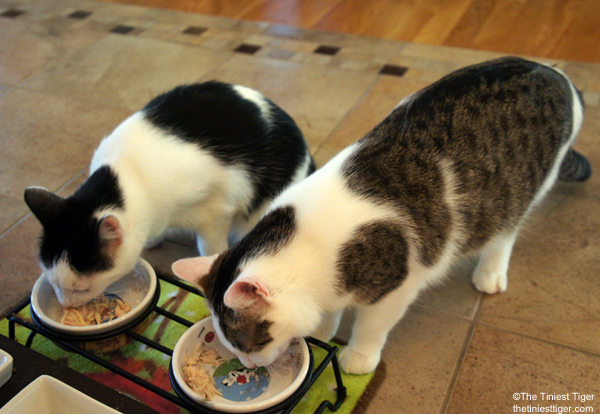 The shredded chicken is just like the canned chicken you will find in grocery stores for human consumption.   This Weruva line is free from grain, GMO (genetically modified organisms) MSG (Monosodium glutamate) and carrageenan.  Weruva products contain 80% water. They only add enough water to be sufficient for processing, so the food is naturally moist from the chosen ingredients helping your cat stay hydrated. The chicken was a big hit with Annie, Eddie and Mercy.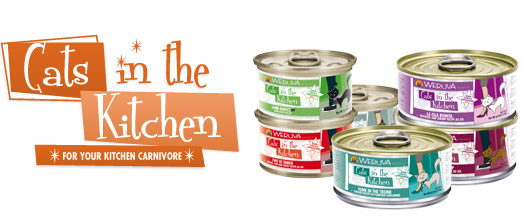 The Cats in the Kitchen canned food line  comes in ten varieties ranging from Chicken Frick 'A Zee to Splash Dance!  You are sure to find a recipe to meet the demands of your cat's sophisticated palate.   Next up on Eddie's menu selection will be the Weruva TruLuxe line.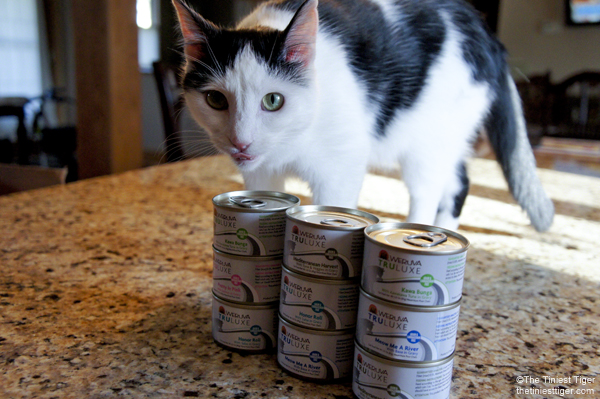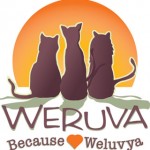 This post is sponsored by Weruva. I am being compensated for helping spread the word about Weruva as a part of the BlogPaws Blogger Network, but The Tiniest Tiger only shares information we feel is relevant to our readers. Weruva is not responsible for the content of this article.