Habitat Injustice Revisited!
Who remembers when my dad decided that the sun room had an  8 pm curfew?  Well he got a little lenient in the rule of late but now tonight for no particular reason, I heard the dreaded "clatch" sound when the lock is turned on my sun room door.  AND it was only 7:30 pm.  grrrrrr.
So now I am hiding from him on this chair under the table.  He is calling my name and looking all over the house for me, but I am not wiggling one whisker until I hear the "clatch" sound again.
In case you didn't know about this Habitat Injustice, here is what happened last August.  Even though you all voted in my favor, the sun room remains locked and off limits to me  tonight.
Meow for Now!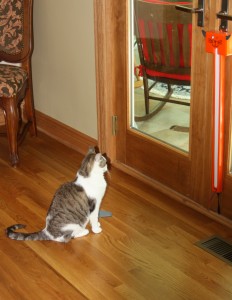 Friends, my dad just told me that the house has a new rule. No Tiniest Tiger in the sun room after 8:00 pm. I stomped my paw but he is still sticking to his rule. And you know what is even crazier than my dad's 8:00 pm sun room curfew? My mom is listening to my dad and not unlocking the door for me.  I need your help. Please express your opinion about this habitat injustice by participating in my poll.  There is really only one right answer, but I don't want to skew the results.