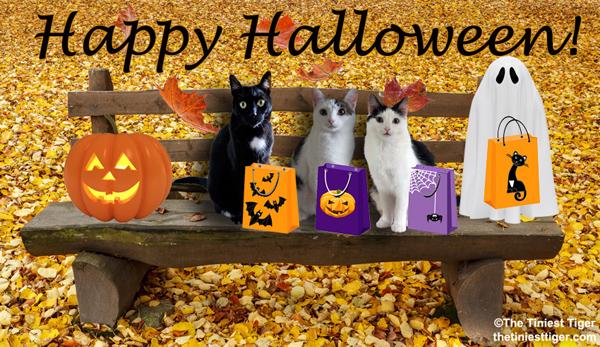 Help Your Cats Have a Safe and Happy Halloween
Halloween is a fun time for children and adults too but I am not so sure about how much fun Trick or Treat night is for cats. Take a moment and think about Beggars' Night from your cat's point of view.  The constant knocking on the front door or ringing of the doorbell combined with strangers dressed up in costumes shouting "Trick or Treat".  The opening and closing of the front door, spooky sounds, sights and smells, it really can be too much for our feline family members.
With a little planning your cats can have a safe and happy Halloween too celebrating the festivities in feline fashion.
Cats and Costumes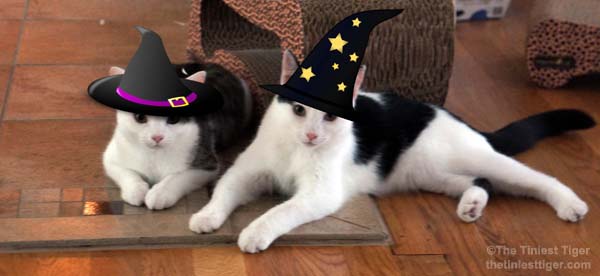 We don't dress  up our cats in costumes.  We have in the past placed a hat or cape on our cats, but honestly they just don't like it.  Gracey really disliked having her ears restricted  by a hat, and Annie and Eddie don't seem to like it either. Mercy, we haven't even tried.  We found the best way to dress up our cats is by using photo editing tools.
Cats Have Their Own Private Party During  Trick or Treat Time
Before the first child approaches our house on Trick or Treat night,  Annie, Eddie and Mercy will be safely inside the master bedroom having their own private party.  We place their food bowls and water fountain, a couple of beds and many of their favorite toys in the bedroom and we place litter boxes in the master bathroom.
We close the window shades and turn on the television or play some nice soothing music.  Eddie has a preference for curling up on Paul's pajamas and Annie likes to curl up on the end of the bed facing the door.  Mercy snuggles down in one of the cat beds.  We make sure they have their favorite food in their bowls and we put a few treats in their puzzle feeders.
Once they are safe inside the bedroom, we can relax and enjoy passing out treats to the children.  Our neighborhood does things a little differently.  We all go to the end of our driveways or yards to pass out the candy.  This eliminates the constant knocking and ringing on the door that is so troubling to cats and dogs and is safer for the younger children allowing them to  stay in a group and closer to their parents.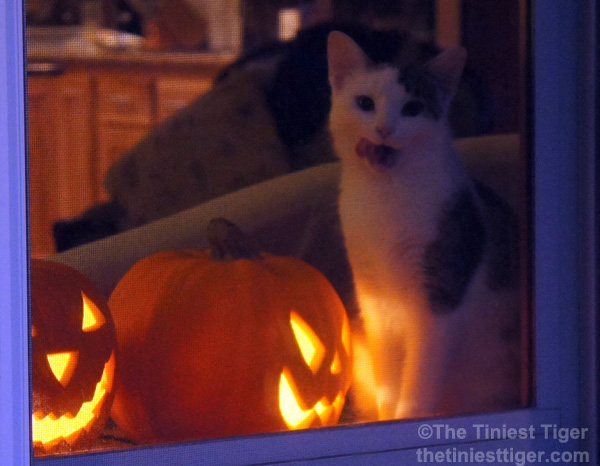 Jack O' Lantern Safety
We opt for electric or battery operated jack O' lanterns to decorate for  Halloween.  Candles are just to risky with curious paws and whiskers snooping about.  There are so many electric jack o' lanterns to choose from today, you won't even miss the candles.   When Trick or Treat night ends and Annie, Eddie and Mercy come out of the bedroom, they love to look out the front window  to see what they missed.
Keep Candy and Wrappers Away From Your Cats
When the night comes to an end and you have candy left in your bowl, make sure you put the candy in the cupboard and all wrappers in the garbage.  If your cats are like Annie, they can't resist the sound of the wrapper in their paws.  Remember Halloween candy can be dangerous to your cat so it is best to tuck it safely away from them.
Keep Your Cats Indoors
Our cats are indoors only and we secure them in the master bedroom during Trick or Treat, but it is a good idea to keep your cats safely inside especially during the entire Halloween season.  Black cats are especially at risk because of their mythical association with Halloween.  Don't let your black cat be at risk of harm from cruel people.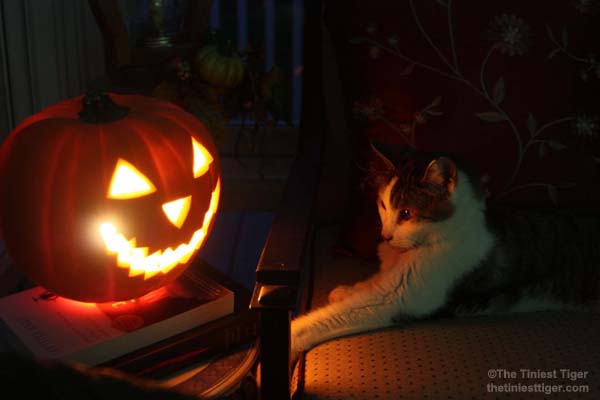 Enjoy Your Time With Your Cats
Time goes by so quickly, sometimes holidays remind us to slow down a bit and just enjoy our time with our family.  Gracey used to love to be out in the sunroom when the jack o' lantern was glowing.  I liked to sit out there with her and listen to the leaves rustling in the wind.  This year I will sit in the sun room and see if Annie, Eddie and Mercy would like to join me.  Of course, Gracey will always be in my heart.
Wishing you a fun and safe Halloween.