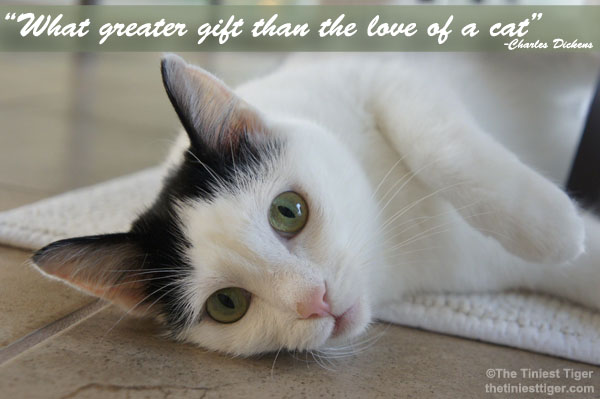 This post is sponsored by BlogPaws. I am being compensated to support Adopt a Shelter Pet Month with an educational post, but The Tiniest Tiger only shares information we feel is relevant to our readers. BlogPaws is not responsible for the content of this article.
October is Adopt a Shelter Pet Month
This  Adopt a Shelter Pet Month we are joining BlogPaws 's Adopt a Shelter Pet Month campaign in an effort to remind others how many pets are waiting for their forever homes.  Every day so many pets sit at shelters being cared for as best they can be by volunteers who work tirelessly, but nothing comes close to having a family and home to call their own.
We adopted Annie and Eddie from Grayson County Humane Society and we adopted Mercy from the back alley where we used to live.  All three cats bring us so much joy that even though it sounds cliche, we are not sure whether we saved the cats or the cats saved us.  We often talk about the benefits the pet receives from being adopted but we humans receive benefits too when we bring a cat into our family. Every cat is special and each has their own heartwarming way of bringing joy to our lives. I wanted to share one little thing about Annie, Eddie and Mercy that makes me smile every time I see them.
Annie's Little Pink Ear with the Little Dark Spot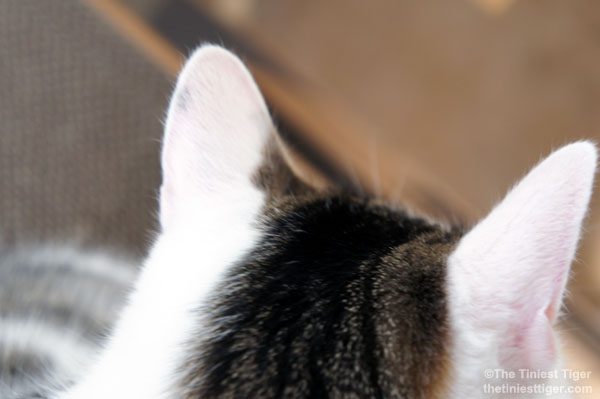 Annie reminds us of Gracey, especially from the left side, but from the right side and the back of her head, she is all Annie. I love her little pink ears. On the left  ear when you look at Annie from the back she has a tiny dark spot along the edge of her ear.  This little spot makes me smile, I don't know why but it just does.   Here is another photo where you might see it better.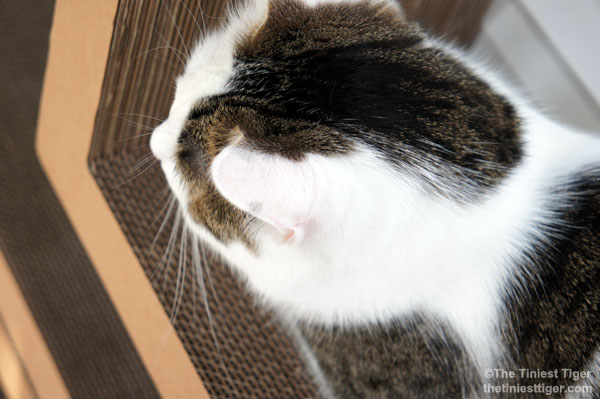 Yes, I think you can see it better in this photo.  When Eddie and Annie first came to live with us, they would move around so quickly it was difficult to tell Annie from Eddie at a glance but now it is easy because Annie has the pink ears with a tiny dark spot and a striped tail and Eddie has a solid black tail and his own special marking.
Eddie Has a Heart on His Back Leg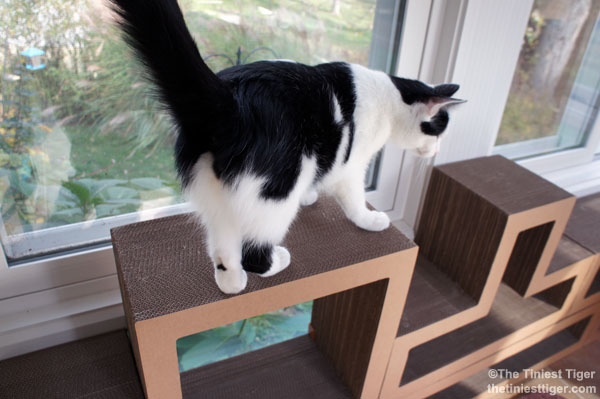 Paul noticed the little heart shape on Eddie's back leg first.  I saw Paul admiring Eddie one day and when he caught me watching him he said, "Did you notice that Eddie has a little heart shaped spot on his back left leg?" I hadn't noticed. Gracey had a little spot on her back leg too but it was not shaped like a heart. So when I took a closer look at Eddie's it really is a heart shape.  Here is a closer look for you.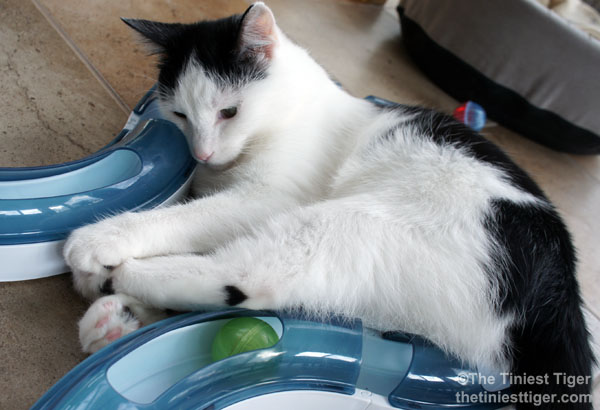 Isn't that just the sweetest thing?  And here is an even closer look.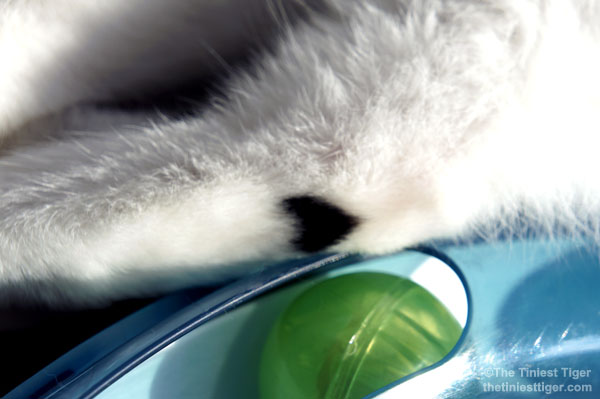 Eddie wasn't much for being kissed or coddled but now that his teeth no longer hurt him, he is much more affectionate. Today I even got my first nose tap from him.  This was a big day. When we set Eddie back down after a love session, he pauses for a second and then zooms away. This is such a little thing but I have to tell you how much it warms our hearts every time we see our little guy scampering away with his little heart spot on his back leg.
Mercy Has Three White Diamonds Down His Chest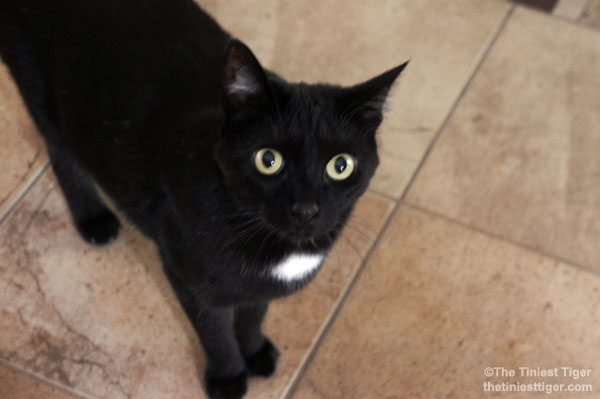 Mercy is solid black except for three diamond shaped white patches down his chest.  In this photo you can see the first diamond shape and the other two…well you are going to have to take my word for it.  Mercy wasn't much in the mood to pose with his belly exposed.  Paul has a sweater with a diamond pattern down the front and we tease him that it is his Mercy sweater.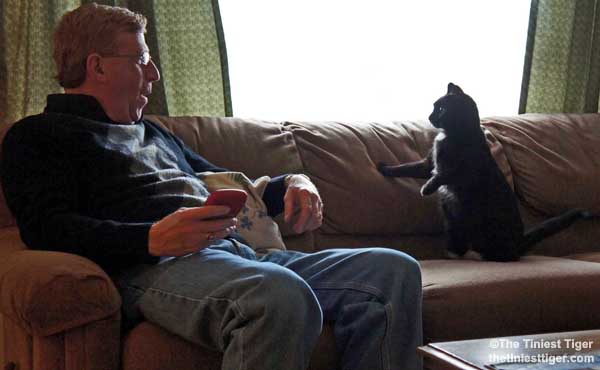 This is a photo of Paul wearing his Mercy Diamond sweater. It is a little hard to see in this photo but I love this photo because it looks like Mercy is telling Paul quite the story, doesn't it?  Mercy was rescued from the mean streets and that is why we named him Mercy.  We already had Gracey and I used to say that this was one way of being sure that Grace and Mercy would follow me all the days of my life. Well at least at meal time.
This Adopt A Shelter Pet Month, instead of talking about how great it is for the pets, I want to focus on how great it is for humans to share their homes and lives with such wonderful friends.  Maybe if we all keep talking about how our cats make every day better, more cats will be adopted.  Be sure to check the BlogPaws site and the Be the Change for Pets Facebook page  to learn more ideas on how you can help  shelter pets find their forever homes.