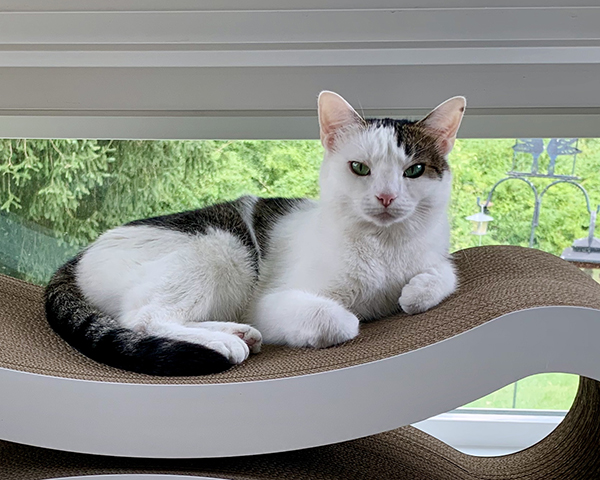 Why do cats need to scratch?
Your cat needs to scratch. Cat parents often ask why their cat is shredding their sofa, walls or rugs. Most might think their cats are sharpening their claws when they scratch on a surface but there are other reasons your cat likes to scratch. Whether your cat is scratching on a strategically placed scratching post or the arm of your sofa, your cat might actually be leaving their scent on these surfaces to communicate with other cats, be stretching their muscles or even unleashing frustration.
Sometimes cat owners will punish their cat with the squirt of a water bottle. The poor cat doesn't understand why they are being punished for an instinctive behavior. The first step in solving what you view as a cat scratching problem is not to be angry or punish your cat but to understand why they do it.
Big and small cats mark their territory
Wild cats scratch on trees to mark their territory. Tigers will mark their territory by using their front claws to rake down the side of the tree trunk. This action leaves signature gashes with their claws so that other tigers will know that tree belongs to that tiger. In addition to scratching on tree trunks, big cats will sometimes scratch the ground to leave their mark as they patrol their range. This type of marking lets other tigers know that this area is occupied.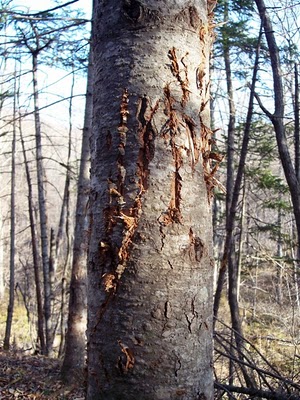 Last winter, we are fairly certain w a bobcat visited our yard. Not only did we find a pug mark that measured the appropriate size for a bobcat, I found some scat and some pretty serious looking scratches on a tree at the end of our property. I don't think a domestic cat passing by our home could have made these marks.
Scent Glands in their paws
Cats have scent glands in their paws so when they scratch a surface they are leaving their scent. This is thought to be a form of communication telling other cats that they live here. Your cat most likely will choose a few objects in the home to scratch and then return to them often. If you share your home with more than one cat, each cat might have a need for their own space. Try to provide a scratching surface preferred by each cat.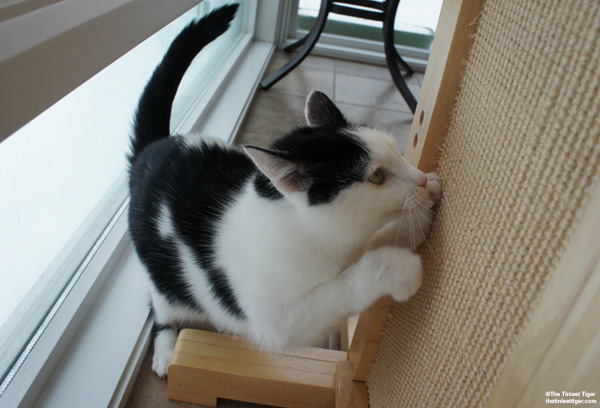 It is important to provide enticing scratching posts that satisfy both your vertical and your horizontal scratchers. Eddie is a vertical scratcher. He loves to stretch up and scratch away on the cat tower and on a small upright scratcher we have placed by the arm of the sofa.
Annie prefers to scratch on a horizontal surface. We have a round tiger scratcher in our office where Annie runs to scratch whenever she is excited. Bob is both a vertical and a horizontal scratcher. He takes advantage of all available scratchers in the house.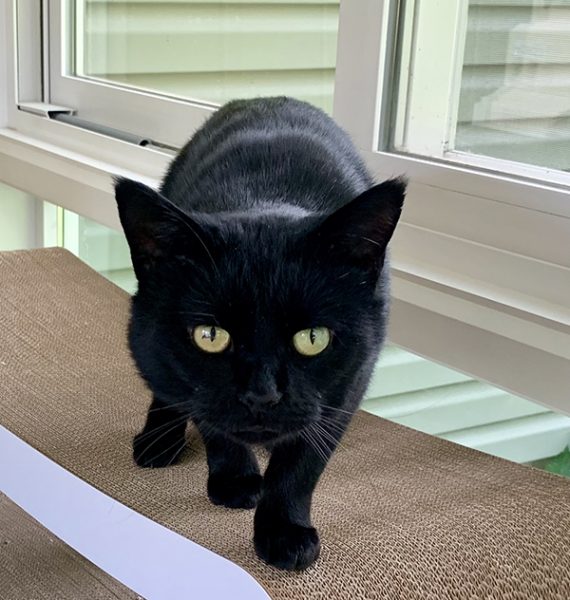 how to redirect your cat from furniture to scratcher
Where you place the scratcher is important. We know scratching marks their territory, so if one of your cats is claiming the arm of the sofa, place a vertical scratcher right next to the sofa arm. You might try rubbing a bit of fresh catnip on the scratcher to entice your cat to check it out. When we placed the vertical scratcher by the sofa arm, Eddie stopped scratching the sofa.
If you catch your cat scratching the sofa, gently move her to the scratcher you have placed near the sofa. You can calmly move her paws in a downward motion to entice her to scratch. Never yell or be rough with your cat. This will only scare your cat and make them afraid of the new scratcher defeating your purpose.
We have several larger scratchers in the sunroom. This is the room the cats spend the most time. There is bird tv, and other wildlife to watch from the sunroom windows. When they get excited, the scratchers provide plenty of surfaces to release their energy.
I worried that it would be difficult to train Bob to scratch on their appropriate surfaces but he took to them without any guidance. Perhaps because the scratching posts in place were already being used by Annie and Eddie, so he knew what to do. I for one am grateful because we had a shredded sofa years ago before I learned more about cat behavior and knew how to redirect Gracey to scratch were we wanted her to scratch.
create a safe haven for your cat
If your cat is scratching in several locations in addition to the strategically placed scratcher, your cat may feel insecure. This could be due to sharing the home with other cats, disruptions in the household, or even outside cats passing through the yard. Watch your cat and notice any changes, people and other animals that could be the culprit. Once you realize what is causing your cat anxiety, you can make changes to their environment. Adding high viewing platforms and shelves are great escapes for cats seeking solitude. Strategically placed cat beds and cat caves can help provide safe havens for your cat.
When Bob adopted us last summer after retiring from his life in the wild, we kept him in a smaller area of the house while he adapted to the change. This was good for Bob but also for Annie and Eddie to have adjustment time. Once Bob was free to roam about the house, we noticed that even a simple thing like opening both of the doors to the sunroom alleviated stress on all the cats. This wider door opening provided an easier escape from the room if any one of the cats felt vulnerable. Even small changes like this can lead to happier cats.