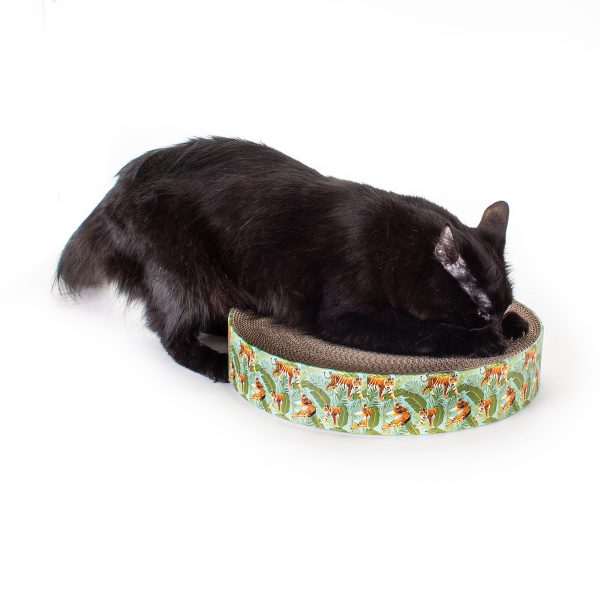 The Tiniest Tiger Cat Scratcher
Cat scratchers strategically placed around your home will help save your furniture, carpet and woodwork from the claws of your cat. Your cat needs to scratch. Your cat's true nature is to scratch to claim territory, to exercise, to release stress and to take care of their claws. Instead of being frustrated or angry, help your kitty out by placing suitable cat posts or flat scratching surfaces throughout the home. Your cat brings so much joy into your life, it is worth taking the extra step to keep your cat happy. Happy cat, happy home. Right?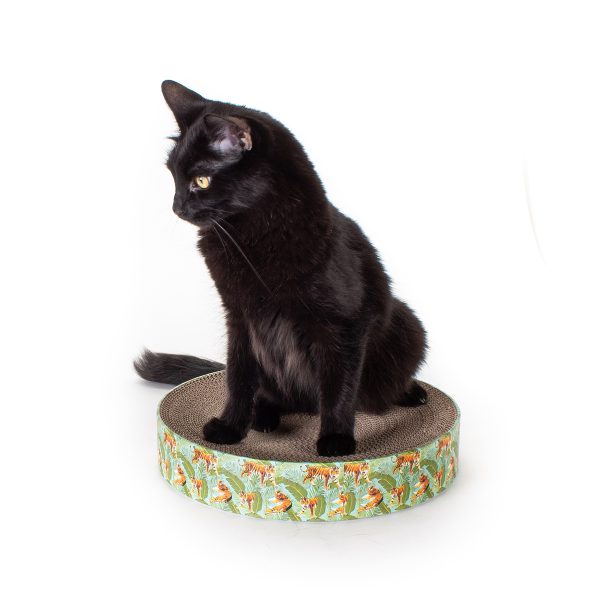 One way to satisfy the need to scratch is by placing a smaller horizontal style in front of or near an area where your cat's claws are doing some damage. This will redirect your cat to use the scratcher and not the sofa. Our Eddie loved to scratch one of our rugs. We placed our round scratcher on top of the rug and now both Eddie and Annie work out on the scratcher instead of the rug. Eddie prefers to scratch vertical most of the time, so we placed a small scratching post in front of the sofa arm. Problem solved.
The round cat Scratcher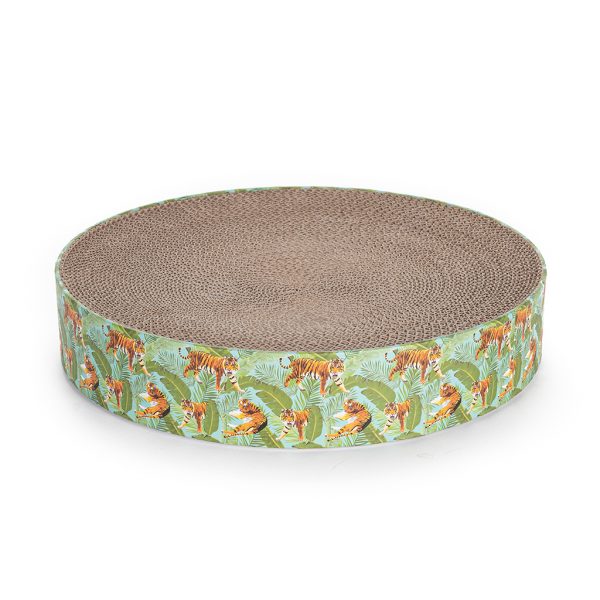 We love the fun tiger in the jungle design. This tiger design is a reminder your cat's instinct drives her to scratch. Made of eco-friendly, recycled and recyclable corrugated cardboard. The dense cardboard and durable construction will last longer. The round cat scratcher is 13″ x 15″ x 2.5″ and weighs one pound. Small enough to place in most locations and satisfies the need for horizontal scratching.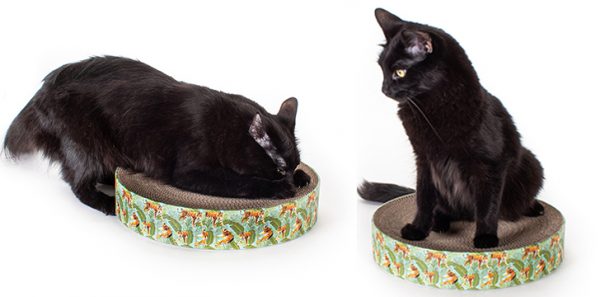 If you can't wait to get one for your kitty, pounce here: Triple T Studios
Please let us know in the comment section below: Does your cat prefer a vertical or horizontal scratcher?