Friskies releases Happy Wings
Friskies®  breaks the boredom for cats with  the release of "Happy Wings," its newest tablet game for cats available now at www.GamesforCats.com.  Happy Wings entertains cats with a garden full of fluttering fun, including a  hummingbird,  moth and  dragonfly.  The birds, moths and dragonflies fly across the screen attracting your cat's attention. When they capture a few of the creatures by touching them with their paw, the setting changes and the game becomes more difficult with quicker patterns and multiple birds, and bugs appearing on screen.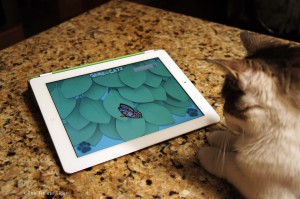 You vs. Cat
Other fun games for cats available to entertain your feline friends are Jitterbug, Cat Fishing, You vs Cat, and Call-a Cat!  Gracey and I play Cat Fishing from time to time and just started to play You vs. Cat.  This should come as no surprise but as of this post Cats are winning 22,836,210 to Humans 16,326,260!
Friskies is a leader in creating tablet and mobile games for cats,  and we think Happy Wings will be a winner too!
Paint for Cats
Gracey also likes to play Paint for Cats and has created some amazing artwork.  You can check out her work in her post Cat Art Exhibit  Welcome to the Tiniest Tiger's Gallery.  My personal favorite painting of Gracey's is Night Hunt.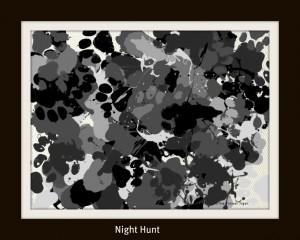 We all know how much our cats love to share our space when we are typing and or reading so adding a few apps to your iPad is a great way to engage in some playtime with your cat.  This extra exercise and mental stimulation is good for your cat and I think  you might have fun too watching your feline friend enjoying the games.