Annie loves to catnap on top of the Cat Power Tower where she has a full view of the backyard.  Our yard is especially green this summer due to all the rain that has fallen over the last couple of weeks.  Today, with temperatures expected in the 90s and high humidity, it will feel like a tropical jungle outside.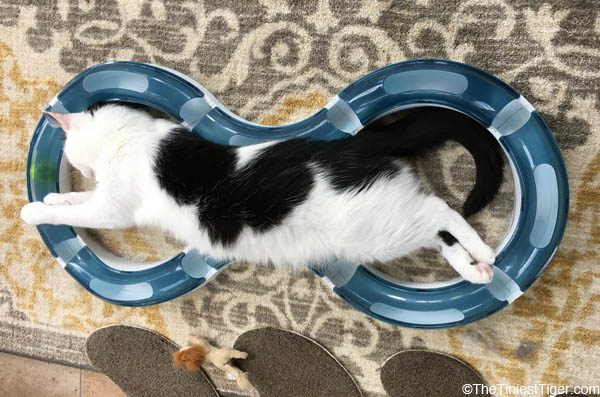 Eddie wore himself out playing with his racetrack, in fact, it looks like he fell asleep while playing!  Notice his Little Lion is right beside him. 😉 Even though it is steamy outside, the cats are cool and comfortable inside their sunroom.
Mercy loves to watch the birds outside the sunroom windows, and since we just filled the feeders, there is plenty of activity.  His eyes looks as green as the leaves in this photo.
Keeping Indoor Cats Healthy
All three cats have plenty of enrichment activities.  They enjoy playing with toys, watching birds, chasing each other, and also some alone time to rest. As indoor only cats, we create activities to keep our kitties active and entertained.  One of our cats' favorite things is playing with a puzzle feeder and working to get tasty morsels of Rachael Ray™ Nutrish® Indoor Complete Chicken with Lentils & Salmon Recipe.  This natural food for cats with added vitamins, minerals & taurine helps keep our cats healthy.  This recipe contains a real superfood blend to meet the complete needs of your adult indoor cat.
Jungle-Fy Your Cat!
Nutrish created an experience where you can upload a photo of your cat and add some super fun jungle filters and share out to your social channels for a chance to win $300 and 12 free bags of Nutrish!  You can just upload a fav photo of your cat and add one of their fun captions to show off your cat's wild side!
We had some fun "jungle-fying" Mercy, Eddie and Annie.  Pounce here to jungle-fy your cat right Meow!  
Keep Your Indoor Cat Happy with Nutrish Indoor Complete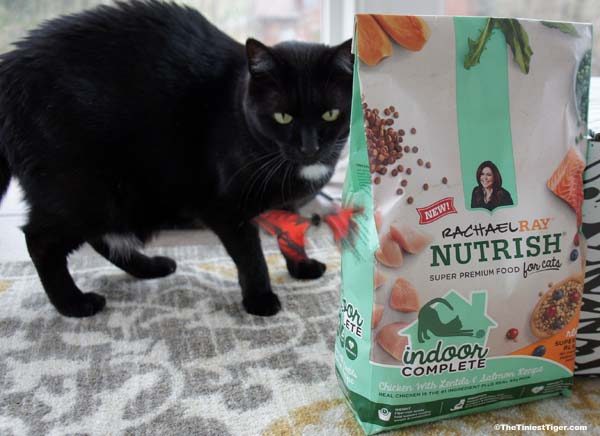 The Nutrish Indoor Complete Chicken with Lentils & Salmon recipe:
Real U.S. farm-raised chicken is always the #1 ingredient, plus real salmon.

Lentils are naturally rich in fiber and protein and low in fat. They help support healthy metabolism and optimal body weight.

Dandelion greens & pumpkin are nutrient and fiber rich. Dandelion greens also contain natural prebiotics to aid in healthy digestion.

Cranberries & blueberries are antioxidant-rich fruits that are great sources of essential vitamins and minerals, like Vitamin C, to help support a healthy immune system.

Safely USA cooked with the world's best ingredients.

No ground corn, wheat, soy or poultry by-product meal.

Intended for adult cats only (1 year or older).

Nutrish is conveniently available where you shop for groceries.If you are switching to Nutrish, gradually introduce the food by incorporating it into your current cat food over the course of 7-10 days. Slowly replace your cat's current food with Indoor Complete until it's completely switched over.
Rachael's Rescue®
Rachael's Rescue® was created for all of the forgotten pets – the ones who might not have someone who loves them as much as they deserve. A portion of proceeds from each sale of Nutrish is donated to The Rachael Ray Foundation, which helps animals in need through Rachael's Rescue. Through December 2016, Rachael's Rescue has donated more than $17.5 million dollars to pet charities and other organizations that do good for animals. The funds are used for food, medical supplies, treatments, and more for animals in need. Many more animals around the country need help, and through Rachael's Rescue, together we can make a difference in the lives of many four-legged friends.