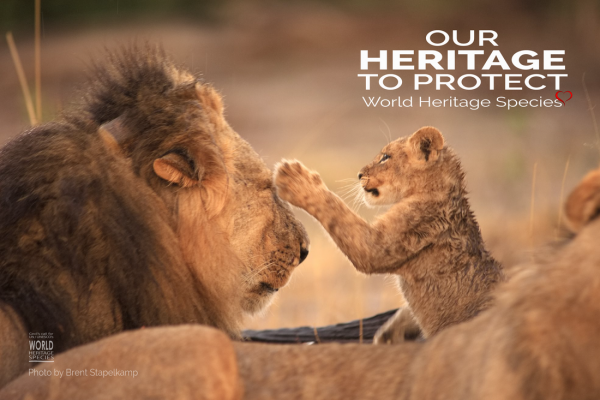 Cecil's Son Xanda Has Been Killed
Cecil's son Xanda has been killed by a trophy hunter in Zimbabwe.  The lion was shot and killed on or around July 7 just outside the Hwange National Park not far from where his father Cecil was killed on July 2, 2015. The hunter is a client of Zimbabwean professional hunter Richard Cooke. Even though the hunt was reported as legal, meaning all the papers were in order and Xanda was over the age of 5 and outside the boundaries of the park, Cooke has refused to identify his client.  Cooke also let the hunt in 2015 that killed Cecil's other son.
Xanda was wearing a collar that was fitted in October of 2016 at the time of his death. This allowed researchers to monitor his movements. The WildCru team knew Xanda had been spending more time outside the park.  His collar was returned to the researchers.
Xanda had a pride with cubs, and now their safety and survival is now in jeopardy if a new male attempts to take over.
Support the concept of Establishing  World Heritage Species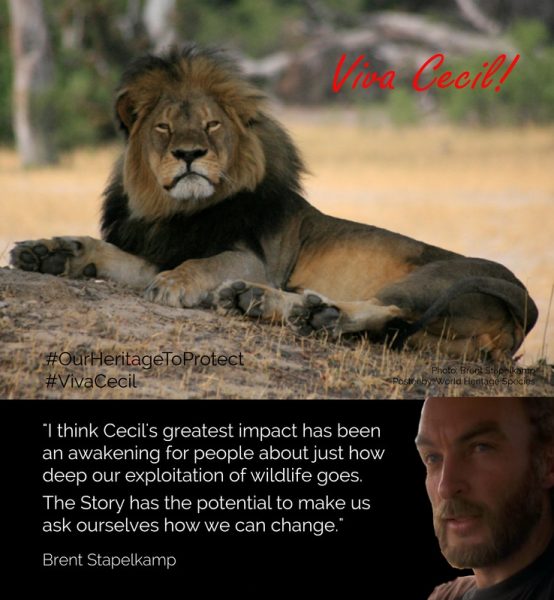 The same tired and unsubstantiated argument regarding the benefits of trophy hunting continues.   I stand on the opposite side of this argument. Brent Stapelkamp,  a Zimbabwean with the Hwange Lion Project full-time for 3 years said, "I think Cecil's greatest impact has been an awakening for people about just how deep our exploitation of wildlife goes. The Story has the potential to make us ask ourselves how we can change."
WE must change and now more than ever, we need to establish world heritage protection for lions.
Cecil the Lion inspired the citizen initiative dedicated to bringing awareness to the noble concept of World Heritage Species with the intention of asking the UN/UNESCO to expand its present mandate and to establish a World Heritage Species program along the lines of its very successful World Heritage Sites Program.
The goal is to bring the world's wildlife enhanced awareness and protection similar to that which the UNESCO World Heritage Sites program brought to remarkable places and architecture with the intention of the preservation of a legacy for future generations. The history and destiny of the world's heritage of animals are intertwined with human history. These species need protection in order to ensure their continued survival and place in history and culture.
Wildlife Needs Protection Not Trade Regulation

Please Sign and Share the World Heritage Species Petition
Please sign and share the World Heritage Species petition and join the discussion on the World Heritage Species Facebook page.  It was inspired by Cecil's tragic demise and sadly now finds us in the same spot with Cecil's son. This terrible disregard for our wildlife needs to stop and it will only stop if the world is united internationally at its highest level.  Thank you for caring about all animals big and small.