Smart Cat Box Inventor Chats with The Tiniest Tiger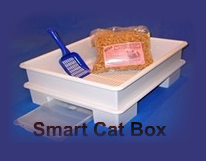 Friends, I recently had a chat with Sara, the creator of the Smart Cat Box.  I thought that you would find our conversation interesting and am posting it here for you to read in a Question and Answer format.  For those of you that are living with feline diabetes,  this might just seem too good to be true.

Gracey: Sara, I want to tell you thank you.  The Smart Cat Box is the best litter box ever!  And also thank you for agreeing to answer some questions for us. Here is my first question.  We cats are quite clever, is that why you named it the Smart Cat Box?
Sara: Gracey, I called it Smart due to the box's New Advanced Design. The fundamental difference is that the SMART CAT BOX is an entirely new approach to the way we collect and dispose of cat urine. The new, patented design is amazingly simple. The SMART CAT BOX is a three component Urine Collection System. The top box has a slotted floor to hold non-absorbent cat litter. The bottom box has a slanted floor and drain allowing urine to flow directly into a removable covered urine collection reservoir for easy collection and disposal.
Gracey: That is quite interesting, but to clarify, you do think Cats are clever right?
Sara: Yes, of course! It is a known fact that cats are the smartest species on the planet. I think I heard that from my own cats.
Gracey: OK, just checking.  Most Cats do not like change. With the New Advanced Design, are we going to have trouble adjusting to the change when we switch from our old litter pans to the Smart Cat Box?
Sara: You will  jump into the top box and urinate as usual. All urine passes through the non-absorbent litter and through the slotted floor to the bottom box. Urine flows down the drain into the covered reservoir. The urine can be tested for blood glucose levels, if necessary, and then disposed of down the toilet. Firm feces do not stick to the litter and is scooped out and disposed of. So it is easy and natural for you. Gracey, I must mention one thing. If you live near an ocean please tell your parents to place the feces in a paper bag and dispose of it in the trash. There is something in cat feces that can harm sea otters if it reaches their ocean environment. Of course, if you don't live near an ocean then the feces can be flushed down the toilet.
Gracey: Can you demonstrate how to use the Smart Cat Box for us via a YouTube video?
Sara: Well, umm, I don't know… Maybe, with a little help from you.
Gracey: HAHAHAHAHA, Sara I am kidding of course.
I agree, the Smart Cat Box is easy to use. I took to it right away. When it first arrived at our habitat, my mom placed it in the office for me to investigate. At first, I preferred to sleep on top of the shipping box, but what Cat can resist a nap on top of a box? Then my parents replaced one of my litter pans with the new Smart Cat Box. I of course, pretended not to notice it for a period of time, but I couldn't resist trying it out. My parents were so excited they were high fiving each other and dancing around the house. Why do you think my parents were so excited?
Sara: The Smart Cat Box is much easier to keep clean and the litter stays dry. No more scooping and scraping. The non-absorbent litter remains dry and virtually odor free with minimum maintenance. The litter pellets last for several months.  The Smart Cat Box is inexpensive to buy and inexpensive to maintain. Under normal conditions, with one cat it can pay for itself in 7 weeks and with two cats it can pay for itself in 4 weeks.  Your parents were probably excited to be odor free and to save money.
Gracey: That makes sense.  I admit, at times I can be a bit of a "stinker". I really like that the litter stays dry. No more icky wet paw feeling stomping around in the clumpy used litter. Sara, I had transient diabetes from pancreatitis. I have recovered, but my parents remain obsessed with checking my pee, I mean urine.  The Smart Cat Box seems ideal for Cats and Cat Parents living with diabetes.
Sara: Gracey it is a great help for Cat parents. While blood sampling may be the best test for diabetes and chronic renal failure(CRF ) and other health issues, urine sampling for blood glucose levels is a much less traumatic second best. It all but eliminates the need for veterinarians to squeeze or puncture the bladder (cystocentesis) to obtain urine specimens for urinalysis.  With the Smart Cat Box you can now test for blood sugar levels easily and naturally at home as often as needed using urine test strips and reporting results to your veterinarian.
Gracey: ~shiver~ I remember my ear and paw sticks. Oh, this is much easier on everyone as a way to monitor blood glucose levels at home.  What is different about this litter that allows the urine to flow through to the reservoir?
Sara: The non-absorbent SAFFFLOWER seed litter is all-natural, ecologically & environmentally friendly, renewable, sized specifically for the Smart Cat Box and is grown in the US. Because it is non-absorbent, the urine flows through to the covered urine collection reservoir which can hold 24 oz. of fluid. This is normally enough capacity for one cat for several days or a few days for multiple cats. The reservoir drawer is easy to remove and easy to replace.  It has a spout so that urine can be poured into the toilet without removing the snap-on lid.
Gracey: The Tiniest Tiger's Conservation Cub Club cares for all Cats both Big and Small. Our Big Cat Cousins need our help in preserving their habitats. I really like that the litter is all-natural, ecologically & environmentally friendly, and renewable. Using the Smart Cat Box helps reduce the volume of cat litter being dumped into landfills.  That is great for our earth.
Sara: The Smart Cat Box is the only cat litter box featured in the 2009 edition of the Whole Green Catalog 1,000 Best Things for You and The Earth (pg. 341).  As a special bonus to Friends of The Tiniest Tiger's Conservation Cub Club, I am offering a 15% discount for Starter System & Value Paks. Friends will type CCC15 as the discount code when they order the Smart Cat Box.
Gracey: HURRAH!  That is so nice of you Sara! I have already had several Friends inquire about the Smart Cat Box.  Soon more Friends will be odor-free and saving money and the environment all at the same time. Thank you again Sara, You have eliminated one of my elimination problems.  Hahahahaha, do you get it?
Sara: Yes, I get it.  You are welcome.  Thanks for letting me talk to you about the Smart Cat Box. You can find more information at www.smartcatbox.com.
Gracey: Would you like a Prescription Diet Hypoallergenic Treat?  They are quite tasty.
Sara: No thank you.  I am good.