I am a BlogPaws Conference Sponsored Blogger on behalf of the American Animal Hospital Association. I am being compensated to help share information about the American Animal Hospital Association (AAHA) with my readers and fellow Influencers, Neither AAHA nor BlogPaws are responsible for the content of this article.
 Is Your Cat's Veterinary Hospital AAHA Accredited?
When our cats aren't feeling well, it is difficult not to feel anxious.  I admit to being a helicopter cat parent and keeping a close watch on Annie, Eddie and Mercy.  During Gracey's health issues, knowing her doctors were able to provide her with the best veterinary care helped bring  comfort to us.
Nearly 60% of pet owners think their pet's veterinary hospital is accredited but only about 15% of animal hospitals in the United States and Canada are American Animal Hospital Association® (AAHA) accredited.
Check to See If Your Veterinary Hospital AAHA Accredited?
You can check to see if your cat's veterinary hospital is AAHA accredited by using the hospital locator tool at aaha.org.   You can find the AAHA-Accredited Vet Hospital Locator tool on this screen.  You just type in your zip/postal code
Be a Champion for Excellent Care
If your hospital is not AAHA accredited, think about asking your veterinarian if they would consider becoming AAHA accredited.  Accreditation means your hospital holds itself to a higher standard and accreditation by AAHA is the way to know a veterinary practice is operating at the highest standards of excellence in animal care.  As a cat parent, you will gain peace of mind knowing your cat's hospital has passed these standards and will receive the best care.
AAHA- Champions for Excellent Care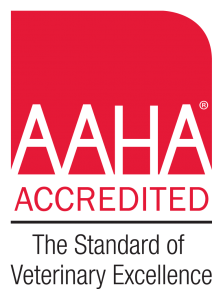 AAHA sends consultants to AAHA-accredited veterinary hospitals every three years to evaluate hospitals on their adherence to the AAHA Standards of Accreditation. To be eligible for AAHA accreditation, hospitals must be evaluated on approximately 900 standards that assess safety protocols, equipment, veterinary knowledge, and other key areas of pet health care.
In the United states, all human hospitals that serve people with Medicare must be accredited through an accrediting body; they undergo regular reviews and quality checks to ensure they meet standards of quality for every aspect of medical care.
However, not all animal hospitals choose to pursue the AAHA-accreditation process since it is not required by law. When it comes to pet health care, accreditation is voluntary. Accreditation by AAHA is the only way to know a veterinary practice is operating at the highest standards of excellence in animal care.
State and provincial regulations can vary widely-in fact, some states don't routinely inspect hospitals, only going in for an inspection when a complaint is filed by a pet owner.
AAHA Hospitals are Thorough, Responsive, Sanitary, and Safe.  To learn more pounce here: AAHA Standards
This is a sponsored conversation written by me on behalf of BlogPaws 2017 Conference Sponsored Bloggers. The opinions and text are all mine.