There was a power outage the night my mother died. Stumbling around in the dark, looking for a candle, a flashlight, any source of light seemed appropriate.  I don't remember much about driving home in the wee hours of the morning but I remember cresting the hill and where there were usually lights scattered out across the city there was only darkness. No lighted path home, only pitch black and heartache.
Twenty years later the anniversary of her death brings a sense of foreboding that has waned but still lurks. I accept deep sorrow never disappears. Crisp memories become a bit blurred and  pain transitions from sharp to dull, but things are never the same and the hurt never completely goes away.
It has been over a month since the four year anniversary of losing you.  I sat down many times to write but just couldn't get the words out.  The sky is dark and foreboding.  A storm is brewing, and I am sitting here in pitch black with heartache.
Next month will be the eight year anniversary of  The Tiniest Tiger and that just doesn't seem possible. This past year so many friends we met when we first started  have now crossed the Rainbow Bridge too. When I see the news on Facebook, my heart sinks knowing how much it hurts to lose our little family members.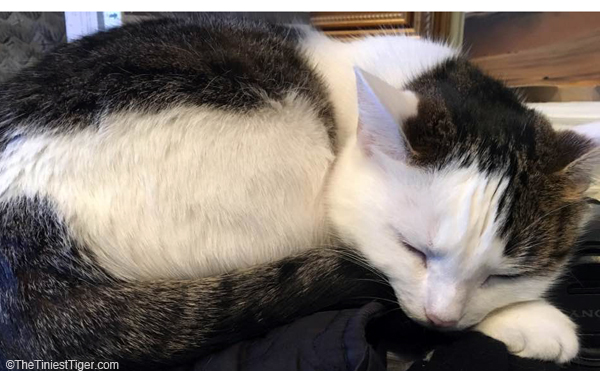 It is pouring rain and that makes me happy because this means I won't have to water the garden tonight.  Isn't that just plain lazy?  The sky is brightening now and only a light sprinkle lingers.  Annie is keeping me company in the office.  The boys were in the sunroom until the rain got too loud and they both bolted down the steps to hide in the basement.  Here is a photo of  Mercy and Eddie planning to run from the rain.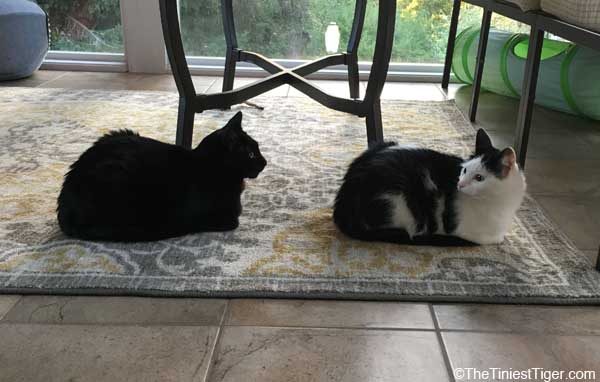 Time just keeps marching on and we keep trying to move forward the best we can.  We will celebrate Annie and Eddie's 4 Year Adoption Day Anniversary soon.  That doesn't seem possible.  They are still best friends and help make every day better for us.
Earlier, Annie was standing on Bad Kitty's head to get a better view of the birds on the feeder in the front yard.  As you can see in the photo, she had a little bit of an attitude when I interrupted her to take this photo.
Sometimes I see Annie and she reminds me so much of you.
Mostly it makes me feel happy, but sometimes it still tugs at my heart too.  I love you both.