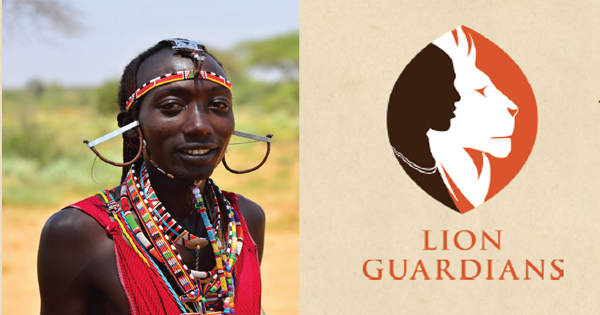 Meet Lipap Ole Sayioki, Your Sponsored Lion Guardian
We did it.  Through your support of Triple T Studios, The Tiniest Tiger community is sponsoring Lipap Ole Sayioki, a Lion Guardian in Kenya.   Lipap is one of the newest Guardians having joined the team early this year.  He monitors a very important zone in Olgulului Group Ranch called Oiti (outlined in black in the image below) that provides connectivity between Amboseli National Park, Oswean and the Matapatu hills.  Lipap is currently monitoring the movement of two sub-adults and one mature male African lion in his zone.
The Lion Guardian team tells us that he is already proving to be a worthy Guardian with his discipline and good tracking skills.  They receive field reports from him almost every day. Furthermore, Lipap uses his strong written and oral Swahili skills to help his fellow Guardians by working with them on their literacy.  So far this year, he has found 293 livestock out of the 299 that were reported lost to him.  The Lion Guardians are happy that he is now part of the team.
 A Message to You From The Lion Guardian Team
We would like you to know that your sponsorship provides multiple benefits – strengthening lion conservation and improving local livelihoods.  We hire only exceptional candidates and commit to building their skills and capacities so that they grow as individuals and also help strengthen our programs.  As part of their training, our Guardians learn to read and write in basic Swahili, use GPS tracking devices, and gain field research and data collection skills.  All of this helps the Guardians monitor and protect the lions in their communities. In addition to supporting successful conservation, your sponsorship provides employment to Lipap, who is a member of the local community where employment opportunities are hard to find.  He uses his monthly wages to buy food for his family and pay medical bills. Your support is not only helping Lipap but also his entire family. 
Thank you again for your important support –100% will go to conserving lions and preserving traditional culture.  
It takes a community to conserve lions and preserve cultures, we are grateful you are part of ours.
ASHE OLENG (Thank You)
Best regards on behalf of the entire Lion Guardians Team.
 About Lion Guardians
Lion Guardians conservation model is adaptable to various cultures and wildlife species. Founded on local value systems, community participation and science, it is based on a decade of research and rigorous measures of success.  The Lion Guardian approach includes recruiting young, non-literate Maasai and other pastoralist warriors to learn the skills needed to effectively mitigate conflicts between people and wildlife, monitor lion populations, and help their own communities live with lions.  This solution based conservation model  is successfully transforming people who were once lion killers into lion protectors.
Thank you for being a part of The Tiniest Tiger community and for helping save  wild lions.