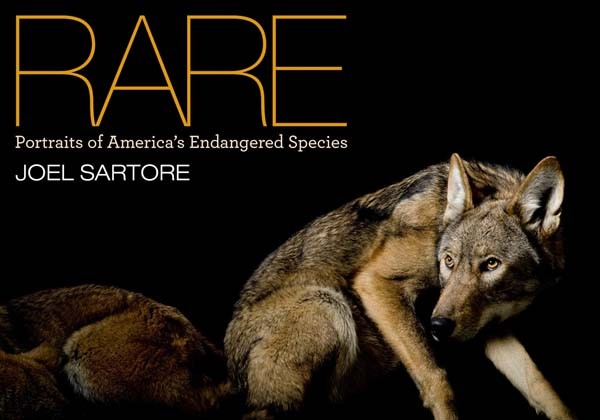 RARE Portraits of America's Endangered Species
When Joel Sartore's photographs first appeared in the National Geographic magazine in January 2009, the eye-catching photos served as a reminder of the hundreds of species on the brink of extinction.  In Rare, Sartore and National Geographic highlight 80 iconic images, representing a lifelong commitment to the natural world and a three-year investigation into the Endangered Species Act and the lives the Act exists to protect.
RARE gives readers a broader understanding of the history and purpose of the Endangered Species Act, and an intimate look at the lives it seeks to preserve. The stunning up-close portraits on every page, evoke sympathetic wonder at the vast and amazing array of plants and animals still in need of protection.
RARE is proof that a picture is worth a thousand words.
RARE offers proof that a picture really is worth a thousand words, as it shows us, uniquely remarkable and seriously threatened individuals from each species. It is a compelling story.
RARE: Behind the Scenes
Joel Sartore, Photographer
Joel Sartore is a photographer, speaker, author, teacher, and a 20-year contributor to National Geographic magazine with  a sense of humor and a Midwestern work ethic. Sartore's assignments have taken him to every continent and to the world's most beautiful and challenging environments, from the High Arctic to the Antarctic. His mission is to document endangered species and landscapes in order to show a world worth saving.
His interest in nature started in childhood, when he learned about the very last passenger pigeon from one of his mother's Time-Life picture books. He has since been chased by a wide variety of species including wolves, grizzlies, musk oxen, lions, elephants and polar bears. His first National Geographic assignments introduced him to nature photography, and also allowed him to see human impact on the environment first-hand.
In his words, "It is folly to think that we can destroy one species and ecosystem after another and not affect humanity. When we save species, we're actually saving ourselves."
In addition to the work he has done for National Geographic, Sartore has contributed to Audubon Magazine, Geo, Time, Life, Newsweek, Sports Illustrated and numerous book projects. Sartore and his work have been the subjects of several national broadcasts including National Geographic's Explorer, the NBC Nightly News, NPR's Weekend Edition and an hour-long PBS documentary, At Close Range. He is also a contributor on the CBS Sunday Morning Show with Charles Osgood.
The Rare: Portraits of America's Endangered Species Giveaway
One member of The Tiniest Tiger Community will win a copy of Joel Sartore's RARE.
How to Enter
Enter your information in the contest widget so we know where to ship your prize if you win.
Leave a comment below this post telling us; Why you would like to receive a copy of RARE.
This giveaway is open to everyone.
The Rules:
Void where prohibited.