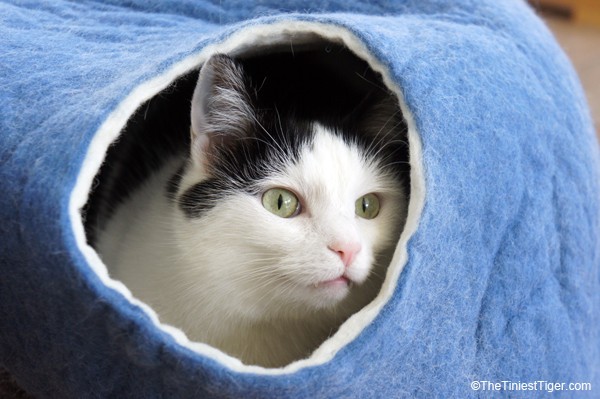 Eddie Loves the Kivikis Cat Cave
Our friends at Tidy Cats sent us a Kivikis Cat Cave for  Annie, Eddie and Mercy.  I knew as soon as I opened the package that Eddie would love the 100% sheep wool handmade cat cave.  One of Eddie's nicknames is ground mole because he loves to burrow under blankets and nap in cave style beds.
When I set the pretty blue cat cave down in the sunroom, Eddie was the first to zoom into the cat cave while Annie and Mercy were left standing in place.  Eddie had a "you snooze, you lose" look on his face.
Later, when Eddie abandoned the cat cave, Annie decided to check it out to see why Eddie was so fond of the new bed.  It didn't take long for the boys to show up and try to persuade Annie to leave the cave.
Mercy quickly realized Annie wasn't going to budge but Eddie began to bat at the top of the cave and then pounced on the top to try to force her out.  Eddie was quite determined and his efforts were rewarded as Annie quickly fled from the cave.
Annie is used to getting her own way, so when Eddie doesn't comply with her wishes, she must need a little time to reflect on what just happened.
Eddie quickly took back the cat cave but knew he must stay  alert  in case Mercy or Annie decided to challenge him for occupancy.
The three cats don't fight but Annie and Eddie play wrestle.  Mercy and Annie play chase and tag though the house several times per day.  Mercy and Eddie swat at each other from time to time. Boys will be boys. But the Kivikis Cat Cave brought out the top cat in Eddie.  He claimed the cave as his own and it didn't take long for Annie and Mercy to give up their rights.
Eddie seems to know when either one of them stick a paw inside because he comes running like a heat-seeking-missile from the other end of the house  if Mercy or Annie get too close to the cat cave. Paul and I can't help but laugh because Annie and Mercy just aren't used to Eddie asserting himself.  Our little guy is coming into his own.