It is the Petties 2013 Nomination Time Again!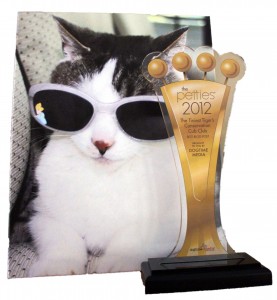 Dogtime Media's  Pettie Awards recognize the best among pet bloggers each year. Our The Tiniest Tiger's Conservation Cub Club  won the Pettie for Best Blog Post last year for Cat Obituary Farewell Eastern Cougar.  We were so proud to win for this post because our mission is to encourage you to care for all cats big and small.  We have been nominated  in 2010,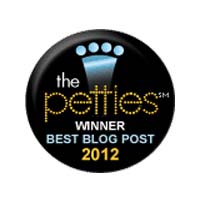 2011 and won Best Blog Post in 2012.  I hope you will help us in 2013 too!
Nominations for the 2013 Petties are now open! Voting not only  helps us win a Pettie, but you can help your favorite shelter or rescue group win $10,000 in the 2012 Pre-Petties $10,000 Donation Contest
Nominating is super easy! Just visit the Petties Nominations Center once a day between now and June 28, and nominate The Tiniest Tiger's Conservation Cub Club for Best Cat Blog. Nominate your favorite shelter or rescue group at the same time (must be a non-profit 501c3).  I am also fond of the post Since You've Been Gone  Our Message to Gracey. This post is extra special to many of us as we talk about the healing process we all must go through when we suffer the loss of our loved ones. I would love to be nominated for Best Blog Post too!
3 STEPS TO NOMINATE