As the year draws to a close many of us might take time for reflection. It is befitting to think about changes we would like to see for the better when the clock strikes midnight and the clean slate of a new year begins. Out with the old, and in with the new.
These past few months I heard way too many times, sound bites repeated about cats that are stereotypical, unfounded, and cruel.  These same mundane statements are being echoed throughout almost every media outlet and social media venue.  This  repetition does more harm than good and it is frustrating to keep hearing these same old droll statements plunked down because it is easier to repeat than evaluate.
I might sound like I have lost my sense of humor, and I haven't I assure you, except when it comes to people mindlessly repeating the following things about cats.
1) Stop repeating that cats are aloof and don't love their humans.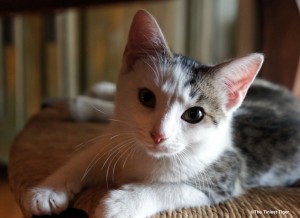 Vocal recognition of owners by domestic cats (Felis catus),  by Saito and Shinozuka and published in Animal Cognition early in 2013 caused an echo throughout the media claiming that cats don't care enough to respond to their owners, cats are aloof, and even your cat doesn't love you back.  So as bits and pieces of the article were plucked out and repeated, in one sensational headline after another, the core of the article was left behind.