We cats are super fastidious about being clean.  And I like my water fountain and my  bowls to be pristine. I also like my chow bowl to have plenty of food and my back up water supply to be filled to the rim.  I like my rugs, blankets, thinking circles, chair cushions and pillows to be washed and smelling fresh and nice. When these things are in order I know I will have a great day.
I have two Smart Cat Box litter pans.  One is located in the laundry room, which is across the hall from our office. My other pan is in my Master bathroom which I agree to let my parents share with me, the bathroom, not my Smart Cat Box. I  like my boxes to be super clean too. But when nature calls, and I listen,  my boxes  can get a little smelly.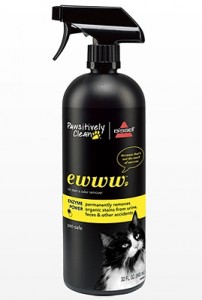 Sometimes  when my mom walks by my box she makes a face and she says "ewww"  just like the name of a product from Bissell. So when  I'm a little stinker the  ewww pet stain and odor remover  from the Pawsitively Clean line  helps me clean up!  ewww has powerful enzyme action to tackle those odors and the fast acting deodorizing agents start to work immediately. It is super easy to use and  when my box has been cleaned my mom goes from saying ewww to ahhh!