I was tagged by our friend Carol Bryant of Fido Friendly to be a part of The 7 Links, Tripbase Blog Post Project. I was honored to be tagged by Carol to share 7 links from our Conservation Cub Club blog.  This took me some time to decide which posts to choose for each of the categories.  I hope you like the posts I have chosen.
At the bottom are 5 blogs I have tagged to take the torch and run with their 7 best links.  Thank you for reading The Tiniest Tiger's Conservation Cub Club.
MOST BEAUTIFUL POST:
Lion Guardians Give Each Lion a Maasai Name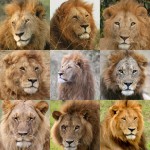 It was super tough for me to choose, but I chose this post with all the African Male Lions as the Most Beautiful. Our  wild lions are in trouble and the Lion Guardian Project is showing great promise for the conservation of the big cat. One of my favorite things about the project is the naming of each lion. The naming and telling of stories about each lion emphasizes the individuality of each cat. It is also much easier to forgive the lion for preying on livestock when you know the name and unique traits. I asked  the readers to tell me which lion caught their eye and why. They are all handsome, don't you agree?