We have the summer blues without you.
It is near the end of July and on this Sunday afternoon my heart broke all over again.  We were cleaning  the house and it was time to wash the Slankets.  It seemed like such a menial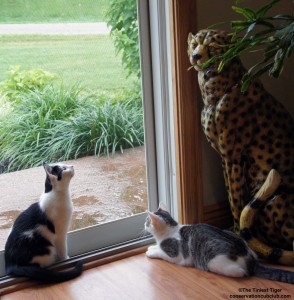 task but when I picked them up I remembered how much you loved to snuggle on them and the wave of sorrow crashed over me. I hid in the office so your dad wouldn't see me and I had a good cry.  Later when he saw me I told him that my red eyes were due to allergies.  He pursed his lips and nodded.
This first summer without you is also the first summer in four years that I am not heading out into the field.  I miss the adventure and learning at the Sea of Cortez,  in Kenya and in Namibia.  And to make matters worse, this is the first summer that the city didn't open the swimming pool.  The best part of summer for me was being able to swim every morning. Fresh air, cool water and  a mile of meditation laps to start the day. But this summer, no field work, no swimming and worst of all no Gracey.
Annie and Eddie are both very sweet kittens and they sure have a lot of energy.  They make us laugh and force us to keep up with them and that is a good thing. We are so lucky that they rescued us.  Earlier today both kittens were in the office with me and they seemed to be fascinated with Bad Kitty.  I think he was telling them a story about you.
Maggie is trying to adjust to her new home but I get the feeling like me, she might think this is the worst summer ever.