We have the summer blues without you.
It is near the end of July and on this Sunday afternoon my heart broke all over again. We were cleaning the house and it was time to wash the Slankets. It seemed like such a menial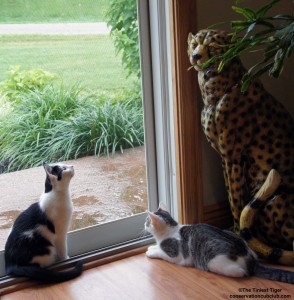 task but when I picked them up I remembered how much you loved to snuggle on them and the wave of sorrow crashed over me. I hid in the office so your dad wouldn't see me and I had a good cry. Later when he saw me I told him that my red eyes were due to allergies. He pursed his lips and nodded.
This first summer without you is also the first summer in four years that I am not heading out into the field. I miss the adventure and learning at the Sea of Cortez, in Kenya and in Namibia. And to make matters worse, this is the first summer that the city didn't open the swimming pool. The best part of summer for me was being able to swim every morning. Fresh air, cool water and a mile of meditation laps to start the day. But this summer, no field work, no swimming and worst of all no Gracey.
Annie and Eddie are both very sweet kittens and they sure have a lot of energy. They make us laugh and force us to keep up with them and that is a good thing. We are so lucky that they rescued us. Earlier today both kittens were in the office with me and they seemed to be fascinated with Bad Kitty. I think he was telling them a story about you.
Maggie is trying to adjust to her new home but I get the feeling like me, she might think this is the worst summer ever.
Now that I have felt sorry for myself, it is time to pick up and be productive. Many people have so many big problems and mine are in many ways insignificant when I think of people without water, food, shelter, and those in poor health. I need to remind myself this Sunday of all the things for which I am grateful. It is a long list and one of the things on that list is the time that I got to spend with you. We really loved every minute with you.
Later this afternoon when both kittens were asleep on the sofa with your dad, I looked around and this is what I saw.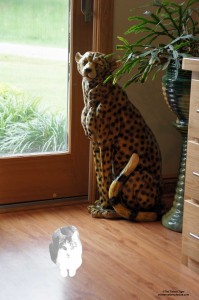 You are always in my thoughts. I miss you so much.
Evening has come and darkness is creeping in. I watched a groundhog eating little green apples that fell off the tree. He looked so happy it made me laugh. Bossy Backyard Blue Jay was chatting up a storm to me when I took him his peanuts. Your dad is always amazed that he stays put on the branch and chats with me. I like that he doesn't fly away.
It will be time to lock up the sun room soon and I remember how you stomped your paw and didn't want to come in when your dad declared the sun room closed for the night. I used to let you stay out much later when he was out at a meeting or on his bowling night. This room was built for you and it still hurts to sit there in the evening without you.
Your friend Carolyn sent us a Weeping Angel after we lost you. We thought the perfect place for her was out in the sun room on the table. At night the light comes on and glows a soft yellow as a gentle reminder of our little Gracey. The inscription reads:
It broke our hearts to lose you. You did not go alone. For part of us went with you, the day God called you home.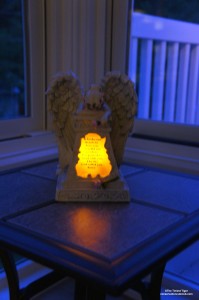 Grief comes in waves. We need to ride it out.