Our Message to Gracey After One Year

It doesn't seem possible that a year has passed and yet it seems like forever.  How can time go by so quickly yet feel like slow motion? Grief takes its toll and then some as we put one foot in front of the other forcing ourselves to move on.
Cats are creatures of habit, but so are we, using routines and calendars to organize our lives. Our memories associate what else was happening  at the time of our  loss, like the date, a song on the radio, a conference, etc.  I was supposed to speak at BlogPaws last year, but canceled  last minute because you were so ill. We won the best Facebook award at the conference and our friend Carol Bryant accepted on our behalf.
I was able to go to BlogPaws this year and just got home last Sunday.  This  was the first time I saw many friends face to face after losing you and so many had wonderful things to say about you.  It was nice to hear.
We lost you on the 17th of May, which is also Norwegian Independence Day.  I have great memories of  time spent in Trondheim.  A grand parade, people dressed in beautiful bunads (the traditional Norwegian dress) and flags waving everywhere.  I remembered it was the 17th of May while driving home the day we said goodbye.  I  thought about  your own freedom from pain on this special day of independence.
I knew we would feel a mix of emotions ranging from sadness and heartache to bittersweet memories on the anniversary of losing you. It is cold and rainy for May and that suits us just fine because we needed an excuse for a lazy day.
I spent today looking through photos of you and  reading through many of the kind words friends wrote to us.
The messages bring comfort and I confess I wasn't very good at responding. I hope everyone realizes how much their words mean to us.  I found videos I made of you but didn't get posted.  I think I might finish them and share with your friends.  They might like them too.
You so loved to drive the car into the garage with your dad. You would get on his lap and he would pretend you were driving.  It was one of those silly things that made us laugh. I loved the colors highlighted in your fur when the sun would shine on the back of your head and I tried to capture them in this photo.  I never dreamed this would be the last photo I would take of you.  I found it today on my cell phone.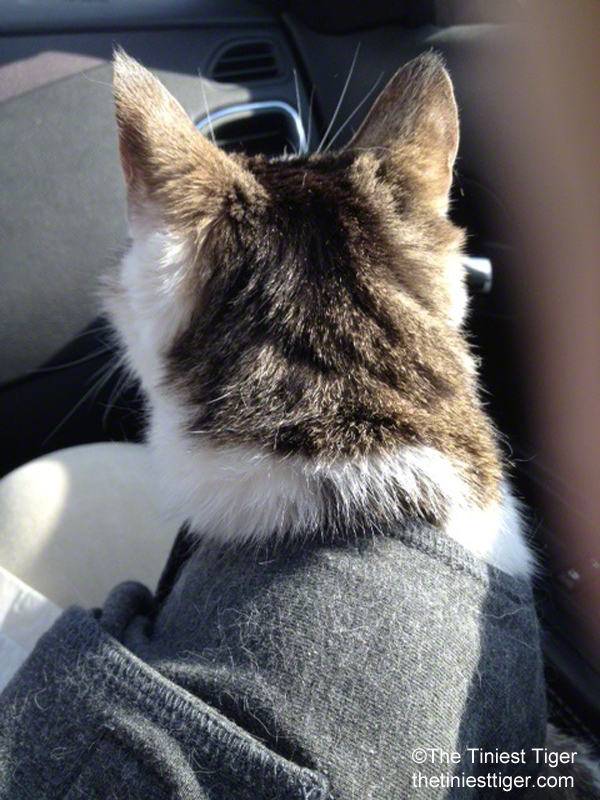 Today  looking for a photo of the Weeping Angel  our friend Carolyn sent to us, I found myself overcome with sorrow. Carolyn passed away in late March and we miss her.  She was the sweetest friend and my heart is heavy with sadness.
Yesterday I saw this quote by  Paul Boynton and thought it was perfect for today.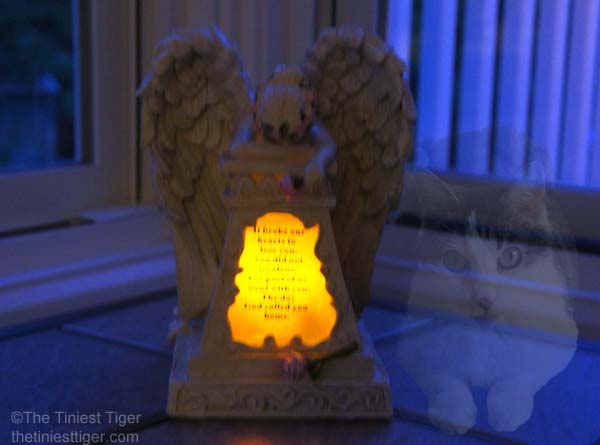 When we experience the kind of loss that leaves us broken hearted, lonely and somehow inconsolable, it's because the love and joy was and is just as powerful as our grief. And so it's never really about pushing the sadness away; but it's about remembering and letting in the joy too. It's in those stunningly beautiful, joyful moments that we catch a glimpse beyond the mystery and know in our hearts that love is not only stronger; it is forever. And we smile.    Paul Boynton
Gracey, we will love you forever.  And we smile when we think of you.  Thank you for sharing your life with us.
Today we remember Carolyn and Gracey as we do our best to let the joy back in our lives.  Thank you for sharing this journey with us and for your patience while we work through our loss.  We are ready to continue Gracey's mission and are grateful to have you as our friends.
Joanne and Paul