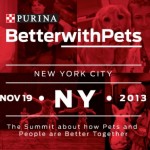 Purina brought together remarkable thinkers and doers in a TED conference format for a day to advance the way we think about pets. I am so grateful I was invited by Purina to attend the Better With Pets Summit that was held in New York City last November.  The day was filled with amazing speakers and the experience was one of a kind as we all listened, learned and shared ideas on the why and how pets enrich our lives.  Typically at the end of an intense day of meetings one might feel spent, but after this day of amazing speakers we felt energized knowing how much progress is being made in improving the lives of people and their pets.
One of the  speakers was Simon Tofield, the creator of Simon's Cat.  Simon's Cat is a favorite in our community and after having the honor of meeting Simon,  I like him even more.  I could try to explain how endearing Simon Toflield is, but I wouldn't be able to convey the warmth and joy of watching him draw along with his obvious love for the cats that share his home, but I don't need to because Purina has made the presentation videos available for you.
I think you will enjoy watching Simon's presentation as much as I did.
Simon Tofield: The Art and Inspiration Behind Simon's Cat from the Better With Pets Summit
My favorite part of watching Simon was when he would say, "there she is". You can just tell how much he loves the cats that share his life.  At the end of his presentation, Simon was gracious enough to hang out and chat with us and even pose for more than a few photos with his admiring cat loving fans.  I being more cat like, preferring to see and not be seen, couldn't even resist having a photo taken with the talented Simon Tofield

Better with Pets Summit
Purina's Better with Pets Summit featured 16 dynamic presentations, live demonstrations and speeches from pet experts. Recognizing that  pet owners are thinking about pets in new ways, and integrating them into their lives more closely than ever, the Better With Pets Summit tapped into a conversation that is already happening about the life-changing relationships pets and people have. You can learn more about the Better with Pets Summit and watch all the presentations on The Purina Network on youtube.  Better With Pets Summit 2013
Pounce here to participate in The Curious Cat Survey 2014.
We are giving away $50 gift cards to 2 participants. And there is a Wish List too.
Thank you!