Now that we are a multi-cat household, it is important to make sure each cat has their own space and pathways around the house.  Annie, Eddie and Mercy all get along but they still need alone time.  The creation of routes or corridors for your cats will help them feel more at ease in the home.  If your cats are spatting  you might check to see if you can create a more cat-friendly home to ease the tension.
We know  cats like to keep their options open from the times they can't make up their minds to stay in or out of a room when a door is closed.  Your cat just wants  to be able to escape easily.  This is hardwired  as a survival instinct.  Just like placing the litter pans where your cat can see their surroundings and not feel trapped if one of their house mates enters the area while they are using the facilities,  the same is true for moving from one location to another within your home.
Cat corridors created in your home should offer:
Alternate routes for the cats to enter and exit
No dead ends for the cat to feel trapped
Perches and lookout points for resting
You can purchase cat trees and condos as well as wall-mounted cat shelves to help your cats climb out of the other cat traffic but you can also find existing places in your home that can become an area just for cats.    Here are a few places along the cat corridor in our house.
Window Ledge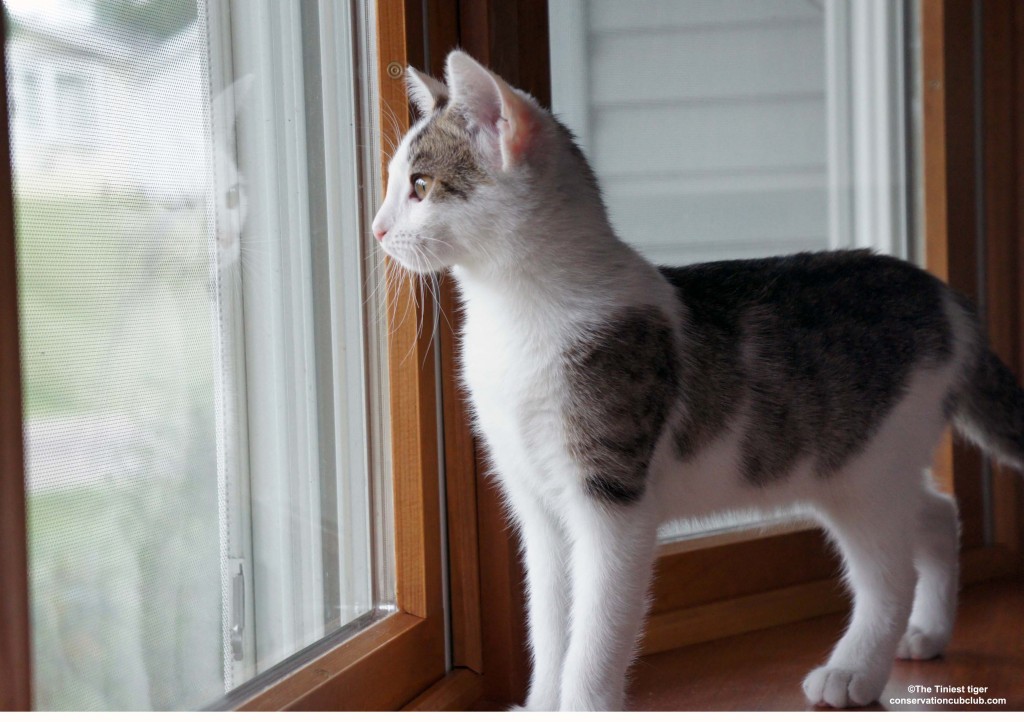 Our bay window has a nice ledge that we keep clear for a cat corridor.  We place a rectangular mat with non-slip backing on it for the cats to curl up  if they decide to take a rest stop.  Annie prefers to enter the corridor from the right side and exit to the left while the boys prefer to enter from the left and exit to the right.  While Annie is looking out the window, Mercy and Eddie are free to use the corridor below and behind the sofa.
Cat Power Tower
One of the favorite places for our cats to perch, observe and nap is on the Cat Power Tower.  This tower is great because it has three levels.   Now Annie and Eddie have been known to wrestle over who gets the top of the tower, but no serious fights.  While Eddie bird watches, Mercy observes birds from the sun room sofa. And if Annie wants to join them in the sun room, she can nap on the love seat or join Eddie on the tower.
Desk Top Near a Window
All three cats love to watch the birds and squirrels that frequent our yard.  To create more space for the cats, Paul and I placed a bird feeder in the side yard and cleared off the top of a small desk beside the window.  This space has become a favorite for all the cats at different times of the day. Mercy and Eddie take the day shift and Annie will check on the bird feeder a few times during the night.
Soft Beds
Annie and Eddie are growing up and while they used to fit comfortably in the same bed, now it is a bit more of a squeeze.  Even though they have other options for napping, they still choose to snuggle up together most of the time.  But there are times, when they need more space too.
Eddie loves to play  and when he naps, he loves to nap.  So far, he is the only one to go to Gracey's thinking circle to rest. And as you can see, he is quite comfortable there.
Big Cats Need Safe Corridors Too
The jaguar is the largest cat in the Western Hemisphere. This iconic big cat is the inspiration of myths and legends and is the symbol for several Latin American countries. But even though people are in awe and fascinated by the jaguar, many live in fear and are intolerant of the wild cat. As the forest cover continues to be cleared, jaguars are forced to be in close contact with humans, causing the intolerance level towards the cat to increase.  The jaguar needs a safe cat corridor.
Panthera's Jaguar Corridor Initiative
Panthera's Jaguar Corridor Initiative is working in partnership with local communities, governments, and  conservation organizations to secure the long-term presence of jaguar populations. The cats need a safe passage from Mexico to Argentina.  Panthera's "ground-truthing"  of corridors documents where jaguars are and where they are moving through to create the best possible corridors for the cats.
Panthera's is at the forefront of landscape analysis, corridor sampling, training of field personnel, bridging the human-jaguar divide and turning science into effective conservation actions.  Working both directions, from the bottom up with local communities and top down with policy makers provides the best strategy to providing the jaguar safe passage in protected areas.
Caring for all cats, big and small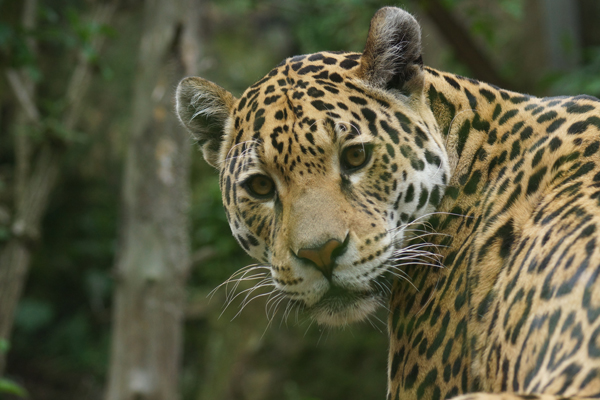 Just like the cats that share our homes, big cats need to feel safe and secure to move through their habitats.  The big cats prefer to keep their distance from humans, so let's try our best to give them space and continue to admire them from afar into the future.
Pounce here to participate in The Curious Cat Survey 2014.
We are giving away $50 gift cards to 2 participants. And there is a Wish List too.
Thank you!