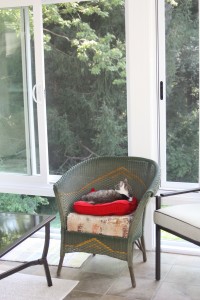 Happy Friday Friends! Well, I am trying my best to accept my favorite chair as a substitute for my lovely fig tree but it is not working so great.  My mom moved my chair over to where the fig tree used to live.  I know that some of you, I won't mention any names Corlyn, think that I had something to do with the fig tree not feeling well, but that is not true.
I have sent out a message to Joe at FigTrees.net.
I hope Joe can help us get our fig tree back inside for me, but if not,  I think Joe will help me decide on which fig tree to bring to our habitat to help me and the fig tree feel better.
In the meantime, Lazy Leopard and I have called in a nature expert for their opinion.  Here is a photo during the examination of my fig tree this morning.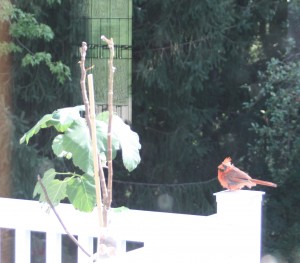 I hope we hear back soon!
Are you waiting to hear about something important to you?
Update!
Joe from Figtrees.net just got back to me.   Hurrah for Joe!!!  He said:

"The fig tree looks like it struggling. Give the tree more phosphorous, less nitrogen. This will make the tree stronger and build up more roots. Then next year you will have nice growth. Give me a call if you have any more questions! :)"
Friends, I know some of you might be thinking that nitrogen is a fancy word for cat pee.  But actually the three main ingredients  in almost all fertilizers are nitrogen, phosphorus and potassium. So even though cat pee also has nitrogen it doesn't mean that  the fig tree's nitrogen issues were caused by me.
Honest, I was not peeing in the fig tree.  I love my fig tree and besides would I like to sleep in the dirt if I were peeing in the dirt?
Where does a cat find this phosphorous?