Feline Diabetes. The Tiniest Tiger has it too!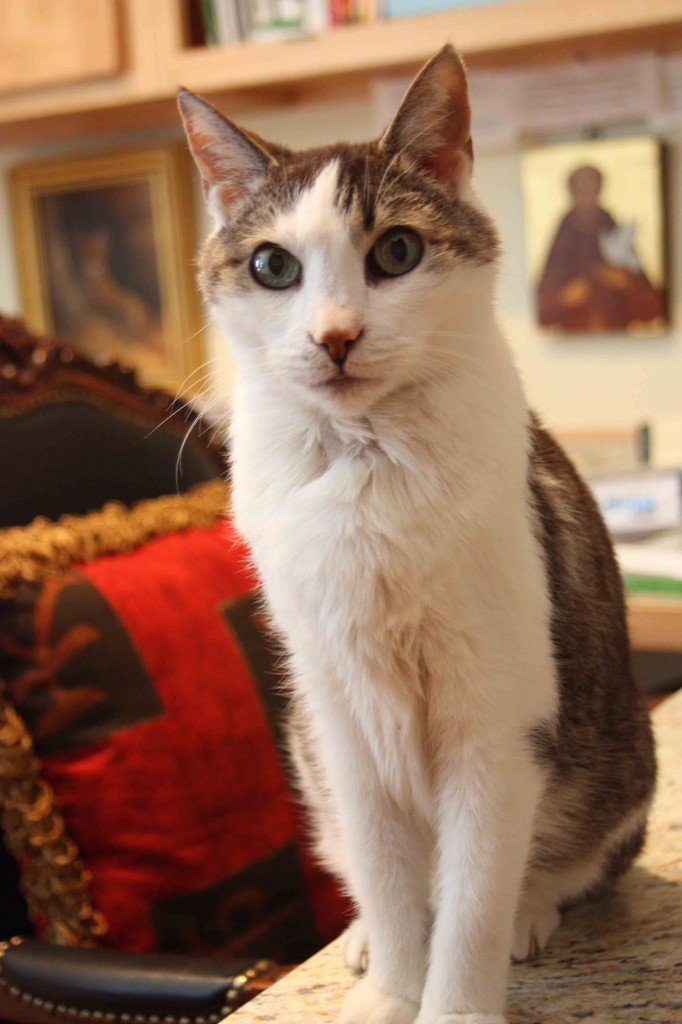 Friends, I want to take a moment to talk to you about something serious. Many of my cousins and their parents have  diabetes. I have  feline diabetes too.  In my photo, you can see where my fur was shaved for my blood test.  I don't mind showing you because we are all beautiful, imperfections and all.
I developed pancreatitis after receiving some medicine and during the recovery process, I developed transient diabetes. This was a super difficult time for me and my parents and for my Doctors too. It was hard to get the right dose of insulin for me and I knew my parents were scared and that scared me too. My  feline diabetes disappeared for a long time, almost two years.
Last Fall, I started  showing feline diabetes symptoms. I was getting super thirsty again. It seemed like I was always hungry and even though I ate more I was getting thinner, and thinner. My parents scooped me up and put me in the ~shiver~ carrier and we went to see my Doctors at the Morris Veterinary Clinic.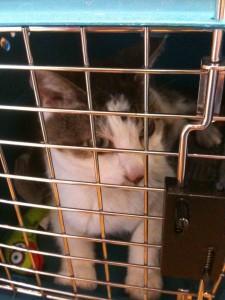 I don't like to be in my carrier at all even when Teenie Sardini rides along with me. And  when I know my parents are worried, I get even more anxious.  They try to stay calm but I can see their teeth chattering from nerves.
All the people that work at the clinic are super nice to me.  They really are.  Here is a photo of me being examined by one of my Doctors and  Joe. (Joe has red hair like my dad.  He is really nice to me and always smiling.)
It was determined that my diabetes had more than likely returned and I needed to stay at the clinic for a glucose curve. Even though everyone is nice to me, I sure don't like to see my parents walk out the door without me.  They don't like it either because my dad has to tell my mom to get  going and then sometimes I see my mom tell my dad to go when he turns around to look at me before they leave.
My parents always come to visit me when I am incarcerated, I mean staying at the clinic.  I get super hungry when they visit and my cell, I mean condo door is opened so they can  pet me and we have a bit of a chat. My mom usually picks me up and hugs me. Sometimes too much but this is one time I don't mind.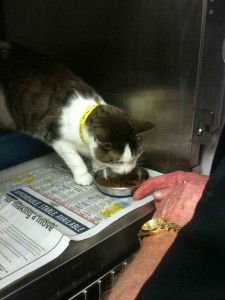 This can be a scary time for our pet parents. They want to do everything they can to help us too.  Our parents have to learn how to test our glucose levels with a glucometer, we use the Alpha Trak. They have to learn how to give us injections of insulin.  I take ProZinc and we use the Diabetes Care Kit.
We have to learn how to stand still while they prick our ear or paw pad. I need more practice at the standing still during the ~shiver~ ear stick.  Some days I am just, well to be honest, wild!
During the first week or two, my parents were so worried, they even cried.  Sometimes they would give me the injection but the insulin would pool up on the outside of my skin.  Sometimes I would wait until they were ready and then take a big step to the right to avoid the needle.  Now we have it down to a routine.
I think we will chat more about Feline Diabetes in a few upcoming posts.  Our cousin Sassy is newly diagnosed and her mom Carol is super scared like my parents were.  Our Friend Trish really helped my mom when I was first diagnosed too. I really like it when  our small paws can unite to help our Friends in need of love and support.  Thank you everyone.
*Please note  there is no substitute for the advice, examination and care from a Veterinarian.  All information here on The Tiniest Tiger is from my own experience and not intended to be  used to diagnose or treat symptoms in your cat.  Please consult a trusted Veterinarian for all your cat's health needs.