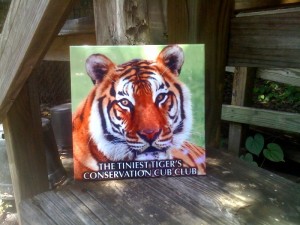 Friends, We did it! Hurrah!  We united our small paws to feed one of our big cousins at Big Cat Rescue!  Look at the beautiful tile Big Cat Rescue made us to show their appreciation!
We can all be proud that our Small Paws United to Make a Big Difference! It even has our name on the tile.  Aren't you super proud of our streak?  Who feels like strutting? I know I do.  Or, I can throw dirt out of the fig tree to celebrate.

Thank you everyone! I wonder who will be the first The Tiniest Tiger friend to get their photo with the tile?  Won't that be exciting too?  You see, Friday the 13th is not unlucky after all.
I can't wait to show Bad Kitty.  He is going to be so proud of us.