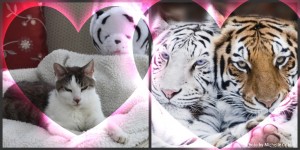 Happy Valentine's Week-end Friends!
I am presenting you with my The Tiniest Tiger's Valentine  Imitation.
I know it is the week end and you like to take it easy so I apologize for making this one so rough on you.
Take your time and try to decide if I (me, Gracey, The Tiniest Tiger) am on the left or on the right.
Both Tigers are snuggled up with a Friend, have nice whiskers, pink noses with a little stain, and are smiling.
Super tough.  Take your time.