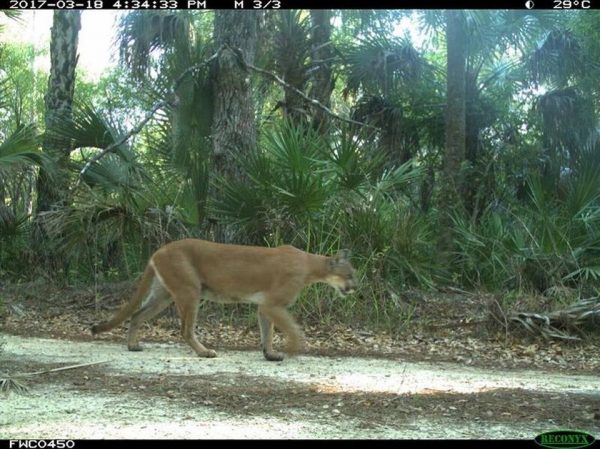 Female Florida Panther and Two Kittens Captured on Trail Cameras
For the first time since being placed on the endangered species list in 1973, a female Florida panther with two kittens has been captured on a trail camera north of the Caloosahatchee River in Southwest Florida. Male panthers, who roam a much larger territory than females, have been documented north of the river, but no females had seemed to be able to cross the river.
Wildlife experts are excited as the mere presence of the nursing female with her kittens means Florida panthers may be establishing a second distinct population in Florida.  Almost all of the Florida panthers live south of the river on fragmented and shrinking habitats. Human population increases and expansion have crowded the big cats and a large number of the cats are killed by automobiles on roads.
The Florida Panther Recovery Plan
The Florida panther population decreased to just under 50 individuals in the 1990s making the species one of the most endangered cats.  A recovery plan to protect the cats from genetic inbreeding and ailments including heart problems and kinked tails detailed the need for three distinct populations of panthers.  Wildlife officials released nine Texas cougars to breed with the Florida panthers to widen the gene pool. The recovery plan showed great promise with the panther population south of the river more than doubling to an estimated 120 and 230.
This good news for wildlife biologists was not welcomed by ranchers and hunters who complain that the panthers attack livestock and drive down the deer population. Even though environmentalists argued against the ranchers and hunters claims, in 2015 the recovery plan was limited to a single population of panthers.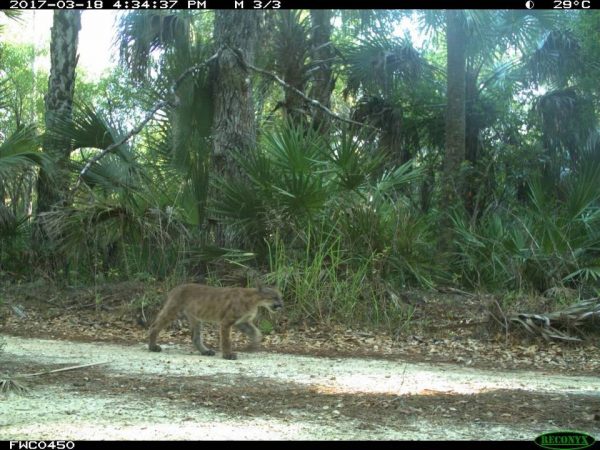 A Second Distinct Population in the Making
Wildlife officials considered moving females across the river, but were unable to find a landowner to agree with the panther being placed on their property.  This left the panthers on their own to find their way north of the river. When the female was confirmed in the state's Babcock Ranch Preserve Wildlife Management Area, wildlife officials placed more trail cameras.  Earlier this year, the trail cameras captured the photos of what appeared to be the nursing female panther and her two kittens. With the new population north of the river, the Florida panthers have overcome one obstacle to expanding their population.