Tell Bissell Your Carpet Confessions!
You and 5 of your Friends can Win Deep Cleaning Prize Packages!
One Person will be the  $2500 Cash Grand Prize Winner!
Psssst! What's Your Dirty Little Secret?  You can tell me.  And to make it even easier, I will go first.  When I am a
little upset with one or both of my parents, I throw my litter out of the pan. And if they have done something that really gets my fur up, like leave me alone too long,  I poo on the bedroom rug.  There, I have said it.  And when I poo on the bedroom rug, it really gets their attention. (Oh and I am still working on cleaning up the aftermath of my unfortunate temper tantrum when I peed in my mom's suitcase. Stay tuned for my black light test coming soon.) So you see, even me, Gracey, The Tiniest Tiger can be a little messy.
But what helps keep me out of trouble when I misbehave besides the fact that my parents don't seem to have any short-term or long-term memory of my rotten actions is that   I have Bissell to help clean up my messes.
And now,  our friends at Bissell are launching another time saving, carpet cleaning, pet mess clean up assistant.
HOUSTON, WE HAVE LIFT-OFF®!  hahahha. I have always wanted to say that…. but seriously…
Bissell Homecare, Inc is launching the new Lift-Off® Deep Cleaner.  If you submit your carpet and upholstery confessions via Bissell's Facebook page from November 7 – December 2, 2011,  you will have a chance to win $2500  and  prizes!
Here are the details:
Entrants will submit their carpet and upholstery confessions via BISSELL's Facebook page, and BISSELL will choose one grand prize winner. The grand prize will include a BISSELL Lift-Off® Deep Cleaner for the winner and five family members or friends. In addition, the winner will receive a $2,500 gift card and the full suite of BISSELL Lift-Off® Products, including the Lift-Off® Deep Cleaner, Lift-Off® Multi Cyclonic Pet Vacuum, Lift-Off® Steam Mop and Lift-Off® Floors & More. Five runners-up will also receive the full suite of Lift-Off® products. To enter, visit www.facebook.com/bissell.
Here is the dirt on carpet cleaning: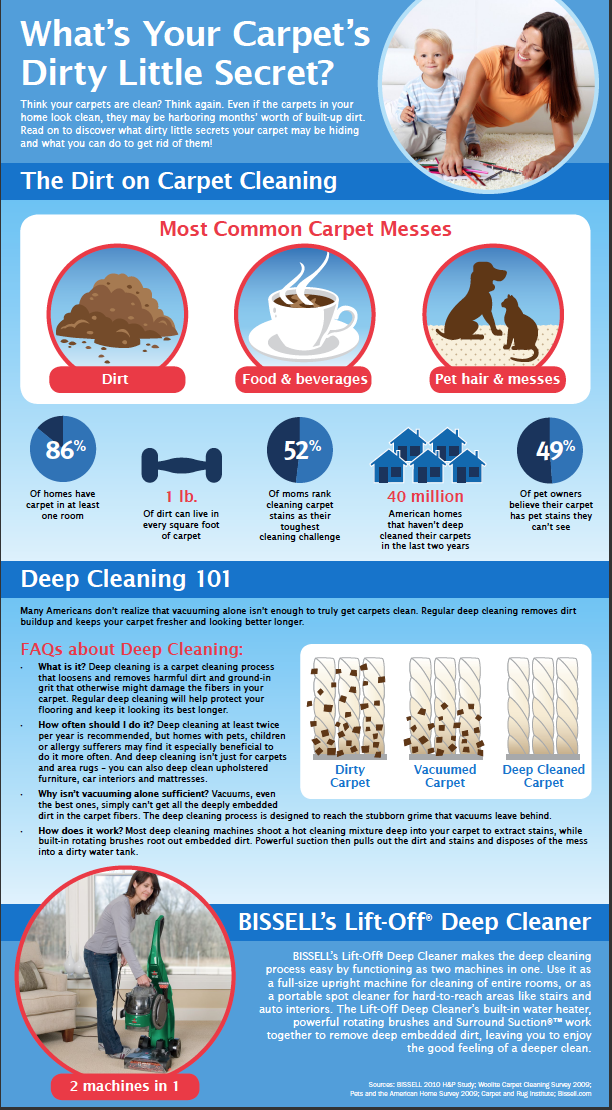 Do you and your carpet and upholstery share a "dirty little secret?"
You can tell me. I am listening.