Dr. Ruth MacPete is our guest today!
I am honored to introduce you to  Dr. Ruth MacPete.  Dr. Ruth, "the Pet Vet", has appeared on TV shows like "The Doctors" and on the TV news programs throughout the country educating pet parents about important pet issues.  She has also written numerous articles for Cat Fancy, Bark, and Kittens USA.
Dr. Ruth always wanted to be a veterinarian. Her love of animals was evident from the time she was a baby. One of her first words was cat, not surprising since she seemed to always be surrounded by them. This is our kind of Doctor!
November is Diabetes Awareness Month. Many of you know that I have diabetes and  that my parents take good care of me with glucose checks and making sure I get my ProZinc insulin twice a day.  But  we wondered if cat parents are knowledgeable  about feline diabetes.  Dr. Ruth was super nice and offered to talk to us about what all cat parents need to know about diabetes.
Guest Post by Dr. Ruth MacPete
DIABETES AFFECTS CATS?
Diabetes affects 1:200 cats nationwide and its prevalence is increasing at an alarming rate. Diabetes is a multi-factorial disease caused by different risk factors including: age, genetic predispositions, diet, and obesity. Unfortunately obesity is also on the rise in both people and pets. It is estimated that 58% of cats in the US are overweight. That means more than half of cats in the Unites States are at risk for developing diabetes. 
WHAT IS DIABETES?
Diabetes mellitus occurs when the body is unable to regulate the amount of sugar in the bloodstream. Diabetes is classified as type-1 or type 2-diabetes. Type-1 diabetes occurs when the body fails to produce the hormone insulin, which is responsible for controlling blood sugar levels. Insulin resistant or type-2 diabetes develops when the body becomes less responsive to the effects of insulin. Type-2 diabetes is the most common form of diabetes in both cats and people. Both type-1 and type-2 diabetes result in chronically elevated levels of sugar in the blood. Left untreated diabetes can lead to nerve damage, kidney failure and even death.
Dr. Raasch from Iams Answers our Readers Questions.
Some of you asked questions about cat food ingredients, proteins and other concerns you might have about your cat's nutritional requirements in our post Which Protein is Best for your Cat. Dr. Raasch from Iams  answered your questions  in a personalized video.  Our Friends Jayme and Maya's questions are addressed in the first video.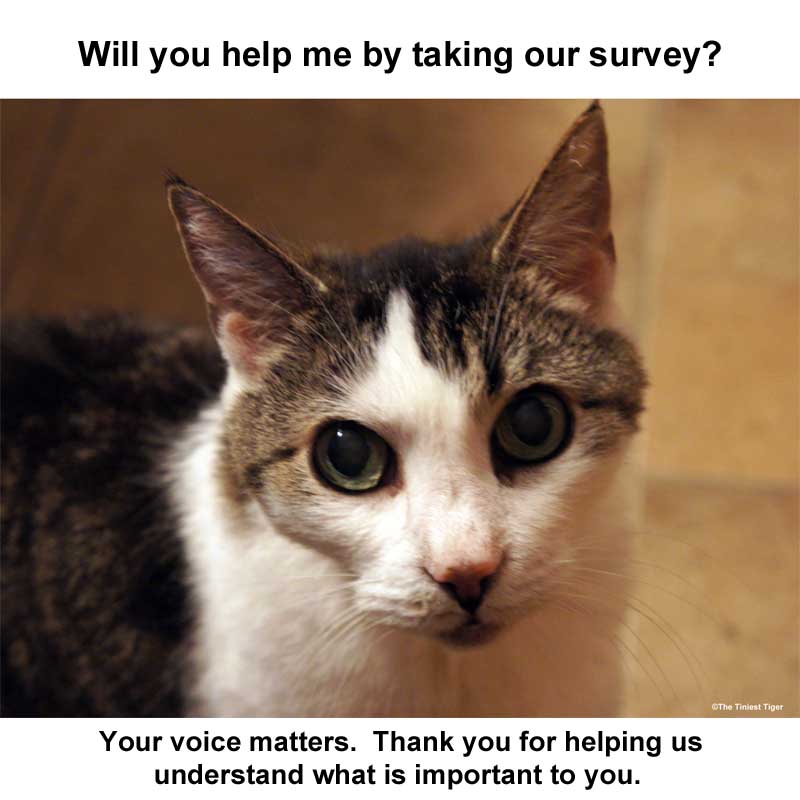 Pet Food Preference Survey for Cat and Dog Parents
As part of our zoology studies, we are super interested to learn what is important to you when choosing food for your cat and dog.  Your opinion matters!  Thank you for your consideration!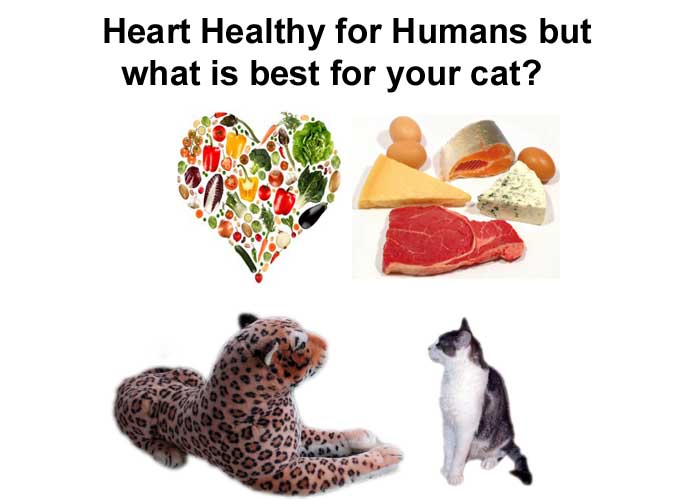 Do you wonder what protein is best for your cat?
Food trends come and go. Many humans like to mix up their diets by trying a variety of  foods and flavors.  My mom is a foodie. She has developed award winning specialty food products  and even now that she is a zoologist  she still likes to  learn about interesting new ingredients  and innovative foods.  Just ask my dad, you probably never want to go to the grocery store with her.  She really likes to  stalk the shelves for what's new.  But we cats, well we aren't concerned with pink himalayan sea salt or agnolotti with celery-root puree. We just want protein.
Cats are obligate carnivores and we need to eat protein that contains 10 specific amino acids that we can't make on our own. These essential amino acids are known as the building blocks for important biologically active compounds and proteins. If we become deficient even of just one essential amino acid, it can lead to serious health problems. Your cat's menu should be made up almost entirely of protein sources from meat.  This is why we cats are always on the prowl for the amino acids in protein.
Do you have questions about cat food ingredients?
Cat Illness Plan  and Take Your Cat To the Vet Week
Because it is take your cat to the vet week, I wanted to talk a bit more about why it is super important to make sure that your cat gets checkups. I just had my checkup at the Morris Veterinary Clinic and with the help of my Thundershirt for cats I for the first time remained calm and both my carrier and I stayed clean.
We cats instinctually hide illness and injury from our parents. We can't help this, it is wired into us from our wild ancestors.  Survival of the fittest.  We don't want to be an easy target so we cats are very skilled at covering up when we don't feel well.
By the time a cat shows symptoms, they could be very sick.  I am living with feline diabetes so I need checkups and ProZinc injections twice per day.  My parents are attentive to my condition and at times might even be classified as helicopter parents, because they hover over me so much.
First Cat Only Pet Insurance Plan
Thundershirt for Cats means Successful Vet Visit for Gracey
Super Hurrah!!  My Thundershirt for Cats training really paid off.  For the first time…ever…. both my mom and I made it all the way to my doctor's office and back without any accidents or anxiety attacks.  I have been in training for a few months, wearing my Thundershirt for Cats during big spooky storms and on the scariest holiday for cats, the 4th of July.  All of this training was leading up to the big event…. a trip to visit my doctors at the Morris Veterinary Clinic.
Now, I love my doctors at the clinic, every one of them.  They are super nice and I know they are truly concerned and take excellent care of me, so it is not visiting them so much as it is being confined to my carrier and having to be transported in the car to and from the clinic. ~shiver~.
My mom loads me up into my Pet Taxi and  places some training pads in the bottom of the carrier.  Then she
carries me carefully to the car and places me in a seat with a seat belt looped through my carrier in case of any sudden stops. I always face in a direction where I can see her and she talks to me.  We listen to Andrea Bocelli while we drive to help keep us both calm.
The Dreaded Car Ride to the Morris Veterinary Clinic
Now on an ordinary car ride to the Morris Veterinary Clinic I begin to panic.  About ten minutes into the journey my stomach starts to toss and turn. I vocalize my distress to my mom and she tries to calm me down but after another ten minutes we cross a set of railroad tracks and the when we go over the bump, I am known to have an accident or two in my carrier.  It is most unpleasant and embarrassing.
Due to my embarrassment, I begin to panic about what has happened and most often cry out in the most pitiful way.  This causes my mom's heart to race and I can see the worry on her face as she gently reassures me that we are almost there and everything will be alright.
When we arrive at the clinic, the staff is on standby.  I am typically whisked out of my carrier and showered clean. It is most unpleasant for everyone.  After my bath, I am ready for my check up. But because I am so wound up from the experience, they can't get an accurate glucose check on me.
Cat Whiskers Aid Navigation and Communication
We cats are super curious. We like to investigate and explore unusual places and spaces. Many times cat parents try to restrict the movement of their feline friends but it seems that a cat's  curiosity only increases when they are denied access. You might have experienced this when a door is closed.  We cats like our options to remain open.
Thankfully nature equipped us with our whiskers as a tool to help keep us safe. Did you know that a cat's whiskers are the same width as a cat's body?  When the whiskers brush up against the sides of the entrance to a space, this acts as a warning that the space is too small.  Whiskers also help cats move stealthily in the darkness by preventing us from running into things.  Cat whiskers can detect changes in air currents and wind.
Cat Whiskers are Super Sensitive
A cat's whiskers are super sensitive.   In fact,  the cat's whiskers are so superbly programmed that if they move even 1/2000th of the width of a human hair, a signal is triggered and sent to the cat's brain.  Cat experts think this could be the reason for a domestic cat's need to always have their chow bowl filled to the top.
When the food level is too low, a cat is forced to put her face down into the bowl  causing her whiskers to brush up against the sides.  This whisker stress  might cause discomfort for your cat and  may explain why she is so adamant to have her bowl always filled.
Cats deserve treats too!
Did you know that dog owners are twice as likely to treat their dogs than cat owners?  Because dogs are bigger babies,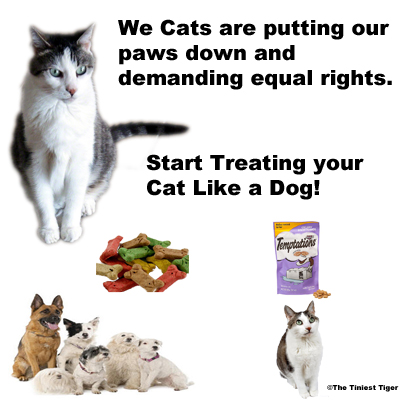 I mean are not as independent as cats, many pet parents are so preoccupied with the  whiny canines that they don't even get time to think about treating the cats!
Well, we cats say no more! Just because we cats are like the A student that always brings home a perfect report card without having to study doesn't mean we don't like attention. We understand the dogs require lots of tutoring just to get along but that doesn't make it ok to take the cats for granted. We like attention too even if we don't always drool and beg for it.
It is time  as a pet parent you start treating your cat like a dog!
Cats like treats too.
Did you know that Temptations® Treats for cats are the leading cat treat on the market? They come in a wide variety of types and flavors too so even the most discriminating feline  palate will find one that they will enjoy.
Cats Need Water
All cats need water. Even though you might hear people say their cat never drinks water, or even say cats don't need water,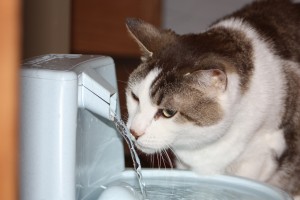 we know this is not true and that all cats need water. Our wild cousins intake water when eating their prey but they also seek out watering holes.  Domestic cats sharing their homes with humans are descendants of the African Wildcat, but the life style and domesticated adaptations make their needs different. Most house cats are not surviving off of their hunting skills.
House cats benefit by drinking more water especially if they are eating a dry kibble diet. Cats consuming wet food do get more water from their food but still need to have a separate water source. I have an electric water fountain and a bowl of fresh water by my chow station.
Two Hydration Tests Your Cat Needs Now
There are two simple tests that you can do at home to make sure your cat is getting the water they need.  My parents perform both of these tests on me quite often. They are not painful or difficult to withstand.
Cats are Water Wizards
Water is essential to survival and land animals have evolved to meet their water needs in various ways. Some absorb water
through the skin, some extract water from the moisture in their food but most animals rely on drinking water to stay hydrated.
At first you might say, well of course animals drink water, but when you start to think about it, the simple act of drinking presents a challenge because fresh water is mostly a horizontal liquid surface in puddles, ponds, lakes and streams so animals must work against gravity to get the water up off the ground and into their mouths. This simple act of survival is actually a remarkable achievement.
Cats Don't Suck because they simply Can't.
Vertebrates (animals with backbones) use their tongue in two distinctly different ways. Vertebrates with complete cheeks, such as pigs, sheep, and horses, use suction to draw liquid upward and use their tongue to transport it into the mouth. However, vertebrates with incomplete cheeks, including most carnivores (cats are carnivores),  are unable (after weaning) to seal their mouth cavity to create suction and therefore rely on their tongue to move water into the mouth. It is physically impossible for a cat to suck.