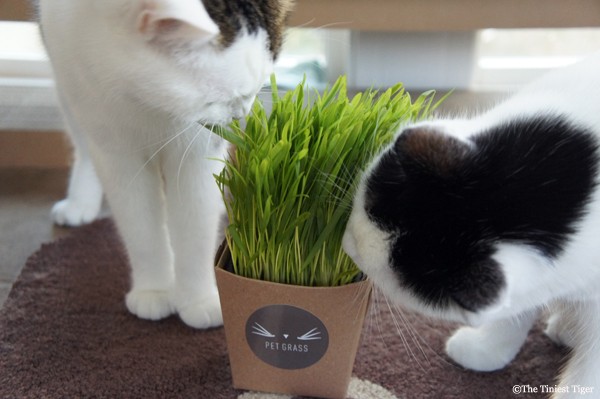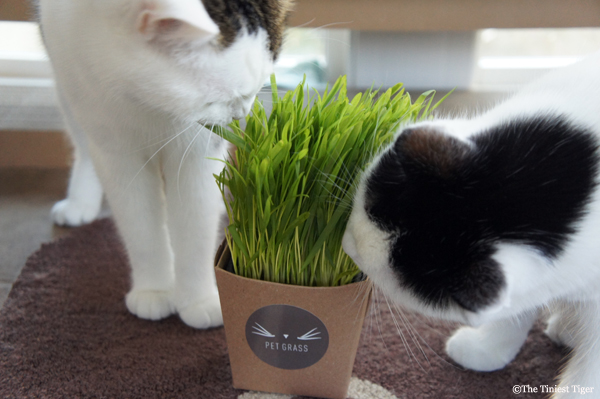 This post is sponsored by Pet Grass and the BlogPaws Professional Pet Blogger Network. I am being compensated for helping create awareness about the launch of Whisker Greens but The Tiniest Tiger only shares information we feel is relevant to our readers. Pet Grass is not responsible for the content of this article.
Add Some Whisker Greens To Your Cat's Holiday Menu
This holiday season, why not add some green to your cat's menu?  Annie, Eddie and Mercy love to nibble on cat grass and the wheat grass from Whisker Greens is the freshest cat grass I have seen.  I think it is even better than the wheat grass we have grown at home. Whisker Greens pet grass is so vibrant, tender, and moist.
Annie, Eddie and Mercy Love Whisker Greens!
As soon as we place one of the cat grass pots into the cute decorative container, there is a cat party in the sunroom.  Whisker Greens Pet Grass provides an easy solution to adding a bit of safe green plant enrichment to your home.  The cats love the tasty wheat grass and we love knowing it is organic and safe for them to enjoy.
I thought this video of the Whisker Greens Cat Party would show you how much the cats love the pet grass.
Cats Party With Whisker Greens #PetGrass
Whisker Greens™ is certified organic wheatgrass that contains many important nutrients like protein, fiber, vitamins, minerals, amino acids, enzymes and antioxidants.  Whisker Greens wheatgrass is grown from 100% certified organic seed, planted carefully by hand in real soil to provide the maximum benefits for the nutritional cat grass. The little seeded pots are rotated through the greenhouses, receiving the proper amounts of water and sunlight to be ready to ship to your cats at just the right stage of development.
The three-pack of cat grass comes sealed in a moisture sealed bag. The cat grass will stay fresh for up to 2 weeks in your refrigerator!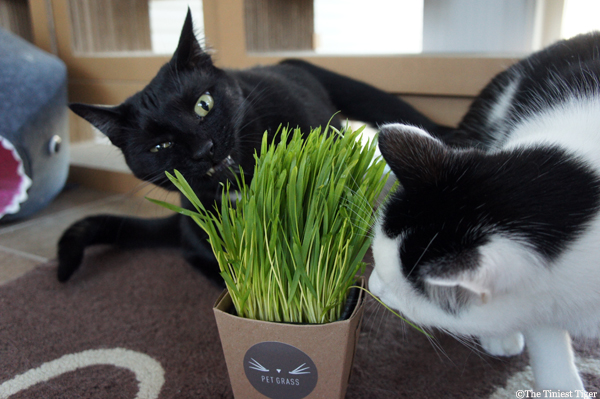 Save 10% With Our Coupon Code

If you would like to try Whisker Greens you can save 10% with our coupon code. A one-time delivery of the three-pack shipment is priced at $24.99. You can join the Pet Grass subscription service for $22.49 per delivery. You decide when the product ships – weekly, every two weeks, every three weeks or once per month.