Welcome to The Tiniest Tiger's Conservation Cub Club!
Super Hurrah for Mary!  The winner of The Tiniest Tiger Hipster!  Don't wander far, we will be hosting other exciting giveaways soon.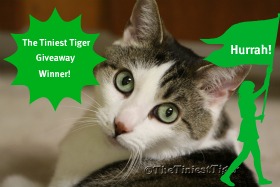 The Tiniest Tiger's Conservation Cub Club where small paws are uniting to make a big difference!

Forest Scented World Best Cat Litter Giveaway!
Congratulations to Laura, Kathy, Raine, Elena and Verna!  Thank you to everyone that participated.  We will have another great giveaway soon. xoxox Gracey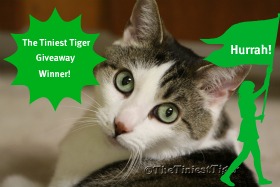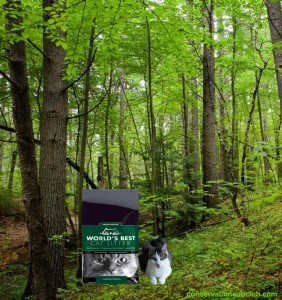 The new Forest Scented Worlds Best Cat Litter allows me to bring out my inner tiger and pretend I am in the forest.  Because all cats can be  little stinkers from time to time, cat parents are sure to appreciate the fast clumping action of this litter and the super fast absorbent quality too that stops the odor before it gets a chance to spread throughout the house.
Win a $50 PetFoodDirect.com  Gift Card Just in Time for the Holidays!
Congratulations to Patti S!
PetFoodDirect.com is giving one lucky member of The Tiniest Tiger  community the opportunity to win a $50 gift card!  The timing couldn't be better with the holiday season just beginning and pet parents will be shopping and stocking up on gifts and snacks.   The new PFD Rewards  Program has just been launched too that enables members to gain points for joining, purchaseing, and sharing with friends and family.  Your points can be redeemed for specific rewards such as donating meals to shelters and coupons towards toys, treats, and more!
The PFD Rewards Program is Free!
You can enroll in the PetFoodDirect.com Rewards Program at no cost.  Learn more about the PFD Rewards Program by clicking here.
PetFoodDirect.com has been delivering 15,000+ products to pet parents since 1997 and they believe in helping pets in need, too. From the single largest offering of premium canned and dry pet food to an extensive assortment of pet toys, treats, supplements and accessories, PetFoodDirect.com has it all! Better yet, you can shop for your dogs, cats, birds, rabbits, ferrets, guinea pigs, hamsters, fish, and other domestic animals all in one place!
Special Savings for The Tiniest Tiger Community

When you are ready to order, use the code SHIPFREE  and pounce here!

*Shipping Discount Coupon is valid on orders of $49 or more and up to 60 pounds. Ground ship only. Enter promo code 'SHIPFREE' at checkout to redeem. One time use per customer. Free shipping discounts cannot be combined with any other promotions, promo codes, or future processed Auto Ship orders. In-stock items only; no rain checks. Not valid outside the continental United States. Not for use with any loyalty or other reward websites.
How to Enter the $50 Gift Card Giveaway!
Fling-ama-String is Fun!!!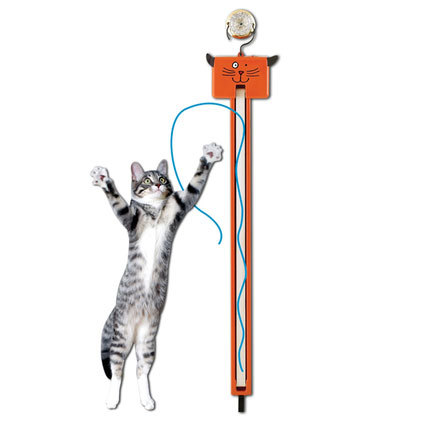 Fling-ama-String is  super fun.  This is one of my favorite toys since my  days as a kitten.  This Fling-ama-String hangs on any standard door knob, is battery operated  and when is turned on  is an automated string-flinging machine.
One end of a long silky brightly colored cord is attached to a white, flat, elastic "conveyer belt" which is constantly rotating. The cord flings in and out for  non-stop pouncing action.  Cats can nip, paw, pounce, and ultimately stop the string, but as soon as they let go, the string automatically starts to rotate again and again and again! It's like having a personal trainer for your cat. The fling-ama-string has 2 speeds for fast or slow flinging.
There is no assembly required so don't worry if your parents aren't engineers. The toy just takes 3 AA batteries (not included).
Award Winning Cat Toy!
Best New Cat Product (Global Pet Expo)
Editor's Choice Award (Cat Fancy)
Product Excellence Award (Pet Age)
Best in Show Award (Global Pet Expo).
Fling-ama-String Giveaway sponsored by the ASPCA
Just in time for the holidays when we cat might get extra treats, and need to increase our exercise, our friends at the ASPCA  generously gave me  5 Fling-ama-Strings to giveaway to members of The Tiniest Tiger community!

Super Hurrah to Sherree and Maria the Winners of the Lion and Tiger Bags!!!!
Happy Halloween!
Tonight we will be passing out treats in our neighborhood so Bad Kitty and I thought that we would like to have a Trick or Treat Giveaway here on our The Tiniest Tiger Conservation Cub Club!  So we have packed two treat bags, one Tiger and one Lion full of feline fun and savings! There are cat toys, and snacks as well as a few items for cat parents too!
Some of our friends are ready for Halloween fun too.
Cats are Naturally Stylish!
I wanted to share with you a brand new item from Imperial Cat I think you will love as much as I do.  In fact, I am placing it on my wish list for the upcoming holidays. The new Chair and Ottoman for cats is super stylish and your cat will love it because we cats are naturally stylish.
The Perfect Chair and Ottoman for your Cat!
Congratulations and Super Hurrah to Amy D, the winner of the Gracey Accessories Bundle!

Super Hurrah and Congratulations to Sherree, the winner of the Bissell Total Floors Pet!
Thank you everyone for participating.

Super Hurrah and Congratulations to J.M. Blanchard the winner of the ScratchKabin.
I am a Cat and I love my ScratchKabin™
Friends, when I told you about the ScratchKabin™ the nice people from KatKabin® gave me to try, there was such a positive reaction, they decided to give a ScratchKabin™ to one lucky member of our The Tiniest Tiger community. Super Hurrah!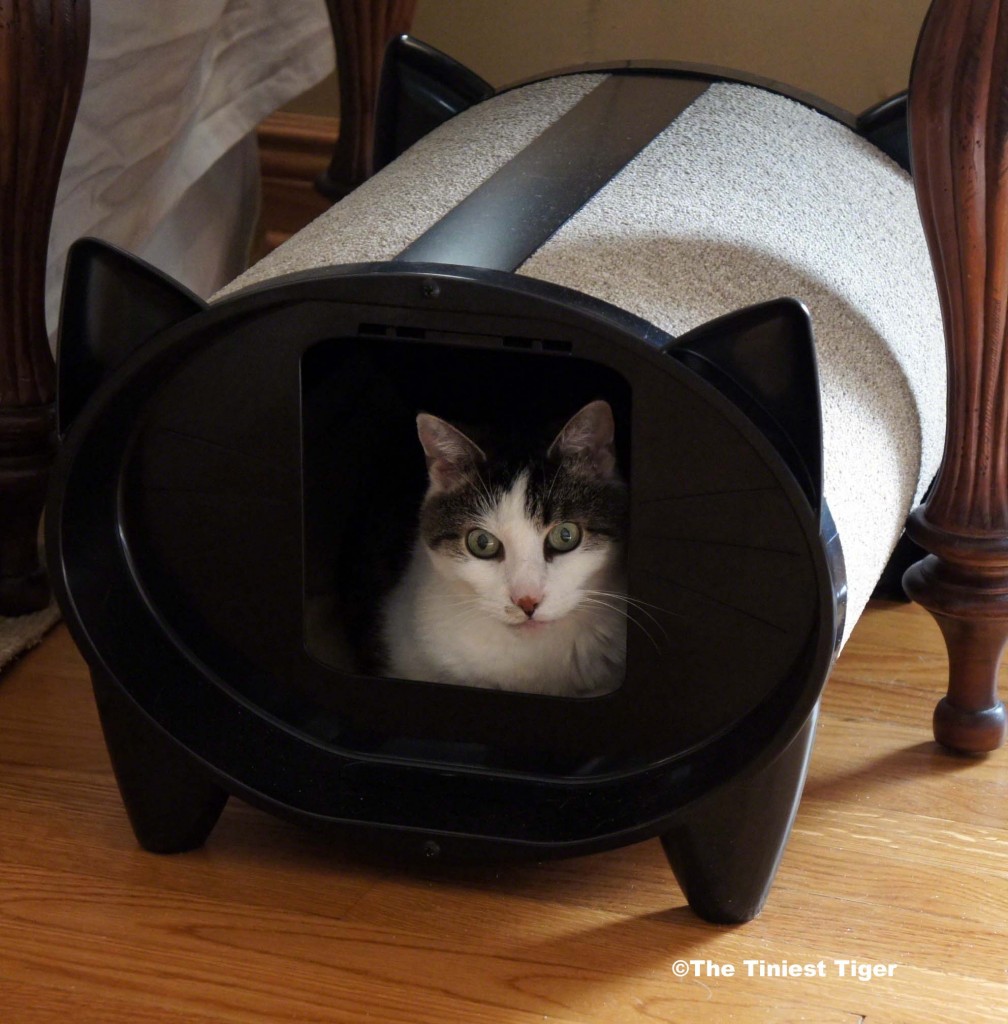 My Safe Place in a Storm
The ScratchKabin™ arrived at my habitat and I could not hardly wait to hop inside. I feel snug and cozy inside.    The top is curved just perfect for me to scratch and scratch and scratch.  Now when  people come to visit, or we have a mild thunderstorm, I can dash inside my ScratchKabin™ and feel safe and secure.
Super Stylish Too!
And my parents like that it is stylish and fits just perfect under the end table. The new ScratchKabin™ comes with a washable KatKushion, (which my over protective mom washed right away) a free toy hanger and  sisal mouse toy and is available in three colors; Oatmeal, Blueberry or Cocoa.  Mine is the Oatmeal.
The ScratchKabin™ Giveaway
How to Enter
This contest is now closed.  Thank you for your participation.  Stay tuned for other exciting giveaways.
Pounce on over to the KatKAbin© website and tell me below in the comments which color you would like to win.  Then tell me if you think your cat would like the ScratchKabin™ as much as me.
The Rules:
Contest closes on Tuesday, May 8 at 5 pm Eastern. Please one comment per person. I will enter all names in to Randomizer.com. The winner will be notified by email or through facebook depending on the contact information you provide.  Make sure you are watching for an email from me. The subject line will say ScratchKabin Winner.   Void where prohibited by law.
Don't forget to enter our Hill's Science Diet Hairball Control cat food giveaway! Pounce here.
Disclosure: We were given one ScratchKabin™  by KatKabin®.  No other compensation was awarded for this post.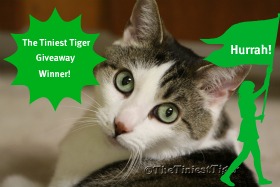 Congratulations and Super Hurrah to Pearl Audrey our winner of the FURminator Giveaway.
Friends, yesterday we learned that  the #1 condition reported by 35 percent of cat-owning households is hairballs!  So today on National Hairball Awareness Day , we are going to learn about how our parents  can  eliminate  the Eww… from our homes by doing one small thing for us. They simply need to grab hold of a FURminator® deShedding Tool and groom us.
The FURminator® helps prevent hairballs  while reducing shedding up to  90%! This definitely  keeps cats happier and healthier and give our tongues a break too. We cats spend up to  30% of our time grooming so when you help us out, most of us appreciate it even if we have an odd way of showing it.
Because the expert groomers at FURmintor® know how much fur comes off of one cat, they rounded up our favorite cat ladies to create a celebrity look alike out of their cat's hair.  You can find all of these creation in the  "FUR Creature" Gallery.  Our friends were wildly creative and quite talented using the cat hair as a medium.  I was not feeling inspired at first and then,  with the support and cheering on of our cousin Romeo the cat, I was able to create my own "Fur Creature" even without thumbs.  Here is my creation.
When you see the marvelous work of our friends, mine looks well, it looks like it looks.  To see all the other wonderful celebrities made of cat fur check out the Fur Creature Gallery on the FURminator's Facebook page.
Enter to Win Your Own FURminator® to Help Your Cat.