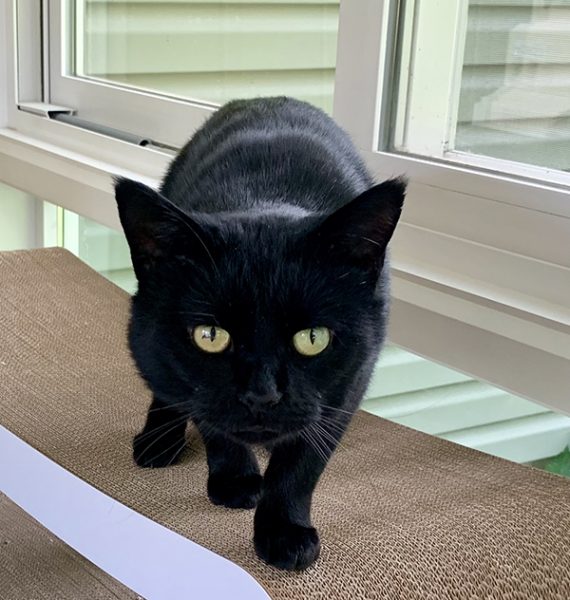 HAppy Black Cat Appreciation Day!
Today is Black Cat Appreciation Day! We appreciate Bob every day for sure, but today we decided to reflect on the little things that make Bob…well Bob! You might remember we shared with you 9 Little Things We Love About Our Cat Annie, and 9 Little Things We Love About our Cat Eddie and 9 Little Things We Love About Our Cat Mercy. And of course we shared 10 Things We Love About Gracey. So, today on Black Cat Appreciation Day, it only seems fitting to share with you 9 Little Things We Love About Bob.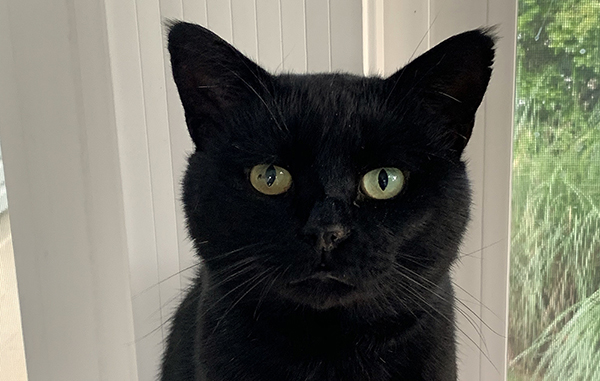 9 things we love about our cat bob
Bob's Face. I mean look at that handsome little face! How could you not love him? Bob was a bit beat up when he found us and he has some scar tissue on his little nose and beside his right eye. All wounds have healed now and we think they just add to his charming character now.
Velvet Soft Ears. Bob's ears are like velvet. I can't resist rubbing his ears many times throughout each day. Bob seems to like it too because he keeps nudging up against my hand asking for more.
One Tiny White Spot He has one tiny little white spot on the right side of his face in his whiskers. Just one.
Low Rumble Bob makes an interesting sound when he wants something. The best way I can describe it is similar to the low rumble elephants make. He is the first cat we have shared our home with that rumbles. It is adorable.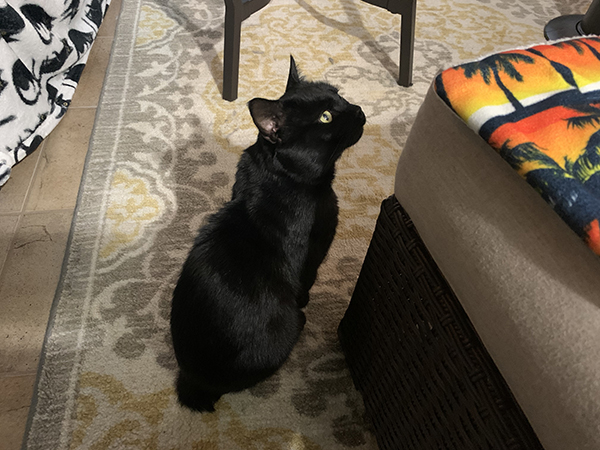 His Bobtail. When we pet Bob we often give him some scritches at the base of his tail. He has the cutest little nugget tail. When we pet his tail he raises his head up, looks at us beaming with pride. He knows we love his little bobtail. We might call him nugget from time to time.
His patience. We were worried at first that Bob might not be patient or exercise restraint when he got tired of any of Annie and Eddie's playful shenanigans. But there was no need to worry. Bob plays right along and when he think things might be getting too rough, he just sits down, lowers his head and waits for them to stop. He is a very sweet boy.
Bob is a Wall Knocker. Some of the wall hangings have a wooden dowel rod inside the bottom seam as a weight to keep them hanging straight. Bob figured out that if he lifts the wall hanging away from the wall and then lets go, the wooden dowel makes a knocking sound. This works to wake us up for breakfast. He is the first cat to deploy this tactic. It works.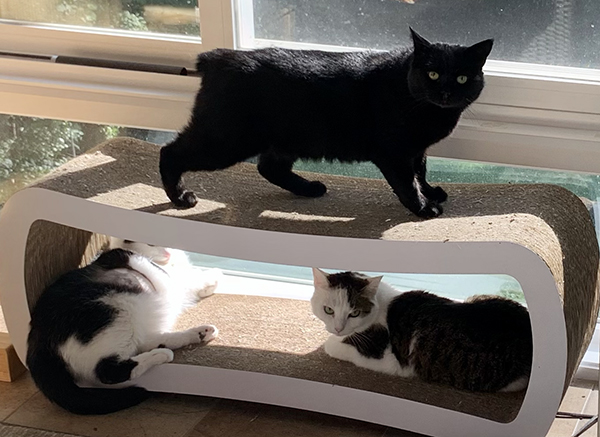 His Rough Paw Pads. Because Bob was living in the wild before he adopted us, his paw pads were really rough from all the miles he ran on the mean streets. Now, after a year of indoor pampering, his little paw pads are softening up. The inside life agrees with Bob.
Just a Little Food Aggressive. Bob is still just a little food aggressive. He now eats in the kitchen with Annie and Eddie but we have to keep an eye on him as he always finished first. Annie is a slow eater, and Bob tries to get Annie to abandon her meal if we don't keep an eye on him. He doesn't use force, just a bit of a nudge and that is enough for Annie to walk away. The other day when I wasn't looking, Bob snagged a small piece of asparagus off of my plate! Sometimes he enjoys the sunroom while Paul and I are dining. LOL.
Of course as with our other cats there are many other things we love about Bob. He is good company and often sits to the right of my keyboard while I am working. He is very patient when we trim his nails and clean his ears. I like to hug him and sometimes call him bear cub.
We are sure lucky Bob found us and asked to become part of our family. I hope this helped you get to know Bob a little better. Thank you for reading and for being part of The Tiniest Tiger community.