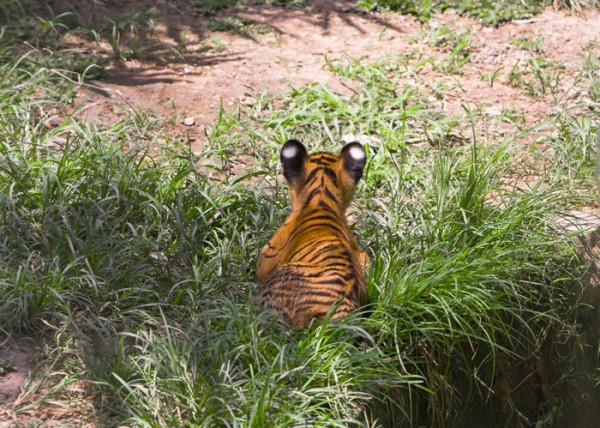 The Malayan Tiger most Threatened Subspecies
The Malayan tigers are on the brink of extinction in Malaysia, but a multifaceted project led by Panthera in Taman Negara National Park is bringing hope for the tiger. With less than an estimated 200 Malayan tigers left in the wild, these cat a the most threatened tiger subspecies.
The Kenyir-Taman Nagara Core Area on the Malaysia peninsula is a national priority for tiger conservation. One of the world's oldest rainforests, this region overlaps the range of seven different wild cat species: tiger, leopard, clouded leopard, leopard cat, flat-head Cat, marbled cat, and the Asiatic golden cat. This area is one of the most cat-species-rich places in the world and is marked by Panthera as a catscape.
CatScapes Harbor many cat species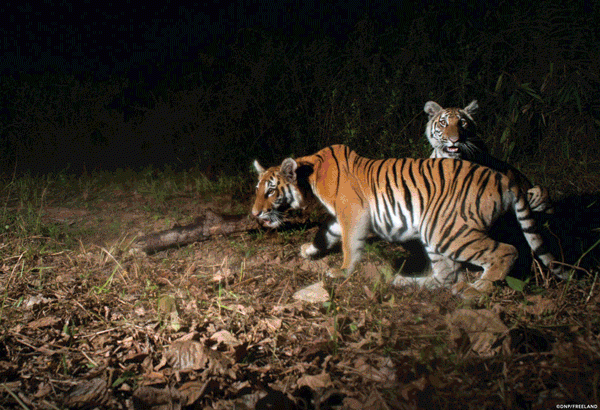 Dr John Goodrich, Chief Scientist and Tiger Program Director with Panthera, says, "From a cat conservation perspective, catscapes are important because they harbor so many cat species and can help us understand how to better protect cats and foster conditions that promote cat diversity. These areas are also important to biodiversity at large, and protecting seven cat-species requires protecting a prey-base that ranges from the smallest vertebrates and even invertebrates, to some of the largest as well as the habitat that those prey depend on; thus, by conserving catscapes, we are protecting some of the key biodiversity hotspots around the globe."
The Taman Negara National Park, within Southeast Asia, is the largest tiger recovery site in Malaysia and is classified as a Class 1 Tiger Conservation Landscape. The park sits in the central forest spine that runs through the entire peninsula. This area is critical to the genetic flow of tigers and other wildlife. Its rugged terrain, while fragmented in some areas by human development, makes it a biological refuge for wild cat species, as well as elephants, sun bears and rare bird species.
This are spans 4000 square kilometers and is surrounded by logged areas cleared for palm oil and plantations. Sadly, the widespread development has caused some species, like the Sumatran rhino, to already vanish.
The Malayan tiger is the most threatened tiger subspecies. The Javanese and Balinese subspecies are long gone. It is predicted the Malayan tiger could go extinct within five years is immediate action is not taken. Even though the situation is dire, Malaysia still has 44 percent of its peninsula still covered in forest so there is potential to successfully manage one of the greatest recoveries in tiger range.
poachers are one of biggest threats to tigers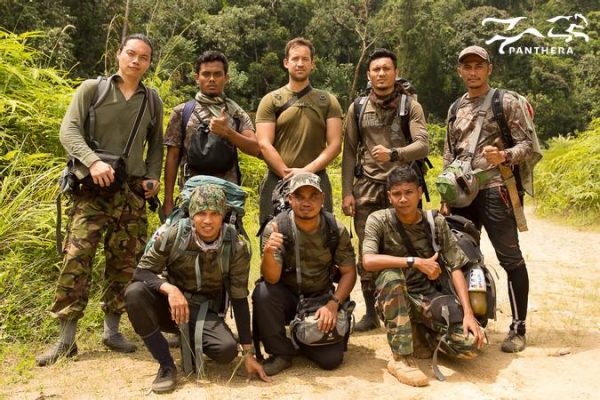 One o the biggest threats to the tiger in this area is from the poachers known as "Ghost of the Forest." Many of these poachers are from other countries who come into Malaysia to hunt wildlife, the escape over the border. Panthera Malaysia has joined with long-term partner Rimba to form a revolutionary anti-poaching team, with the support of Woodland Park Zoo.
Dr. Goodrich called these deep forest counter-poaching operations "a game of cat and mouse, pitting the tracking skills of the patrol team against the wiles of a gang." Further, he describes how "it can take weeks to locate a poaching gang in the deep forest and days more to extract arrested offenders. Gangs spend months inside the forest on poaching expeditions: deploying steel cable snares that target wildlife, especially large mammals. Policing the jungles of Southeast Asia for poachers is a daunting task; it presents an enormous challenge in manpower, logistics and endurance."
hope for the malayan tiger
This amazing vigilance team brings hope for the Malayan tiger. Even with the pandemic restrictions that forced several trainings with international experts to be put on hold, refresher trainings at a Panthera field site kept the patroller's knowledge and skills in tracking, close target reconnaissance, sign interpretation and navigation sharp. This created a blueprint for fighting poaching around the globe and their deep-forest counter-poaching guide can be implements to protect wildlife not only in Southeast Asia but in Africa and the Americas too.
Poaching incursions have declined 89% from a 5-year average with only four detected in 2019. For the first time provisional results for 2020 sho no snares have been recorded in Kenyir. Kenyir's first Zero Snare Year corresponds with the COVID-19 outbreak and significant movement control measures taken by the Government of Malaysia and other ASEAN nations.
Whole successful in preventing snares over the pst year, the threat remains. Malaysian government movement controls have stopped some poaching , but as restriction are eased, there is concern over the return of poachers.
Panthera's Tiger Program, and specifically the team members of Panthera Malaysia aren't backing down. Armed with scientific knowledge and cutting-edge technology and paired with the excellence of their vigilance team, they are determined to protect tigers, wild cats and all wildlife in this amazing catscape.
international tiger day
Thanks to your support of Triple T Studios, The Tiniest Tiger Community has donated to Panthera's Tiger Program, to provide anti-poaching technology training for rangers in tiger and lion territories. Thank you for caring for all cats big and small.