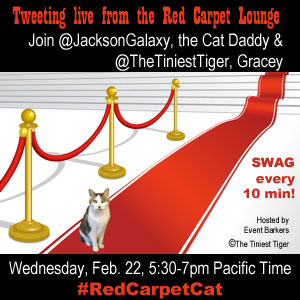 A Special Message from our Friends at Event Barkers!
We are super, super excited to announce a new Twitter party that we, as part of Event Barkers, are hosting! On Wednesday February 22, we'll be hosting the #RedCarpetCat Twitter party coming to you LIVE from Hollywood!!
Everyone in the cat world knows Gracey, The Tiniest Tiger from her Conservation Cub Club; Gracey will take to the red carpet for a special event leading up to the Oscars. Gracey will be giving out her brand-new The Tiniest Tiger Hipster bag filled with goodies from sponsors to pet-loving A-list celebrities.
To celebrate The Tiniest Tiger Hipster Bag's debut on the red carpet, we're hosting a special Twitter party! You can mingle with the stars as Gracey tweets photos of herself on the red carpet and you'll be eligible to win prizes in giveaways every 10 minutes!
Also on the party will be Jackson Galaxy, the Cat Daddy himself! The star of Animal Planet's "My Cat From Hell" will be live tweeting along with Gracey during the party!
Are you ready to party and walk the red carpet? RSVP in the linky below with your Twitter handle. (Don't have a Twitter account yet? It's quick and easy to sign up for one at Twitter.com and you'll be all set for the big night!)
Stay tuned for special giveaways leading up to the party and Hollywood swag every 10 minutes during the party itself. Step one, though is to RSVP below.
How to RSVP
Using the linky below, you'll want to leave your Twitter handle. (Don't have a Twitter account yet? It's fun–and free–to join Twitter; just pop over to http://twitter.com to get your account then return here and sign up. We'll have some instructional posts before the party so you'll be able to hop right in and enjoy the fun!)
Just click on "Click here to enter" at the bottom of this post (or click here); a new screen will open for your RSVP. Here's an example: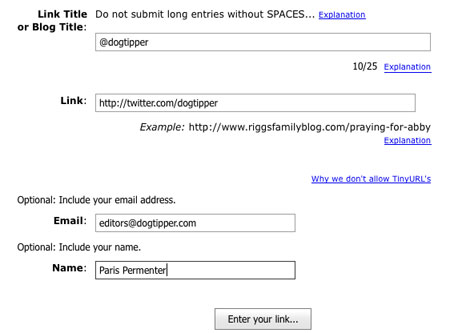 In the field that says "Link Title or Blog Title," just enter your Twitter handle. (In the example above, you'll see I've added "dogtipper" on this line.) The next line that says "Link" is where you'll put the link to your Twitter account (I've added "http://twitter.com/dogtipper".) You can add your email address and name if you like; it's not mandatory but it will give us a way to notify you if you win other than via Twitter. Hit "Enter your link" and you're done…and you've successfully sent us your RSVP and entered to win!
Click the link below to RSVP