The Tiniest Tiger community's motto is Small Paws United  Can Make a Big Difference! Over the last couple of years since we began with our The Tiniest Tiger Facebook page we have grown to over 24,000 strong and have generated over $30,000 to help both our big  and small cat cousins in need.
When I was in my thinking circle a few months ago, I started to dream about a way to help more of our cousins. I didn't want to keep asking you for donations because you have all been super generous.  I wanted  to reach outside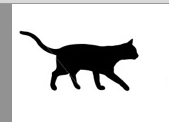 my circle and try something completely new. I thought about my mom and her friend Maureen. Between the two of them they have about 9 Lives worth of experience in product development, production, sales and marketing. They came up with all kinds of wild ideas, but finally when I showed them my sketch of a cat walking with her tail in the air, Triple T Studios was born and I am the CEO, Cat Extraordinarily Optimistic.
When you are on the right path, the pieces start to fall into place. Have you ever noticed this?  I batted the idea in the direction of making a super fun, yet classy line of handbags with a feline finesse.  We wanted to have the bags made in the United States, and if it could be close to my habitat, even better, because you know I am not so fond of traveling in my carrier.
I received an email asking if we would be interested in participating in the Red Carpet Lounge Celebrity Gift Swag for the 2012 Academy Awards. I had Maureen sniff out the details  because she lives in California so the event is closer to her habitat.  The Red Carpet Lounge donates money to select animal non-profits, so we were happy to be included.
Lots of details were sewn up before the first needle and thread hit the material.  Last week, we had the honor  of being on site in Indiana when The Tiniest Tiger Hipster went into production.
Well, it was super exciting to see our The Tiniest Tiger Conservation Cub Club labels ready to be sewn onto the Hipster bags.  Bob and Joyce did a great job trying to get the details right.  Felines are finicky and they are both dog owners so I sure appreciate how patient they are with us.
There are many steps in the process of making The Tiniest Tiger Hipster. I sat in awe of the sewing skills. I don't know if I could do that great work even if I had thumbs!
Sophia is a super genius.  Because we have the cat profile on our bag and we had decided to go for the classic tone on tone, with the black fabric and black thread, this made the sewing a little more complicated. You see it was hard to tell the front from the back of the fabric. Because our cats are walking to the left, (my mom and I are left pawed), Sophia told her team members to remember that the cats on the bag were heading to the break room!  That made the team laugh and helped determine which side to sew.
The first The Tiniest Tiger Hipster bag was finished and it turned out even better than I had imagined.  The cat quilting is purr-fect.
Our tag ready to be attached to The Tiniest Tiger Hipster bags that are going to the Red Carpet Celebrity Gift Lounge for the 2012 Academy Awards.   Join me for all the Red Carpet Cat Events for your chance to win your own The Tiniest Tiger Hipster filled with feline fun!  The Tiniest Tiger Hipster Limited Edition will be available for sale.  Sign up for The Tiniest Tiger Free Newsletter to be among the first to learn the details.
Dreams can come true!  I dreamed that I would be adopted into a loving forever home and that came true. Now I dream of helping animals in need both big and small.  A portion of the net profits  from Triple T Studios™ benefits global conservation projects.
RSVP for the February 22th Twitter Party Here! #RedCarpetCat