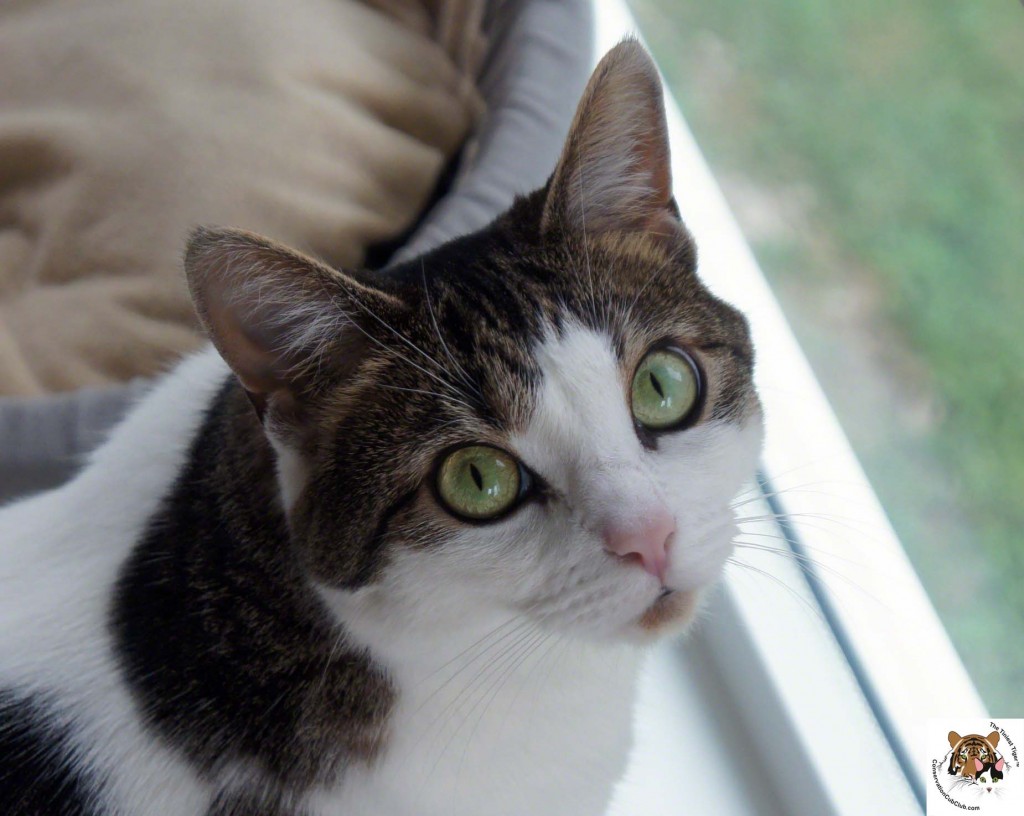 We tried our best to  provide Maggie with a good home but it was not to be.  Maggie was accustomed to being the only cat in her home with Marie and she just didn't seem to accept being around Annie and Eddie.  At first we thought she was just afraid and that in time and after a very slow introduction she might be able to live a happy life here with us.
After the first introduction period, the three cats seemed to be getting along.  They even stayed in the same room with each other and at one point were playing with the Fling-ama-String.  We were so happy thinking that Maggie was accepting her new home and her new younger cousins.  But over the next few weeks, Maggie became aggressive towards Eddie.  We had to redirect her several times while we were home to keep her from attacking him. It seemed the more comfortable Maggie became in our home, the less tolerant she was of the kittens.  When we needed to be away from home, we had to keep the kittens in a crate to protect them from Maggie.
So we started over. We separated Maggie from the kittens.  We used Feliway, Spirit Essences and ThunderSpray in an attempt to keep Maggie calm. We slowly introduced the kittens one by one to Maggie but Maggie wanted no part of them.  We allowed Maggie to see Annie and Eddie through the glass doors to the sun room but when she would see them she would growl and scratch and bite at the door. Maggie wasn't happy.  Annie and Eddie weren't happy.  And for sure Paul and I weren't happy.
As luck would have it, another of Marie's friends was interested in providing a home for Maggie last summer.  We reached out to her and she agreed to  adopt Maggie into her home where she could be the only cat.  We gathered up all of Maggie's things including her bench, blankets and comforter from Marie's house and  a pink pEi Pod so that Maggie could curl up inside and feel safe in her new home. It was a bittersweet day saying good-bye to Maggie.  In the end, we had to make a decision that was best for her as an individual cat. Not keep trying to get her to be comfortable some day but to try and get her comfortable and happy now.
I am so happy to report that Maggie is thriving in her new home.  She only hid under the sofa one night.  Vicki used the same magic words that i used to get her to come out of hiding, the same words that Marie used, "Maggie's a pretty girl."  One week later, Maggie is enjoying being brushed and watching television with her new parents. They are getting along just fine.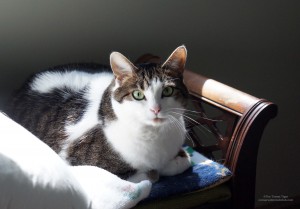 We are so happy for Maggie and hope she lives a long happy life.
Don't miss out on The Tiniest Tiger News :
Subscribe to our newsletter